Pakistani ambassador discusses importance of US relationship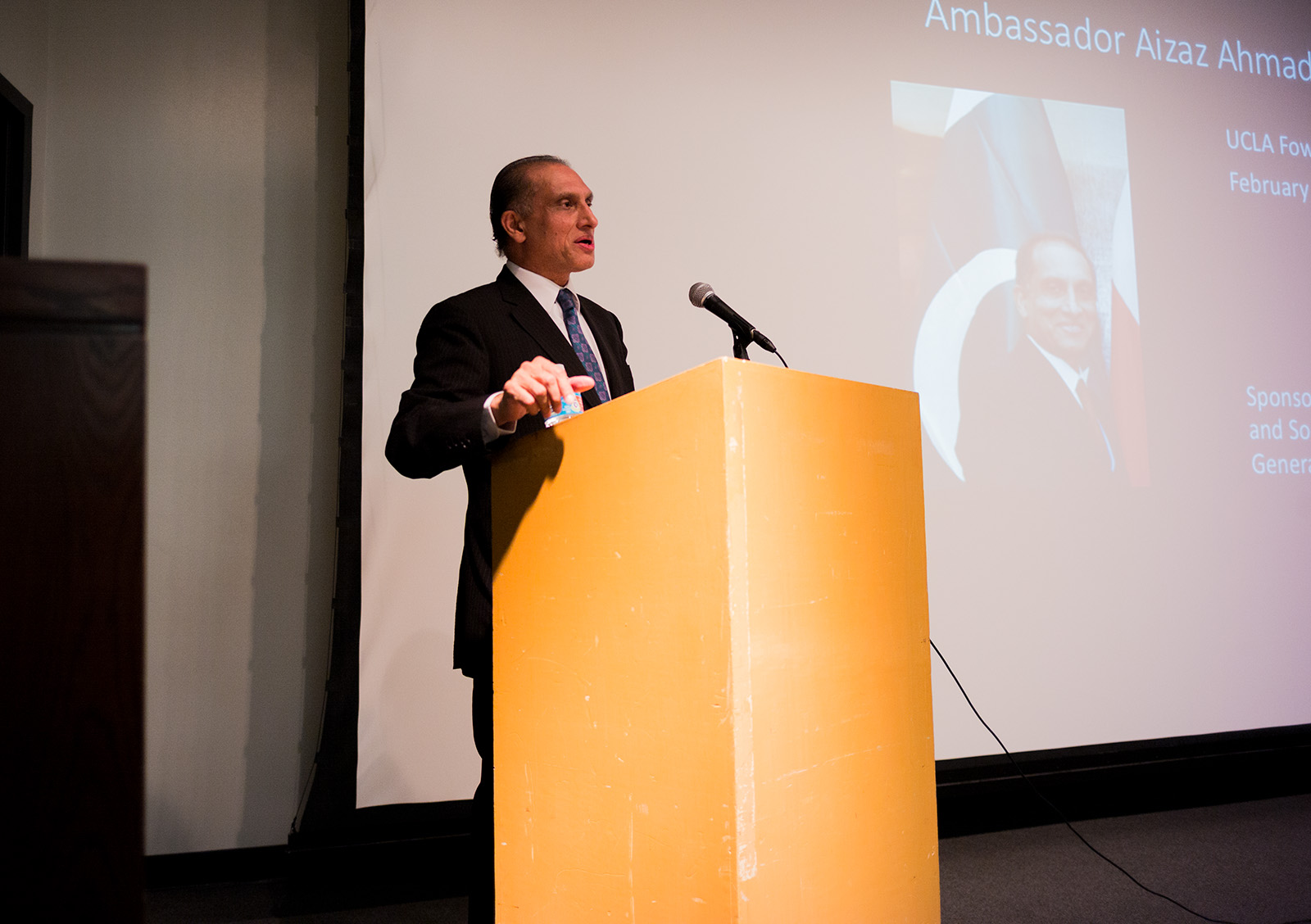 Aizaz Ahmad Chaudhry, the Pakistani ambassador to the United States, talked about the importance of maintaining a mutually beneficial relationship between Pakistan and the United States at an event Monday. (Ken Shin/Daily Bruin staff)
The Pakistani ambassador to the U.S. said he thinks it is important for Pakistan and the U.S. to maintain a mutually beneficial relationship at an event Monday.
Aizaz Ahmad Chaudhry talked about the need to improve relations between the two countries, despite President Donald Trump's criticism of Pakistan, at an event hosted by the UCLA Center for India and South Asia.
Chaudhry, who has also represented Pakistan in the United Nations for more than six years, said he has tried to improve Pakistan's diplomatic relations with other countries throughout his career.
Competition between rising global powers has put added pressure on relationships between countries, Chaudhry said. For example, he said, Trump talked about his concerns regarding potential threats from Russia and China at a national security address in December.
Trump's political rhetoric has largely been about fighting against countries posing challenges to American security and prosperity, he added.
"President Trump has been focusing on the America First approach," he said.
He added he thinks the U.S. should not view Pakistan as a threat, because of the two countries' close relationship.
"Pakistan is sometimes not viewed as Pakistan but viewed as a prism of China, or a lens of Afghanistan," he said.
Trump has also criticized Pakistan for not doing enough to tackle Islamist militants, Chaudry said. However, he said Pakistan has successfully eliminated terrorist safe havens in the country over the past couple of years.
"Pakistan has been scapegoated for not being able to stabilize Afghanistan," Chaudry said.
The Trump administration announced in August it will be delaying providing $255 million in aid to Pakistan because it thinks the country has not been helpful in taking action against militant groups such as the Taliban and the Haqqani network.
Chaudhry said he thinks the administration's decision to suspend aid will negatively impact the U.S. because it will hurt the two countries' relationship.
"If you continue to threaten us with aid, it will make the two countries drift away from each other," he said.
Chaudhry said he thinks both the U.S. and Pakistan benefit from their relationship and added the U.S. is a common destination for Pakistani students to pursue higher education.
"We believe that our relationship is multifaceted. … The education field has been an objective destination for many Pakistani students, (as well as) the health sector, where hundreds of Pakistani physicians made America their home," he said.
Several students said they attended Chaudhry's speech to learn more about the relationship between Pakistan and the U.S. and ways to improve it.
Umer Khan, a fourth-year economics student, said he attended the event because he thinks the U.S. has an important role in shaping Pakistani foreign policy.
"As a student here who realizes how much opportunity is present in the country, improved relationships (between the two countries) represent a greater chance for Pakistan to interact with the global community," he said.
Aliredha Damji, a second-year international development studies and communication student, said the event was important to representing the Pakistani politics and culture and added there are not many South Asian speakers at UCLA.
"(This was) part of an experience to learn more about the politics in the Pakistan and also look at how foreign policy in Pakistan can affect the populations who are living in other countries," Damji said.
Chaudhry said countries should understand that bilateral relationships have many positive aspects.
"From education to health, U.S. and Pakistan have been engaged for decades and we can continue to play that role," he said.
Kim is the assistant news editor for the campus politics beat. She was previously a contributor for the beat.
Kim is the assistant news editor for the campus politics beat. She was previously a contributor for the beat.