Women's basketball extends win streak to 10 after ousting Sun Devils 71-63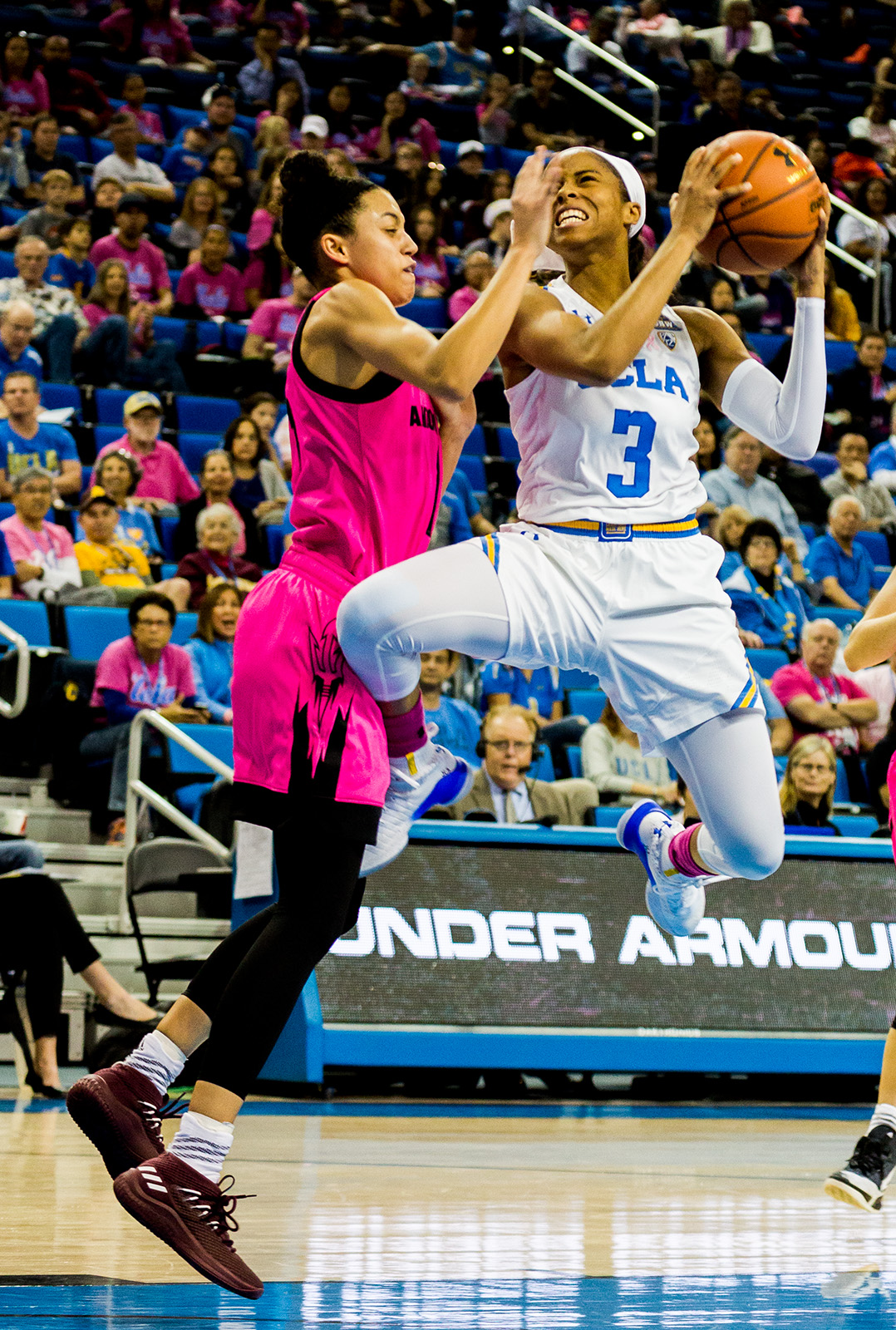 Senior guard Jordin Canada and UCLA women's basketball extended their win streak to 10 games with a 71-63 victory over Arizona State on Sunday afternoon. Canada led the Bruins with 16 points. (Grant Mooney/Daily Bruin)
The winning streak lives on.
No. 8 UCLA women's basketball (21-4, 12-2 Pac-12) pulled away in the fourth quarter against No. 25 Arizona State (17-9, 8-6) on Sunday afternoon to win their 10th game in a row 71-63. In a back-and-forth start that featured eight lead changes and two ties, the Bruins came out of the first quarter leading 19-18.
Although the Sun Devils shot 66.7 percent in the opening frame, UCLA's defensive presence kept them in the game, as they created six turnovers out of the 13 forced.
"When you have to take the ball out the net, you're going to have to really deal with what they're doing on defense," said coach Cori Close. "We were able to get the transition game going because we got stops."
Senior guard Jordin Canada picked up her second foul toward the end of the first quarter and didn't come back in until the seven-minute mark in the second quarter. While Canada was out, junior guard Japreece Dean took her place, dishing out four of her season-high seven assists. By the end of the half the Bruins had 16 field goals off 13 assists – good for a 12-point lead.
However, in the third quarter Arizona State began chipping away at that lead, cutting it down to just 4 points. UCLA sent them to the line five times, committing eight fouls in the third quarter alone.
Close saw that only getting 13 points in the third quarter was caused by being too aggressive on the defensive end.
"(With Arizona State) slowing the game down, not letting us get into a flow, we weren't able to play the way we needed to play as we kept sending them to the free throw line," Close said. "It's not trying to get steals on the hero plays, but trying to get steals because we're disciplined and we anticipate and we are focused in on personnel."
The Sun Devils hit a 3-pointer to start the fourth quarter, cutting the lead to just 2 points. But before Arizona State could tie the game, Canada took over – scoring or assisting on the remainder of the Bruins' field goals.
Canada, who had only 7 points last game, admits overthinking has been causing her mistakes. Using a different approach to tonight's game, she bounced back with her fifth double-double of the season.
"(I'm) trying to let the game come to me, not trying to overthink so much … in the past couple of games," Canada said. "Not necessarily thinking I have to take over, but just seeing what's open and when can I pass the ball to my teammates and when can I score."
To Close, what won them the game were the hustle plays. During the game both senior forward Monique Billings and Canada dove for balls that were headed out of bounds, getting their team extra possessions.
"(Billings') save out of bounds, that eventually came across and led to a 3 … I just thought we were going to make enough plays to win – that's what that save said," said Close. "I'm going to find a way to make enough plays for my team not for anything else but for whatever my team needs."
Four UCLA players scored in double digits, including redshirt junior forward Lajahna Drummer who had a perfect shooting night. Accompanying that with eight rebounds, she went 7-of-7 from the floor with one 3-pointer, good for a season-high 15 points.
"She knows that she needs to step up for the well-being of the team," Billings said. "Especially if I'm doubled and there's a lot of pressure on (Canada), so she's the one that people are sleeping on."
UCLA will face No. 16 Oregon State (19-6, 10-4) as they head out for their final road trip of the Pac-12 season Friday night.
Chen is currently a contributor for the Stack. He was previously a contributor for the women's basketball and softball beats.
Chen is currently a contributor for the Stack. He was previously a contributor for the women's basketball and softball beats.