Track and field lands personal bests in Albuquerque, Seattle meets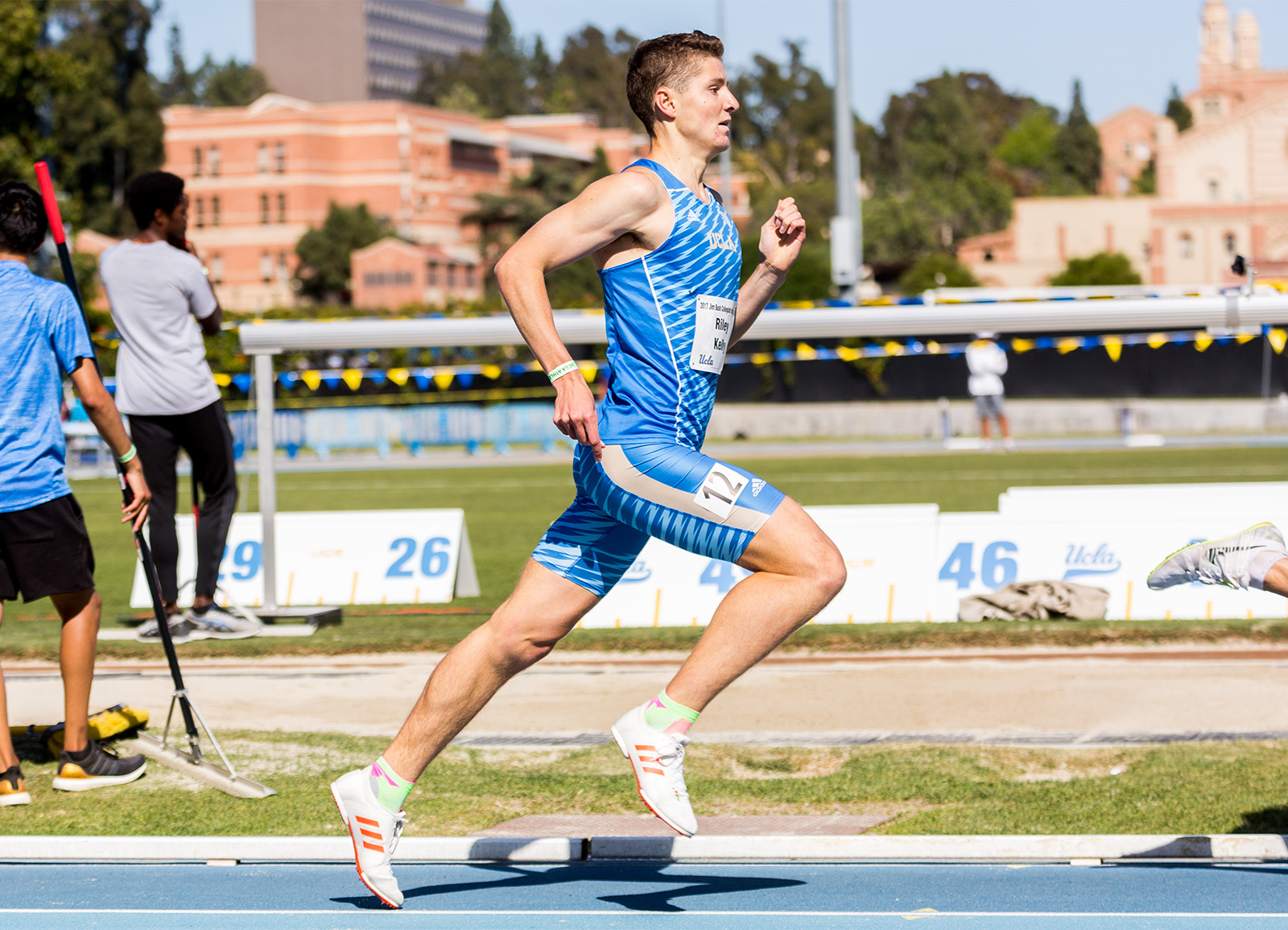 Sophomore Riley Kelly set his personal indoor best this weekend at the Husky Classic in Seattle, Washington. His time of 1:51.48 in the 800-meter was enough for second among college athletes. (Keila Mayberry/Daily Bruin staff)
The UCLA track and field team split up for the weekend.
After sending athletes to both the Don Kirby Invitational in Albuquerque, New Mexico, and the Husky Classic in Seattle, Washington, the Bruins had just one first-place finish between the two meets.
Still, there were many significant individual performances in UCLA's final tuneup before the indoor postseason.
The majority of the team traveled to the Albuquerque Convention Center, the same facility where the Bruins had their first meet earlier this season. Five Bruins placed in the school record book at that opening meet, including four throwers.
It was a similar story this weekend for a pair of women's shot putters.
Redshirt junior Ashlie Blake moved to fifth all-time in school indoor history for the event with a throw of 56 feet 11.5 inches, finishing second in the competition. Right behind her was freshman Alyssa Wilson, whose third-place throw of 56 feet 9.25 inches placed her sixth all-time.
"It felt really good to come out with an indoor personal best and move up on the school all-time list," Blake said. "I feel like me being neck and neck with (Wilson) helps push her to be greater, which pushes me to be greater."
The throws team had a pair of second-place finishes on the men's side too. Redshirt junior Dotun Ogundeji and junior Justin Stafford were the runners-up of the men's shot put and men's weight throw, respectively.
For the jumps team, sophomore Isaiah Holmes continued where he left off in Albuquerque, clearing 6 feet 11.5 inches to win the men's high jump. Holmes also set a personal best indoor mark of 25 feet 3.5 inches in the long jump, coming in third.
Holmes said his long jump mark would have been even higher if he had not scratched on one of his attempts.
"It was actually not even my best jump of the day," Holmes said of his long jump performance. "I just need to work on getting on the board consistently."
Holmes said he is almost certain that he will qualify for nationals in both events after the results of this weekend.
Aside from Holmes, there were two other top-five finishes in the field. Senior Idrees Bernard took fifth place in the men's triple jump with a mark of 49 feet 11.75 inches, while senior Elleyse Garrett took fifth among collegiate players in the women's pole vault with a mark of 13 feet 1.5 inches.
On the track, sophomore Riley Kelly's time of 1 minute, 51.48 seconds was a personal indoor best for the 800-meter, and he finished second among collegiate runners.
Meanwhile, only a small group of distance runners was sent to compete in Seattle, the site of the upcoming MPSF Indoor Championships.
According to Director of Track & Field and Cross Country Avery Anderson, it was a strategic decision.
"For the longer distances, the altitude in Albuquerque makes it a lot harder for the athletes to perform the same," Anderson said. "The meet that they put on in Seattle is usually a great environment for distance running."
If the results from the weekend's meet are any indication, the decision paid off.
Sophomore Carter Blunt finished the men's mile with a time of 4:02.89, good for 18th at the meet and sixth all-time in school indoor history. Junior George Gleason took 27th place with a time of 4:05.21, nearly tying his personal best by less than a second.
"That was my first time running the mile this season, so I didn't really know what to expect," Gleason said. "It was a pretty good start. I definitely know there's a lot more in the tank."
Another historic performance came in the men's 5,000-meter, where junior Robert Brandt moved to third all-time in school indoor history with a time of 13:53.18, finishing 12th overall.
Now the Bruins have two weeks until the MPSF championships, which will be the last chance for athletes to qualify for nationals.
"The ability to compete at the championship level is what we're striving for," Anderson said. "I think there are definitely several athletes who have a chance to qualify."
Kenney joined the Bruin as a sophomore in 2017 and contributed until he graduated in 2020. He spent time on the baseball, softball, men's soccer, women's soccer, track and field and cross country beats.
Kenney joined the Bruin as a sophomore in 2017 and contributed until he graduated in 2020. He spent time on the baseball, softball, men's soccer, women's soccer, track and field and cross country beats.