Softball sweeps set of unranked opponents on opening weekend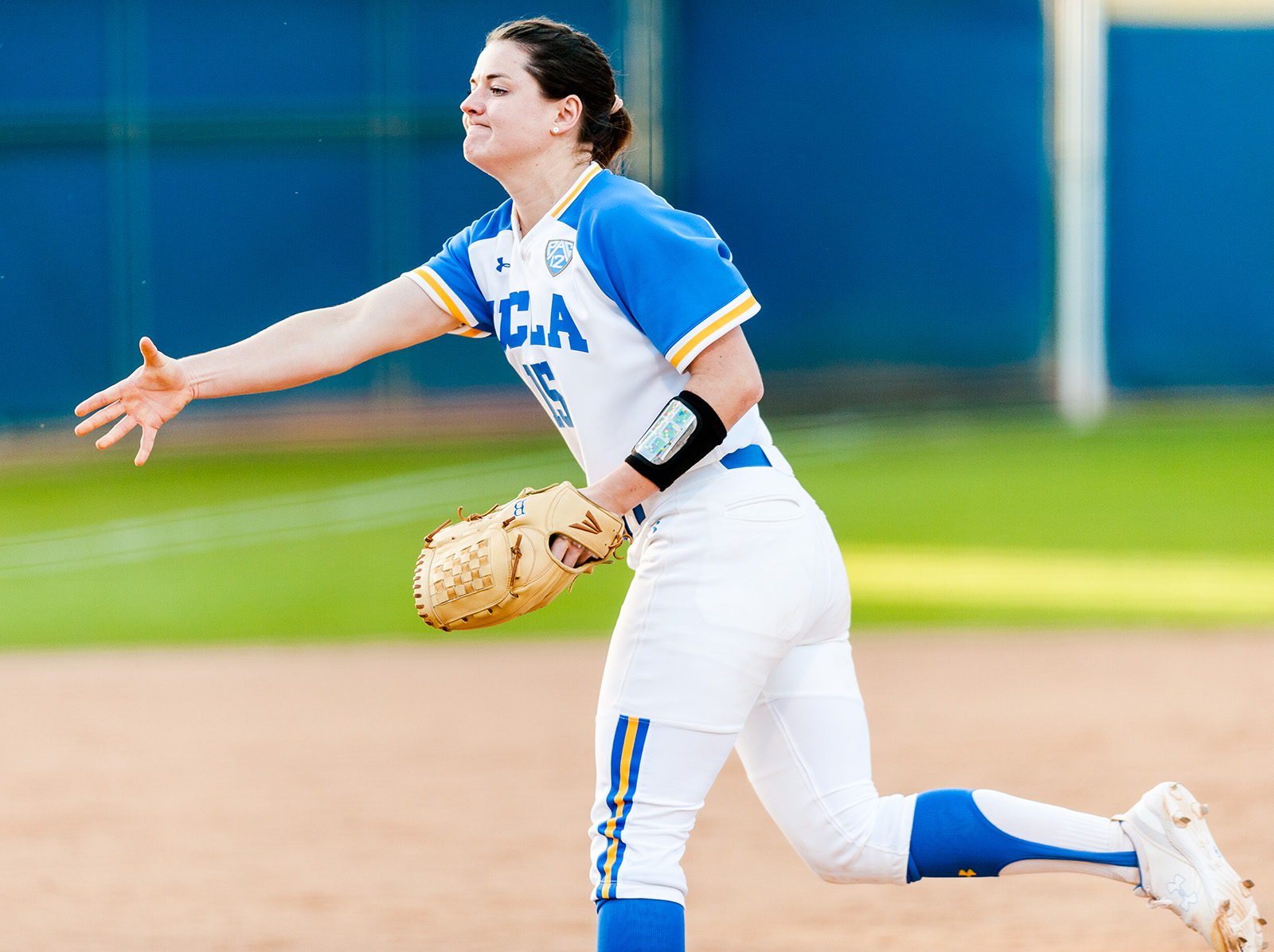 Senior pitcher Johanna Grauer started for the Bruins in their season opener against Maryland. She pitched six innings and logged four strikeouts in UCLA's first game of 2018. (Jenna Smith/Daily Bruin)
February 12, 2018 12:45 am
Five games, five wins.
The first weekend of competition at the Stacy Winsberg Memorial Tournament for No. 4 UCLA softball (5-0) had runs and hits aplenty this weekend, racking up 49 in total over their first five games.
"We got to learn a lot about ourselves and just see what we're about," said coach Kelly Inouye-Perez. "This team can hit, this team plays great defense and we have versatility with our pitching. It's early, but I'm excited about what we have in all parts of our game."
On Friday, UCLA got its first two wins of the season defeating Maryland 5-1 and Middle Tennessee 11-1 in just five innings.
Freshman infielder Briana Perez started her collegiate career on the day five-for-seven, driving in six and scoring four times.
"I am definitely seeing the ball pretty well right now," Perez said. "I know that won't last, so I'm making sure the highs don't get too high and the lows don't get too low."
Against the Terrapins, all five runs came in the first three innings in the first game. Perez tallied two hits and recorded three RBI's in that span, including her first home run of the year. Senior pitcher Johanna Grauer lasted six innings, struck out four and gave up a run and five hits.
"I felt good," Grauer said. "I had a lot of fun this weekend starting and coming in for relief. Both are different and need different mindsets, but also exciting."
Redshirt sophomore pitcher Rachel Garcia came in and struck out the side to close out 2018's first win.
In the night cap against Middle Tennessee, six Bruins combined for 11 hits. Perez had three hits on the day while redshirt freshman outfielder Aaliyah Jordan, sophomore pitcher Bubba Nickles and freshman infielder Kinsley Washington each collected two hits. Freshman pitcher Holly Azevedo turned in five shutout innings, striking out five and only allowing two hits for her first win as a Bruin.
On Saturday, 11 players combined for 15 hits as UCLA handled Cal Poly 13-0. Perez kept her hot bat going with another three-hit performance. Garcia and Jordan collected two hits apiece and junior catcher Paige Halstead drove in three runs. On the mound, Azevedo started and picked up her second win in as many starts, striking out three and giving up a single hit in three innings. Grauer came in relief for the next two innings, striking out a batter in each frame.
On Sunday, in the second doubleheader of the weekend, the Bruins completed the tournament sweep, defeating Cal Poly and UC Riverside 7-2 and 13-2, respectively.
Junior infielder Brianna Tautalafua left the yard three times and drove in eight runs Sunday.
Garcia took a no hitter into the sixth inning against Cal Poly. She fanned eight and gave up three hits and two runs. Grauer came in for the final frame and had a 1-2-3 inning. Junior catcher Taylor Pack collected three hits while Perez and Tautalafua each recorded two, including Tautalafua's first home run on the day.
Tautalafua opened with a three-run bomb in her first at bat. Azevedo claimed her third win of the year in five innings. She struck out three and allowed just one earned run, six hits and two walks.
Perez hit a line-drive homer into center field for her second home run of the season. To close out the game and the weekend, Tautalafua hit a booming shot to left-center field for a walk-off grand slam.
The Bruins will face Fordham at home next before heading to Cathedral City, California, for the Mary Nutter Collegiate Classic in a week's time.
Veal joined the Bruin as a freshman in 2016 and contributed until he graduated in 2020. He spent time on the baseball, softball, women's water polo, men's soccer and cross country beats.
Veal joined the Bruin as a freshman in 2016 and contributed until he graduated in 2020. He spent time on the baseball, softball, women's water polo, men's soccer and cross country beats.