Freshman Bruins help lead softball to 5-0 opening weekend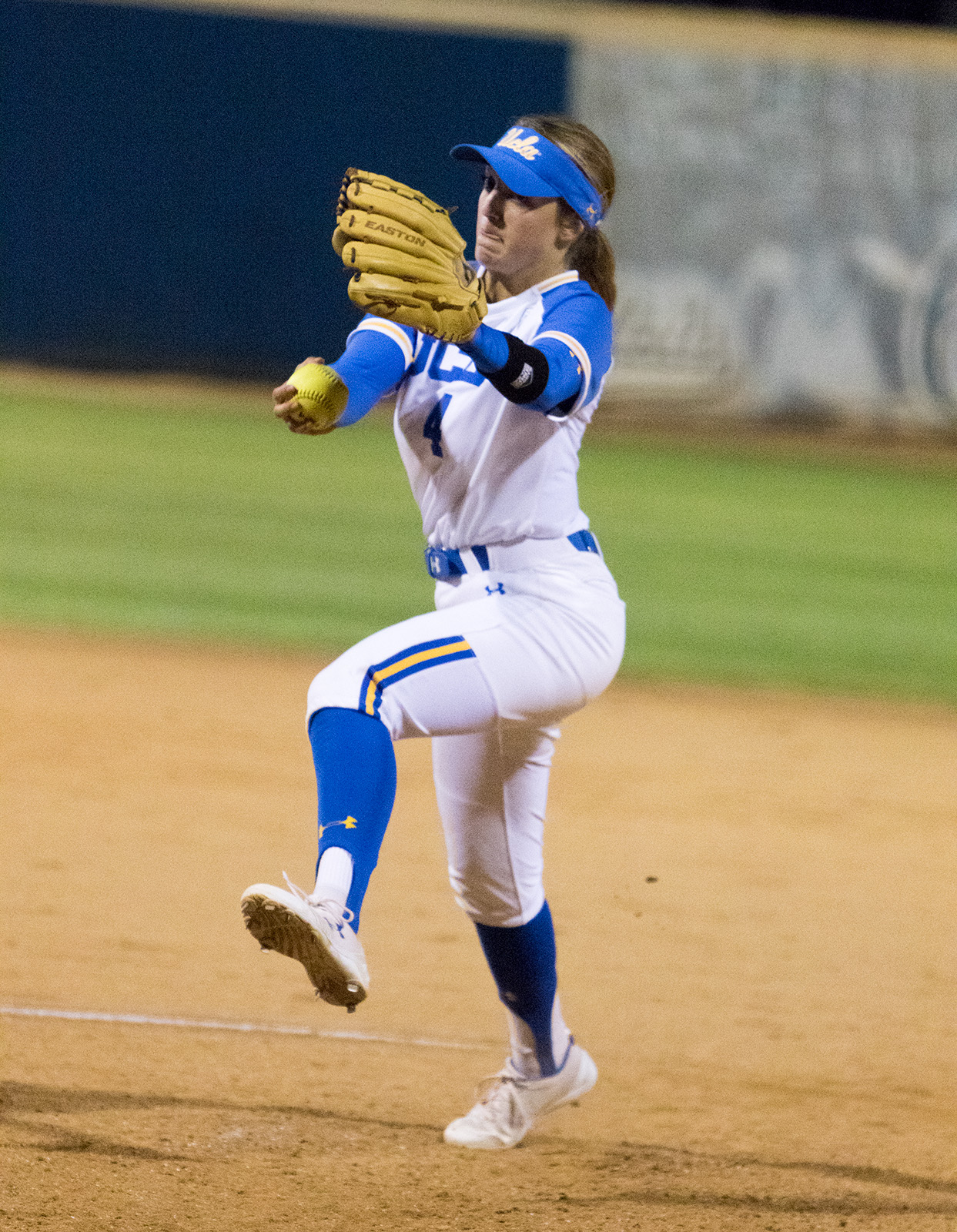 Freshman pitcher Holly Azevedo and the No. 4 UCLA Bruins logged five wins during their undefeated opening weekend. Azevedo logged her first three collegiate wins over three days. (Ken Shin/Daily Bruin staff)
February 12, 2018 10:09 pm
UCLA's fresh faces made a significant impact in the Bruins' dominant opening weekend.
Freshman pitcher Holly Azevedo notched her first three career wins in as many days, including two complete games in which the No. 5 Bruins (5-0) won via the mercy rule.
After UCLA won its season opener against Maryland (1-4) earlier in the afternoon 5-1, Azevedo stepped inside the circle for her first career start Friday night.
The freshman pitched five shutout innings, surrendering two hits, walking one and striking out five against Middle Tennessee (2-4).
After an impressive start, Azevedo was given the ball the next day. She pitched three innings, allowed no runs, struck out three and gave up one base hit to pick up her second victory in a 13-0 win against Cal Poly (3-2).
The freshman capped off her weekend leading UCLA to a mercy rule victory over UC Riverside on Sunday, once again pitching a complete game, allowing six hits and her first earned run.
Azevedo did not know she would be pitching until the day of each game, but was happy that her coaches played her so often.
"It's pretty exciting," Azevedo said. "I know coming in as a freshman you can be anxious, wondering whether you're going to play or not, but I'm really lucky to be given the opportunities."
Overall, Azevedo pitched 13 innings, gave up 9 hits, walked four, struck out 11 and held an ERA of 0.54 to start off her freshman campaign.
Fellow freshman, shortstop Briana Perez, started all five games batting leadoff. The Bruin lineup logged a total of 49 runs over the weekend, 20 of which were driven in by freshmen.
"(Perez) made herself known," said coach Kelly Inouye-Perez. "To be able to fill the shoes of a pretty big name in (former UCLA softball player) Delaney Spaulding as a shortstop and leadoff, she came in and did an outstanding job."
It was the start of an impressive weekend for the top-ranked recruit, who set the pace at the top of the lineup for the Bruins throughout the Stacy Winsberg Memorial Tournament.
"We've had great practices these past few weeks, focusing on hitting," Perez said. "I came in early a couple practices and have been seeing the ball well."
Perez finished off the weekend with 11 hits, two home runs and 11 RBIs, and scored nine runs with a batting average of .611.
Two other newcomers started all five games this weekend as well. Redshirt freshman Aaliyah Jordan batted in the three-spot behind Perez and her sister senior infielder Kylee Perez, playing in left field. Freshman Kinsley Washington began her career as a Bruin playing first base and batting ninth.
Jordan went 6-for-13, scoring five runs, driving in five and drawing four bases. Washington went 3-for-9, with four RBIs, six runs, two walks and four steals.
The duo drew praise from Inouye-Perez for their defensive efforts after Jordan played well in left field, while Washington held her composure playing a position she had previously not.
Freshman Julie Rodriguez, an All-American in high school, split time with junior Zoe Shaw in right field over the weekend.
Rodriguez started two games going 0-for-4, drawing two walks and scoring two runs. Shaw had the better hitting performance of the two going 3-for-6 with three RBIs and two runs in her three starts.
"I'm excited to be a part of this class," Azevedo said. "Having been committed for so long and to finally be here is such a relief."
Inouye-Perez demonstrated this weekend that she fully intends on giving this freshman class opportunities to play.
Ardon joined the Bruin as a sophomore in 2016 and contributed until 2018. He spent time on the softball, men's soccer, women's soccer and beach volleyball beats.
Ardon joined the Bruin as a sophomore in 2016 and contributed until 2018. He spent time on the softball, men's soccer, women's soccer and beach volleyball beats.