Senior gymnast earns scholarship after three years as a walk-on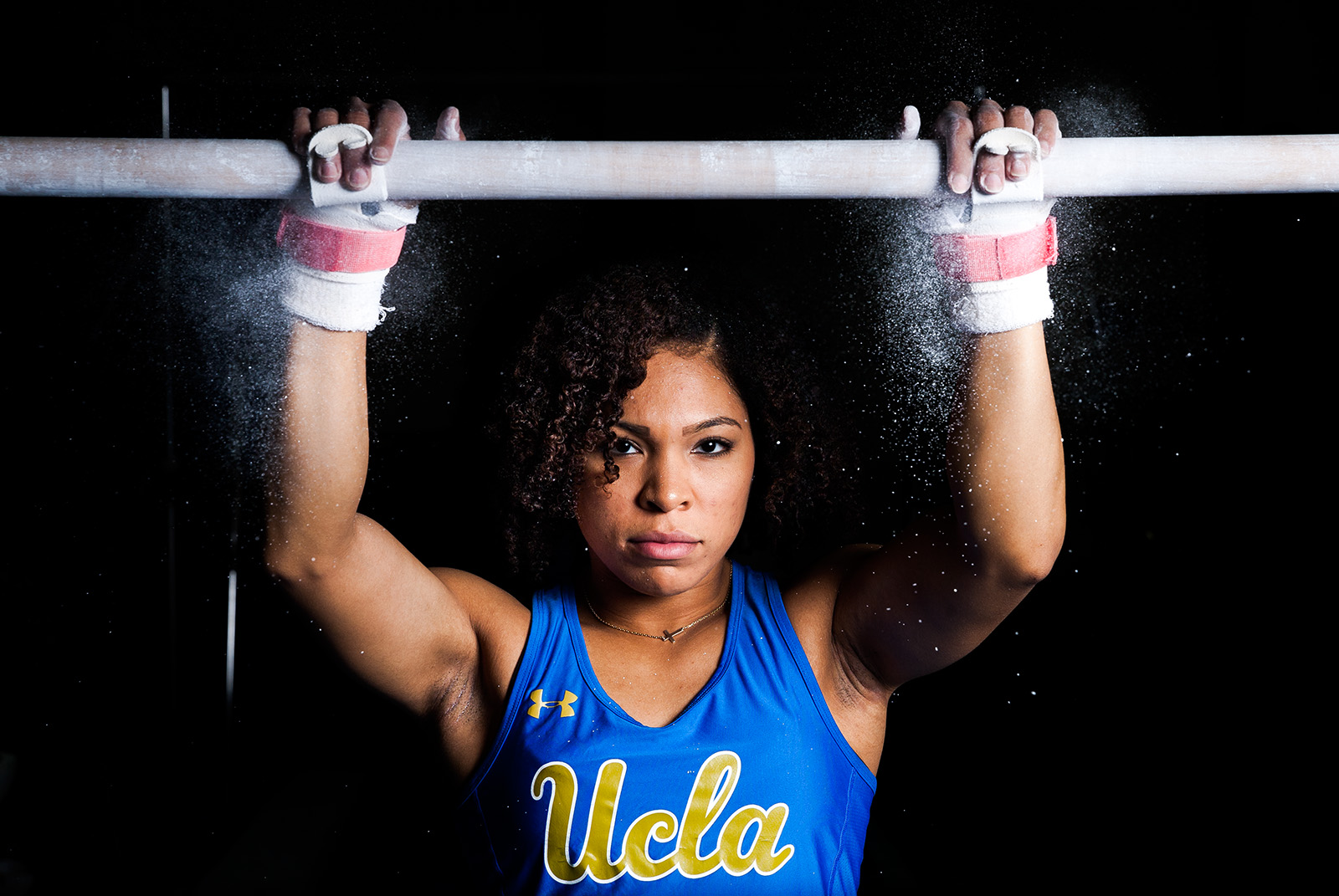 Senior JaNay Honest's journey of joining UCLA gymnastics started on a playground in her elementary school years and included some stops in Westwood along the way. (Kristie-Valerie Hoang/Assistant Photo editor)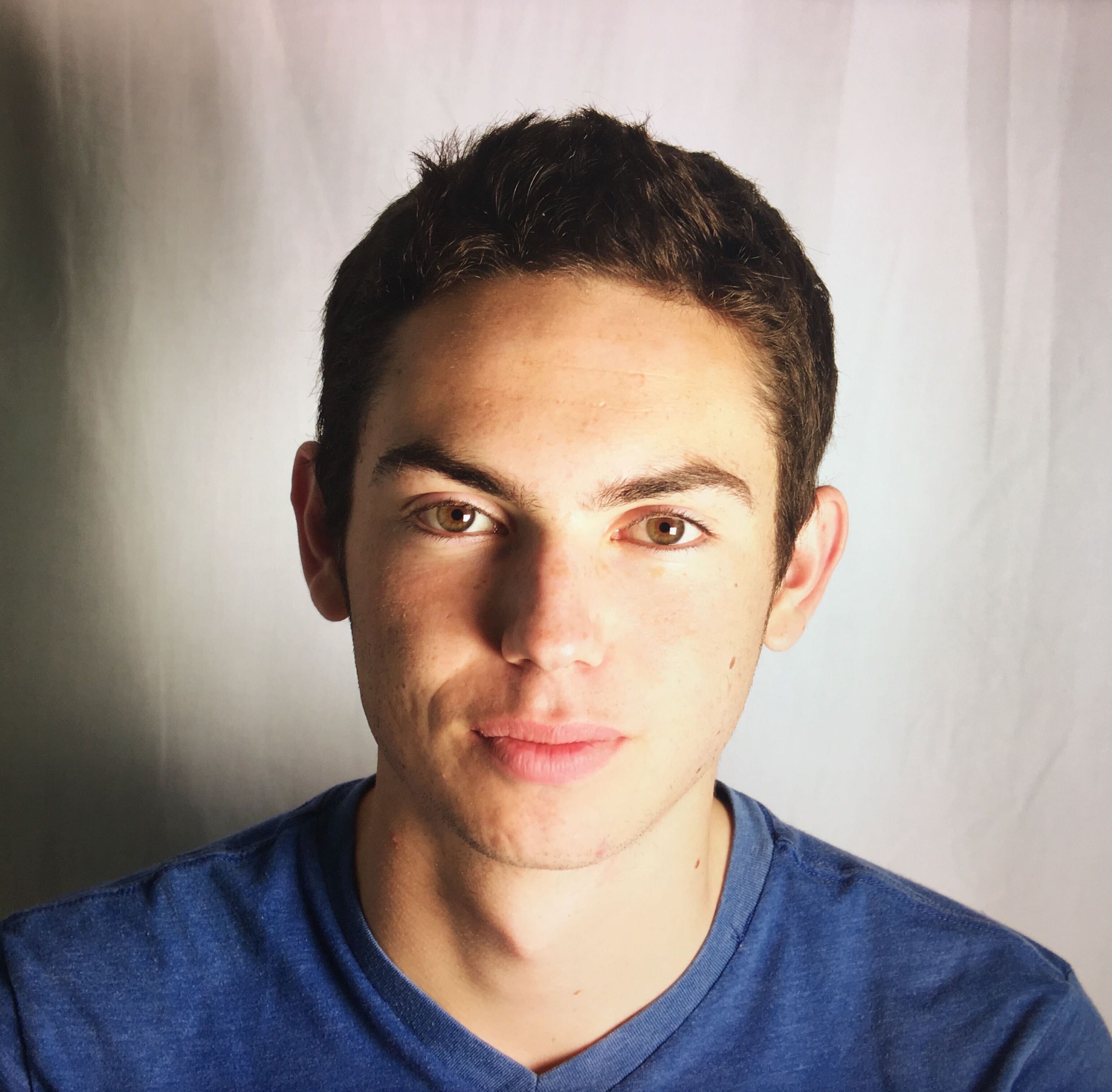 Some collegiate gymnasts get their start in elite clubs when they first start to walk. Others have parents who were gymnasts, so they grow up around the sport.
Senior JaNay Honest got her start in gymnastics on a playground when she was 5 years old.
"I loved the monkey bars," Honest said. "I would be on it every day. I would hang upside down from my feet, so the teachers kind of caught on to that."
Before enrolling in gymnastics lessons, Honest had no knowledge of the sport. Honest said she was terrible when she began gymnastics lessons at her first club, the Central California Gymnastics Institute.
Gymnastics became a more serious endeavor for Honest when she was about 12 years old.
By that age, many others on UCLA's gymnastics team had been committed to the sport for years. When Honest's teammate Madison Kocian was 12, she had already made the U.S. Junior Olympic squad and competed internationally. Volunteer assistant coach Jordyn Wieber was competing in the Pan American Junior Athletics Championships around that age, winning four medals.
Despite starting later than some of her peers, Honest began to believe she could compete in gymnastics at the collegiate level. She went to a gymnastics camp in Westwood that summer, and after that, she knew where she wanted to continue her gymnastics career.
"I came for a UCLA gymnastics camp. I loved the campus, I loved the coaches, I loved the gym atmosphere," Honest said. "I wanted to stay in California. After I came back from camp, I said 'I want to go to UCLA.'"
Honest did not always have support from those around her. Throughout her club career, her coaches often discouraged her from trying to pursue a spot at a top gymnastics program.
"My club coaches, when I told them I wanted to go to UCLA, weren't as supportive," Honest said. "They told me I wasn't good enough. That continued for the next six years."
Every Division I school is allowed to give twelve scholarships for women's gymnastics, which means half of the UCLA roster could receive one. As a walk-on, she knew making the team was not guaranteed.
Early in her UCLA career, Honest had a conversation with coach Valorie Kondos Field. Kondos Field explained how important walk-ons are to the culture of UCLA gymnastics, and how Honest would be a great addition. Kondos Field told her about the UCLA walk-on legacy and that the first woman to score a 10.0 for UCLA, Amy Thorne in 1993, was a walk-on.
Honest wanted to continue that legacy.
"You've got to work hard to get in. … Walk-ons in gymnastics are just as competitive as other athletes," Honest said. "Coming in, I felt like I was viewed as less than, but that wasn't the atmosphere here. (It) was just believing in myself and knowing that I am just as worthy."
Honest joined the team her freshman year and the senior has now competed in 32 straight meets for the Bruins. Kondos Field said Honest has been consistent for the Bruins on three events throughout her entire collegiate career, something only four other Bruins accomplished during the last season. The numbers back it up.
During her first three years in Westwood, Honest scored a 9.8 or better at least once each season on all three events. She has only competed on the uneven bars so far this season and scored a career high 9.950. Honest has also scored a 9.9 or better on vault and floor, both in her sophomore season.
The jump from club to college gymnastics presents a schedule shift for most gymnasts. Club gymnasts compete once every few months, but the Bruins compete in at least 12 meets over the course of three months. Honest said that building her mental strength helps her stay physically healthy through the season.
"Definitely just working on my mental game and keeping my cues strong," Honest said. "In gymnastics, I truly believe that it's 90 percent mental and 10 percent physical."
Kondos Field said she admired Honest's work ethic and drive to push herself. Honest has been talking to sports psychologists and making sure she keeps her body healthy so she can extend her streak of consecutive meets, second best on the team behind senior Sonya Meraz.
Kondos Field said she thinks Honest's success comes from her self-motivation.
"(She provides) hope, really," Kondos Field said. "She's just a great (athlete) with great intentions and enthusiasm for getting better."
Kondos Field said nothing great ever happens all at once. She added excellence takes persistence and no one ever knows exactly what will happen, but athletes like Honest do not let that stop them.
"That's how she's been able to have such an incredible collegiate career with one of the greatest programs in the country," Kondos Field said. "It takes diligence, discipline and consistency."
For her final year at UCLA, Honest was awarded a scholarship, with the coaches surprising her and Meraz before practice in July. She said while she is glad to have the scholarship, she said being a walk-on for three years helped her prepare to finish her final year tuition-free.
"It was really cool for me to earn a scholarship for my last year," Honest said. "It got to a point where I was like, 'I've been a walk on for three years. I can make it work.' I just started focusing on contributing to the team to the best of my ability."
Honest's favorite moment at UCLA was in 2016. Competing at the Pac-12 championships as a sophomore, Honest won a share of the Pac-12 uneven bars title. This helped the Bruins secure their first Pac-12 title since 2016.
"I didn't expect that I was going to win. When I went up, I thought it was third," Honest said. "Knowing I tied with (former Stanford gymnast) Elizabeth Price, who had been up there for a long time, was very rewarding. All my hard work on my form and my technique paid off."
After graduating from UCLA, Honest said she hopes to become a TV reporter, and she has already taken a step toward that path. Honest began hosting the UCLA gymnastics podcast, "Bruin Banter" this year. She and redshirt senior Christine Peng-Peng Lee, her co-host, interview a different Bruin gymnast each week.
In the last episode with sophomore Kyla Ross, Lee and Honest are constantly laughing, finishing each other's sentences and making similar hand motions that prompt even more laughter. Lee said Honest's personality makes her very easy to get along with.
"(Honest) and I are super close. Her and I have a really good relationship where I can talk to her about gym or give her advice," Lee said. "We have so much fun on the competition floor. We just feed off each other's energy."
With only three home meets left in her career, Honest said she wants to soak in every moment with her team in Pauley Pavilion.
"The energy is really amped up and you can feel the love and camaraderie. I love every single home meet we have together," Honest said. "That's what I'm focusing on now as a senior. I can't take that for granted."
Perez was the Sports editor for the 2020-2021 school year. He was previously an assistant Sports editor for the men's volleyball, women's water polo and track and field beats during the 2019-2020 school year and a staff writer on the gymnastics, beach volleyball, women's water polo and men's water polo beats.
Perez was the Sports editor for the 2020-2021 school year. He was previously an assistant Sports editor for the men's volleyball, women's water polo and track and field beats during the 2019-2020 school year and a staff writer on the gymnastics, beach volleyball, women's water polo and men's water polo beats.