Alumna awarded Medal of Courage for aiding victims of Las Vegas shooting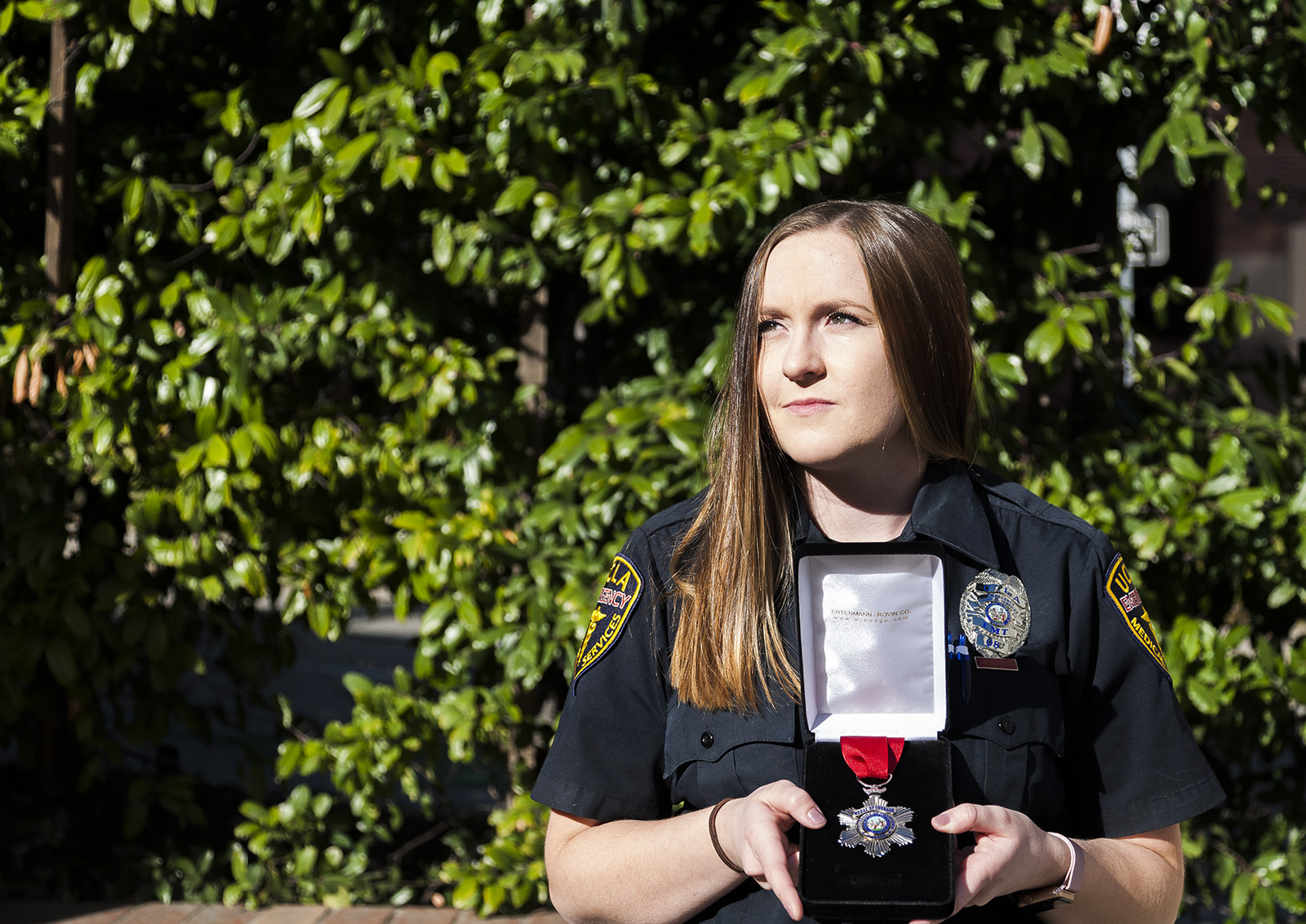 Brittany Speer, a UCLA emergency medical technician and UCLA alumna, received the Medal of Honor for treating victims during an October shooting at the Route 91 Harvest festival in Las Vegas. (Kristie-Valerie Hoang/Assistant Photo editor)
February 7, 2018 10:14 pm
Brittany Speer and her family visited Las Vegas in October expecting to attend a country music concert. Instead, they found themselves in the midst of an unrelenting hail of gunfire.
On Oct. 1, a lone gunman shot and killed 58 individuals attending the Route 91 Harvest music festival in Las Vegas and wounded over 800 more, including Speer's father, who was shot in the lower back. Speer, a UCLA emergency medical technician and 2017 alumna, was recognized by UCPD for her efforts to treat victims of the shooting at an event in December.
Following the shooting, Speer scrambled to safety and reunited with her parents in front of the Hooters Casino Hotel. A guard at the hotel, who learned that Speer was an EMT and her mother was a nurse, asked if they would help injured concertgoers inside the hotel lobby. Using a first aid kit, latex kitchen gloves, washcloths and towels, they treated individuals' wounds.
Speer said everything was a blur as she worked to help as many people she could with what few supplies she had.
"I didn't really think about my safety at that point, I was more concerned with the safety of others," she said.
Speer, who became the first civilian to receive UCPD's Medal of Courage in December, said receiving the award was a complete surprise.
She and her family accepted an invitation to attend a UCPD holiday party not knowing Lt. Kevin Kilgore and Capt. Russell McKinney had nominated her for the award. When Chief Tony Lee began reciting Speer's account of what happened in Las Vegas, she said she knew she would be recognized in some way.
"I had no idea I was going to receive the award," Speer said. "I didn't even know a civilian could receive the Medal of Courage."
Speer joined the student-run emergency medical services program in 2014 because she wanted to pursue a career in medicine. The program requires students to become certified EMT and undergo a six-month intensive training program which entails a classroom orientation, simulations and field experience.
Students in the EMS program are then able to take shifts, responding to medical aid calls on the UCLA campus and the surrounding Westwood area, from Sunset Boulevard to Wilshire Avenue, and from Veteran to Hilgard avenues. Other EMS officers' tasks include taking police reports and handling the UCPD's lost and found.
Kilgore, who oversees the UCPD EMS program at UCLA, said he nominated Speer for the medal because he appreciated her efforts in Las Vegas and felt she deserved recognition from the department despite being a civilian.
"(Speer) rose to the occasion," he said. "She utilized her training to help people in their time of need and showed bravery and selflessness."
Tom Reynolds, EMS manager, said he is glad Speer was available to help victims during the shooting and thinks she represented UCPD well.
"Everyone there had a rough go. Knowing that someone was doing good makes me thankful and proud," he said. "She's a hard worker and when things need to get done she gets them done."
Speer said she aspires to become a physician's assistant and is currently applying to programs while working as an EMT in the EMS program at UCLA.