Bird scooters provide new mode of transportation around UCLA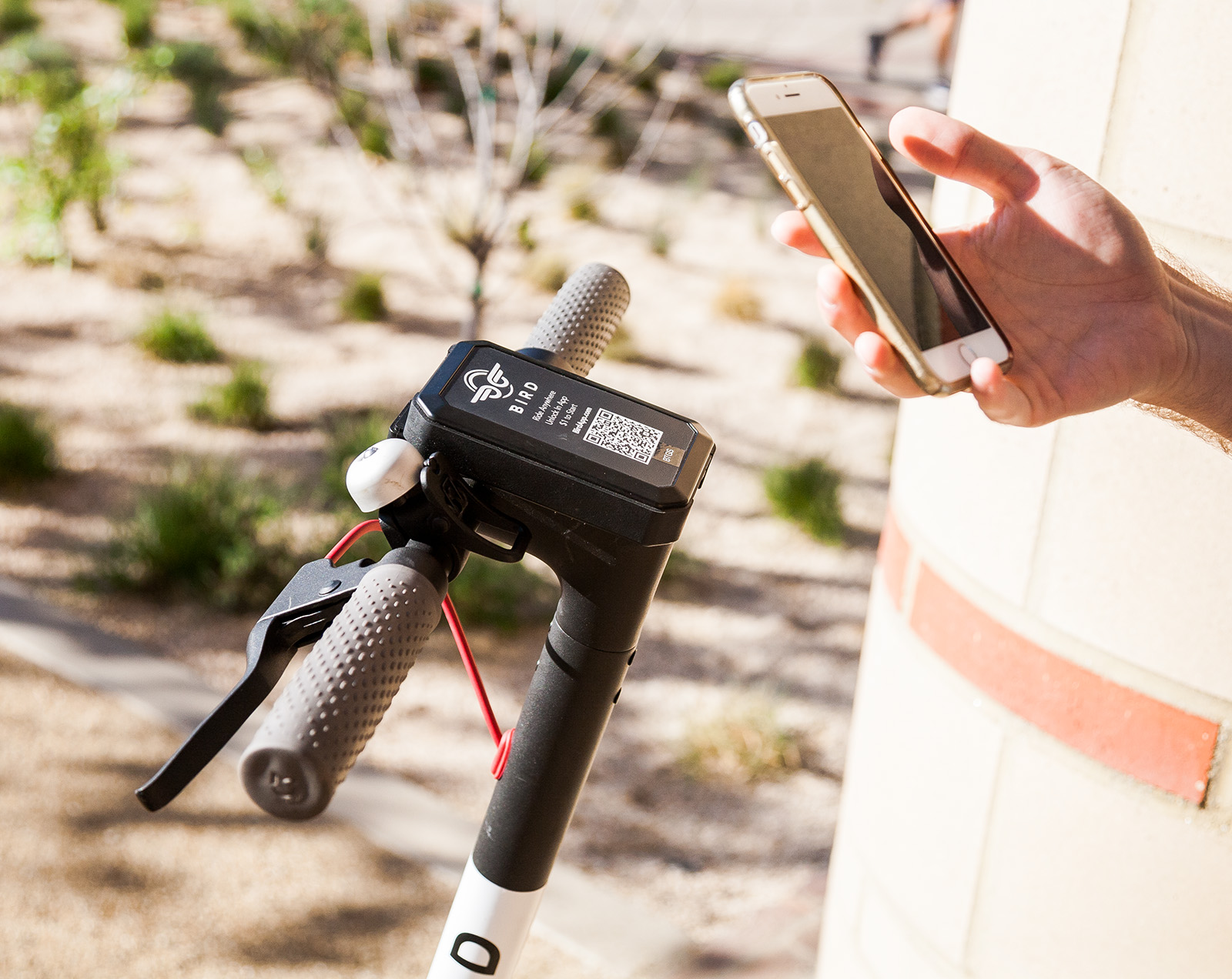 Several students have started using Bird electric scooters to get around campus. (Kristie-Valerie Hoang/Assistant Photo editor)
Schuyler Poh has been waking up later since she started using electric scooters on campus to zip to class.
Bird electric scooters connect to a mobile application that allows anyone with a phone and a valid driver's license to access and ride the devices. Riders can scoot around for as long as they want, at speeds of up to 15 mph, and leave the scooters anywhere – including the side of the road, in front of classrooms or by apartment complexes – once they have arrived at their destinations. The service costs $0.15 per minute with an additional $1 base charge.
Dozens of students have signed up for the app since the scooters arrived on campus late last month.
Poh, a second-year political science major, said she has used Bird every day since she found out about it last week.
"I received a Snapchat from a friend who told me I had to try it, and I have a lot of fun on them," she said. "I honestly use it more for fun than for transportation."
Poh said that although Bird scooters help her get to her destinations faster, she can't use them on every part of campus.
"UCLA has a lot of stairs and in general isn't very wheelchair-accessible, so it's definitely not easy to get around some parts of campus because of that," she said.
Lauren Olcott, a first-year undeclared student, said she thinks the Bird app is convenient because it is one of the first apps to make it easier for individuals to move through campus quickly.
"Having a cheap and nearby scooter readily available is very convenient when it comes to the commute to class, grocery store, a friend's house," she said.
UCPD Lt. Kevin Kilgore said he has some safety concerns about the scooters because many riders ignore rules by not wearing helmets and riding on sidewalks. Users are allowed to ride on bike lanes and on roads.
"People need to be cognizant of the rules that apply," he said. "The biggest thing is that we want people to be safe whether they're a rider or a pedestrian."
Kilgore said that UCPD officers are allowed to issue warnings and citations when Bird riders are breaking rules, and officers are also hoping to educate students about vehicle safety.
"It's not just about enforcement," Kilgore said. "Safety is the biggest thing."
Several students said they are uncomfortable using the Birds because they do not think the service is safe to use.
Arlo Goldman, a first-year design media arts student, said he does not think the Birds are easy to ride.
"I used it once and almost got hit by a car," he said. "I just feel like campus is really crowded, so it's really easy to hit someone."
Goldman added he thinks the Bird scooters are an unreliable mode of transportation because they are not always available.
"There aren't enough Birds, so there's not going to be one nearby everytime you need it," he said. "Also, the fact that we can't ride them on Bruin Walk makes it unhelpful in a lot of situations."
Talia Shimoni, a first-year psychobiology student, said she is still not accustomed to riding the scooters.
"I only used it once because I'm too scared to ride it around campus," she said. "I feel like I'm going to fly into people."
Trevor Huffaker, a first-year civil engineering student, said while he likes that the Birds contribute to clean transportation, he enjoys walking around campus and worries he will spend too much money on the service if he starts using it.
"It's a good idea from the company, especially in places where there are a lot of college students looking for a cheap way to travel short distances," he said.