UCLA common book program should expand mediums to appeal to wider audiences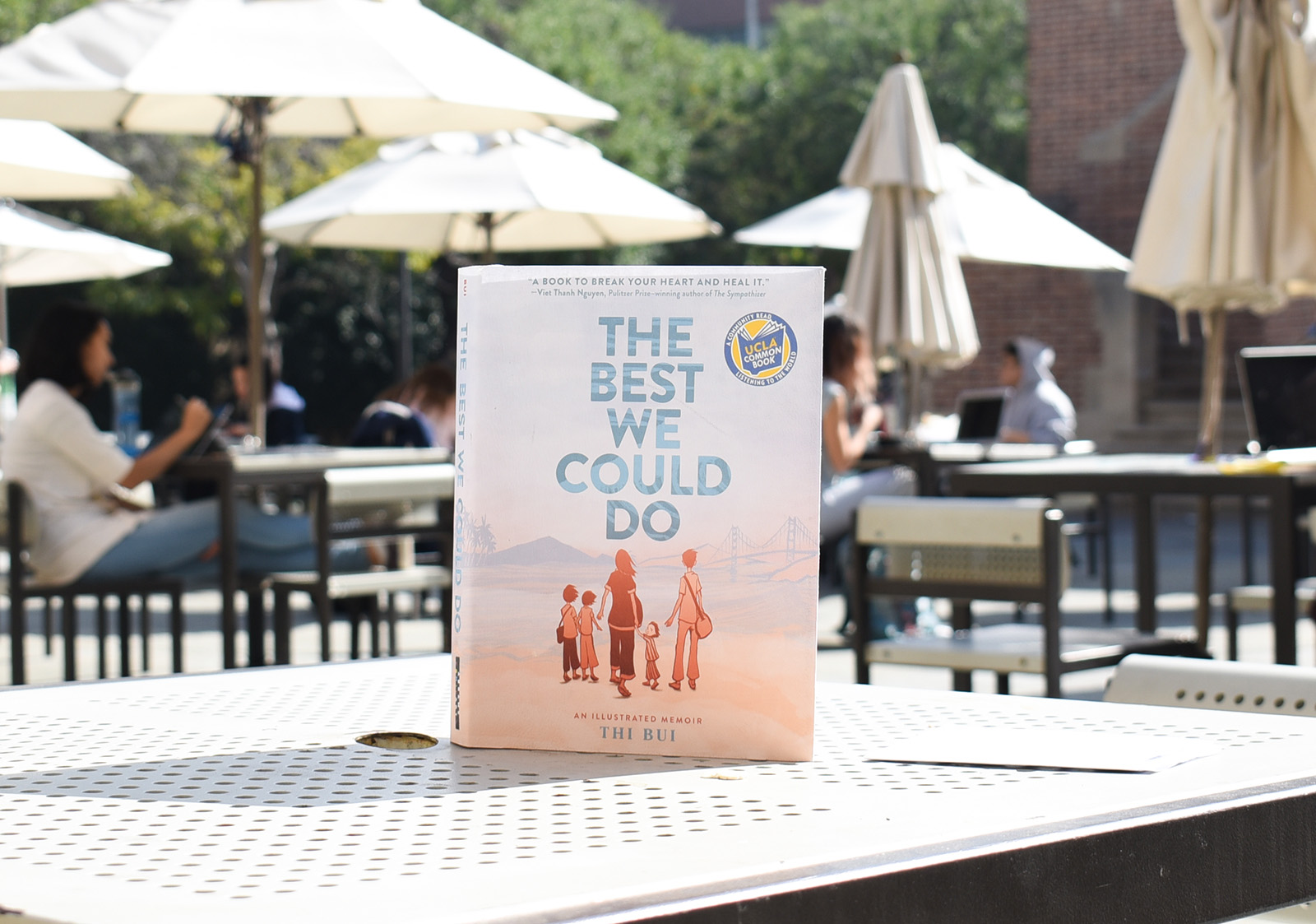 UCLA must consider nontraditional ways to increase student participation in the common book program (Joe Akira/Daily Bruin).
Correction: The original version of this artice incorrectly stated Tara Prescott is an English lecturer. In fact, Prescott is a Writing Programs lecturer.
Reading UCLA's common book wasn't all that common. But this year, that seems to be changing.
The Common Book Selection Committee, which consists of faculty members, students and UCLA community members, selects a book each year they believe is noteworthy and important for students to read. The common book program has existed since 2008 and encourages UCLA students to read the same book and engage in meaningful discussions about it during their first few weeks of college.
However, students haven't always taken part in these discussions, and many skirt the common book reading requirement, either because of busy timetables or lack of interest, since the book is distributed in the summer. In response, First Year Experience, the organization in charge of the common book, decided to change the program this year. It designed an opt-in system in which anyone could pick up a copy of Thi Bui's "The Best We Could Do," a graphic novel, from 14 different pop-up sitesfrom January through February. Several faculty members also incorporated the book into their courses.
This year's opt-in program provided more ways for students to interact with the common book than in previous years, and that kind of out-of-the-box thinking is necessary for the university to continue to engage incoming and returning students in the program. UCLA should not just continue with the opt-in program next year, but also introduce other common material, such as a film or a soundtrack, to encourage more students to participate in common discourse.
It's important to note that not all students engaged in the summer reading. Tara Prescott, a Writing Programs lecturer, said incoming students often spend the summer before college with family and friends, and wouldn't necessarily prioritize reading the common book during their massive transition to university life.
Similarly, La'Tonya Rease Miles, director of FYE, said she was motivated to change the common book program after she received feedback from resident assistants on the Hill that many incoming students weren't reading the book in previous years.
"We had data that showed most students did not read the book, definitely not by Welcome Week," Miles said. "Both my gut and prior experience in coordinating the common book program at Loyola Marymount University told me that we just needed to shift the timetable and to spend more time garnering campus partners, namely faculty."
Prescott said distributing the common book in January instead of during the summer gave students more time to adjust to college and decide on their own if they wanted to participate in the common book program.
Introducing this year's common book during winter quarter also allowed returning students, not just incoming students, to participate in the program. By doing so, the program was able to recruit a greater number of students who were genuinely interested in reading the book.
Partnering with faculty increased the reach of the book and its concurrent discussions. Eight courses incorporate this year's common book into their curriculum, according to the common book website. Miyako McLaughlin, a second-year neuroscience student, said she read the common book because it was required in her English 85: "American Novel" course, and while she enjoyed reading the book, she said she probably wouldn't have picked it up on her own if it wasn't required.
But UCLA can do better when it comes to exposing students to important and meaningful media. Students are increasingly turning to digital forms of consumption – songs and films, for example – and if the goal of the program is to foster discussion among students about intellectual and social issues, it should experiment with forms of content beyond the written word.
Other universities have already experimented with these kinds of programs. UC Berkeley chose the soundtrack of the musical "Hamilton: An American Musical" for On the Same Page, a program similar to the UCLA common book program. All students were able to access the soundtrack for free on Spotify.
A common film would also require less of a time commitment and might appeal to a broader range of students. Prescott and Miles said they would welcome a common film as a way to unite students and encourage discussion. More importantly, UCLA has venues like Ackerman Grand Ballroom, Royce Hall and the Northwest Campus Auditorium to host screenings for large numbers of students.
UCLA's decision to change its common book program to an opt-in model was innovative and advanced its goal of bolstering student participation in the common book program.
However, as the university considers options for next year's common book, it might want to put down the book and turn on the music or play the movie.