The Quad: "Stories of Almost Everyone" exhibit allows art to stand on its own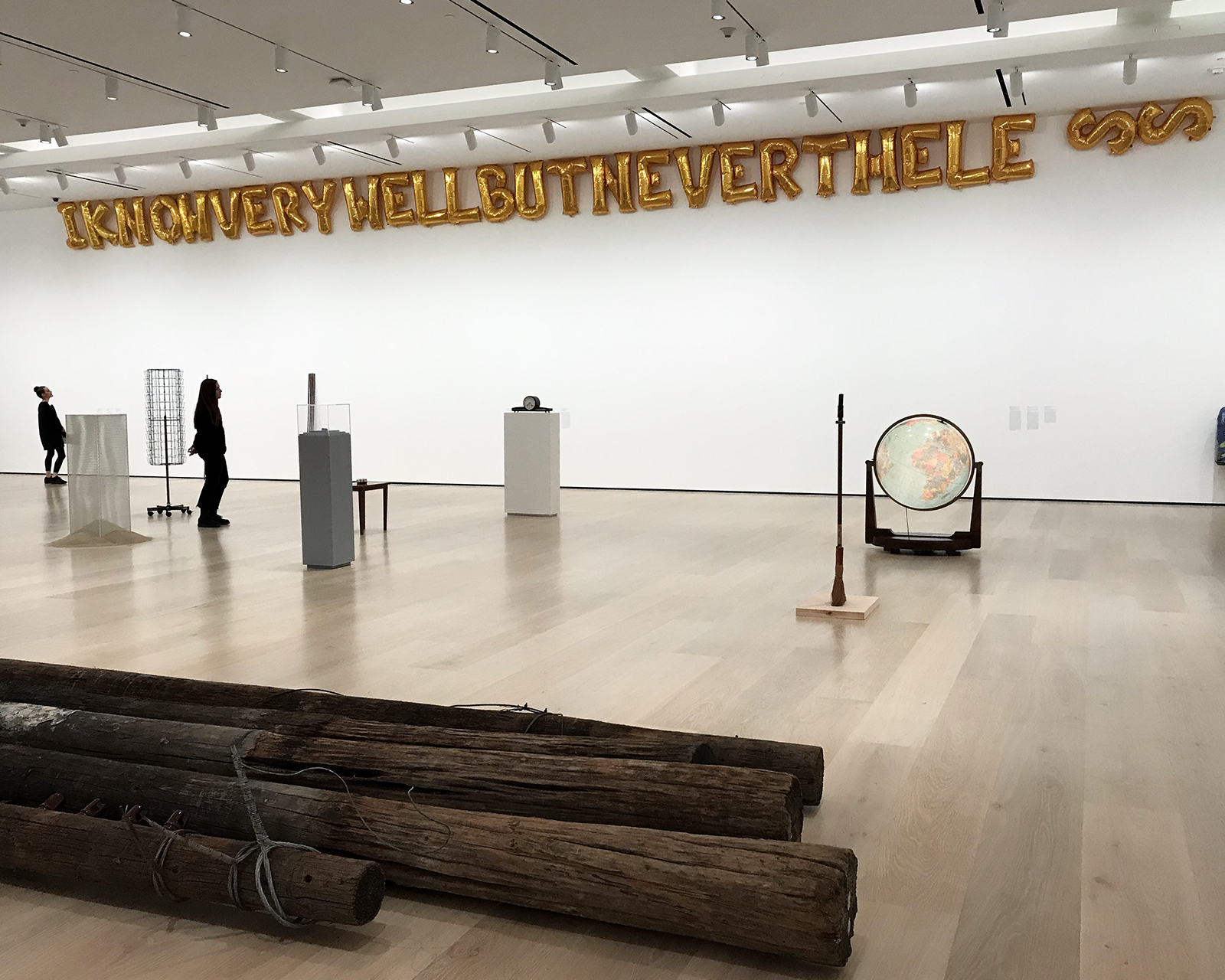 "Stories Of Almost Everyone" is on display at the Hammer Museum until May 6. (Lionel Deatherage/Daily Bruin)
The Hammer Museum's advertising copy says its new exhibition "Stories of Almost Everyone" is an attempt to be "skeptical of the conditions of museological mediation and art's promise to convey meaning."
What this means is that in curating exhibits, displaying them and writing up descriptions of artworks, museums take away from the inherent meaning or narrative of the original art object itself. "Stories of Almost Everyone" is an attempt to let works of art stand alone and say something on their own.
The exhibit, on view until May 6, features works of the "found object" variety. These are pieces whose only function as art in the traditional sense is that they are kept in a well-lit, white-walled room in a place called a museum. There are musical instruments, newspapers, pieces of mail, potted plants, a garbage can and one piece that can only be described as a man – literally, an actual person in the room – dressed as a museum worker who takes off his clothes and does a sexy dance. That was one of my favorites.
The effect this kind of art has is delightful. There is a certain playfulness and accessibility to it. Unlike giant canvasses surrounded by baroque frames that put a wall between the viewer and the art, telephone poles on the floor and golden balloons on the ceiling surprise and beguile the viewer. They excite something in you and make you think about art in a fresh, invigorating way. One work, "Used shoes," featured 13 pairs of dirty old canvas sneakers – Vans, Converse, etc.– tucked away in the corner of the exhibit. The description next to it said it was meant to show "teenage aimlessness" and "the relationship that once existed between the friends that wore them." (Perhaps the only issue of the exhibit is that the theme of no descriptions is contradicted by all the works having descriptions.) I was reminded of my own adolescence: dirty old sneakers on a bedroom floor and the tantalizing thought of where I would wear them next. More than any work of art I'd ever seen, "Used shoes" felt like my life writ as art – on display, sanctified, deified. I could relate to it. You probably could too.
Other flights of fancy included an ever-growing stack of mail called "Enveloper." For the duration of the exhibit, pieces of mail addressed to Hammer Museum staffers will be left on the floor in the gallery. They represent the framework of the museum –nameless people who are as integral to the operation of the museum as the building itself. It is simply envelopes, magazines and packages in a stack on the floor. And it's wonderful to behold.
"Stories of Almost Everyone" is inspirational and aspirational. I remarked with a friend I'd brought along with me about how each piece made me want to go out and make my own exhibition out of my own shoes and my own mail and whatever else I have lying around. There is an accessibility and a playfulness to these sorts of artworks. They remind you of a kind of artistic universality – that there is art to be found everywhere, in every object and in every life lived.
"Stories of Almost Everyone" is as contemporary as contemporary art gets. One of the works is titled "Yesterday's Newspaper." It's yesterday's copy of the Los Angeles Times on the floor. This is far removed from traditional notions of what art is. It's fun; it's intriguing; it's exciting – and it's still free. Take 30 minutes out of your day to go and see it.