Former high school rivals develop chemistry, bond at UCLA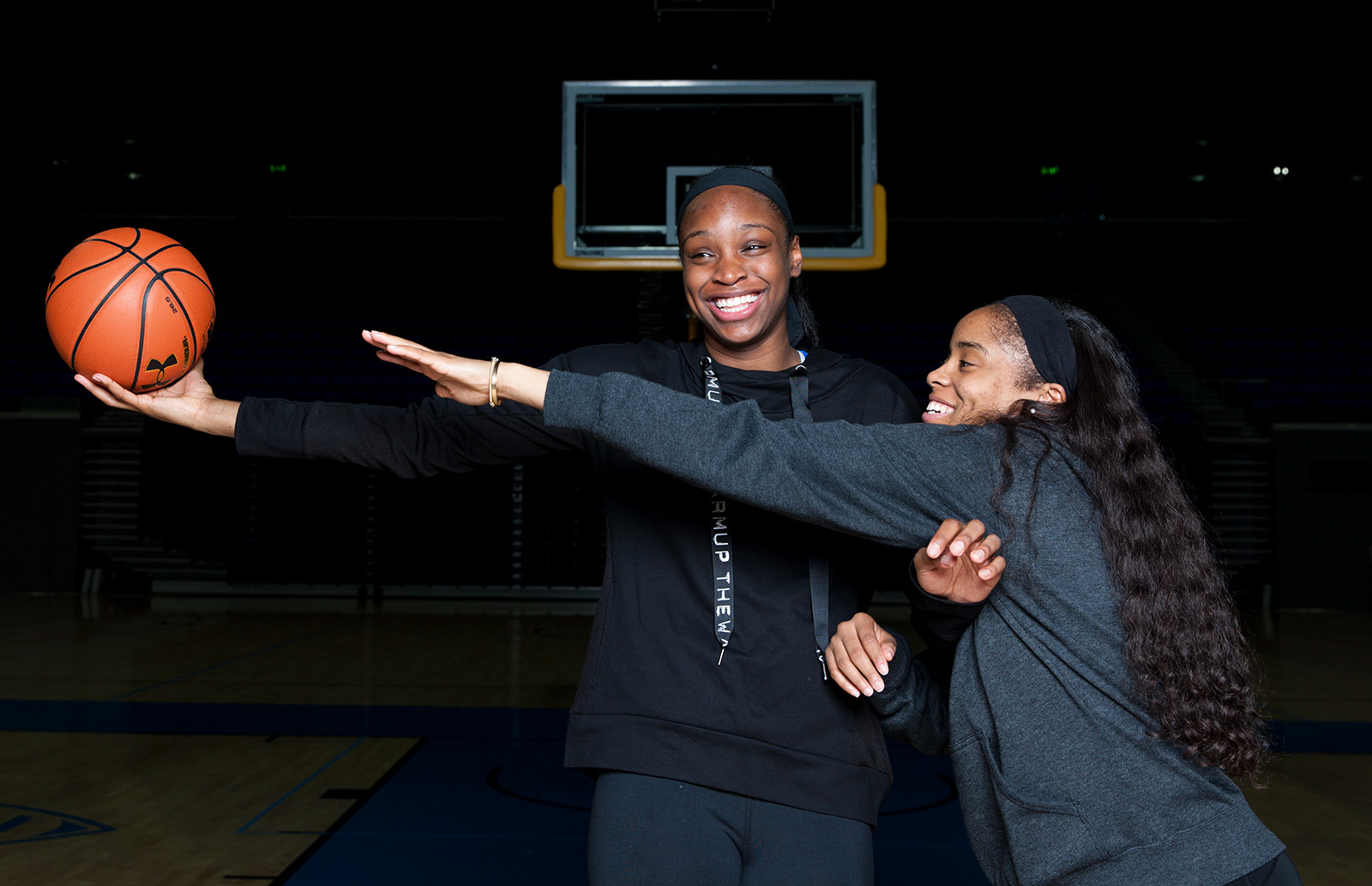 After competing against one another at rival high schools for three years, senior guard Jordin Canada and junior forward Kennedy Burke have become inseparable as teammates for UCLA women's basketball. (Aubrey Yeo/Daily Bruin senior staff)
February 5, 2018 10:54 pm
Coach Cori Close received an unusual text message from her freshman point guard in 2015.
"I don't think we should recruit Kennedy Burke," Jordin Canada wrote.
Canada was known to be a quiet player, but she wasn't afraid of being vocal about Burke, her former high school rival.
"I didn't know her, but I didn't like her," Canada said.
Fast forward three years: The pair is now inseparable. Their prepractice ritual includes Burke giving Canada a piggyback ride to center court for the team huddle.
Canada and Burke played for rival high school teams, but it wasn't until an altercation during Canada's senior year that she grew to dislike her future teammate.
A misunderstanding
Canada and Burke attended rival high schools in Southern California: Windward and Sierra Canyon, respectively. Canada, a year above Burke, led her team to victory throughout their three overlapping years.
It wasn't the three years on the court that led to Canada's grudge for Burke, but instead a minor incident after a boy's varsity basketball game between the two schools.
"It was a very minor altercation," Canada said.
Canada and current USC forward Kristen Simon, her former high school teammate, were in the stands to support their school's boy's varsity basketball team, while Burke was on the opposite side cheering for her school.
Sierra Canyon defeated Windward, and Simon did not appreciate the Sierra Canyon girl's team cheering loudly outside of the Windward girl's locker room. Simon and the Sierra Canyon girl's basketball team began bickering, but Canada said Burke just walked away. Simon attempted to chase after Burke before Canada stopped her.
"I wasn't even involved," Canada said. "But I was like 'Who does (Burke) think she is?' And that was my first encounter with her."
During their last league game against each other, Burke scored 20 points, but Canada lifted her team to a 57-49 victory with 13 points and eight assists.
The loss was Sierra Canyon's best performance against Windward during their three years competing against each other. Sierra Canyon was consistently blown out each meeting before that, losing by an average of 28.2 points.
"The games were never really close, but it was a really good rivalry," said Windward's girl's varsity coach Vanessa Nygaard. "(Burke) was such a tough matchup for us because of her size and ball-handling ability."
In the annual game the following year, Burke, at that point a senior, finally secured her first-ever victory against Windward. The 6-foot-1 guard iced the contest by draining two free throws down the final stretch to win 60-57.
But Canada was already at UCLA, so Burke had still never beaten Canada.
What Burke didn't know, however, was how Canada felt about her. In fact, the incoming freshman at the time said she was so honored and eager to play with someone she admired as one of the best point guards in the country.
"The crazy thing is – when (Canada) didn't like me, I didn't know," Burke said. "So I was so excited to play with (her when) I committed to UCLA."
Similar personalities
Canada and Burke both describe themselves as introverts.
But after auditioning for a spot in Windward's annual "Coffeehouse" performance, for the first time, Canada stepped onto a new stage her senior year of high school. For the McDonald's All-American and national top-10 recruit, her typical stage was wooden floors. But this time, it was on a stage in front of her whole school.
"I hadn't done it for the past few years and everyone knew I could sing," Canada said. "So I forced myself out of my comfort zone and I sang '(Set) Fire to the Rain' by Adele."
Canada put on a show – this time, a show that her teammates and coaches could witness from the audience.
"Everybody was like 'Oh that's a basketball kid,' and they didn't even know much about her," Nygaard said. "It opened a lot of doors for her, and I thought it was really cool how she was willing to take that risk that a lot of people wouldn't."
Burke also has a passion for performance – she loves to dance. During home games, Burke always contributes to the "pregame hype circle" in the hallway of Pauley Pavilion. Canada said she also likes to videotape Burke dancing in the locker room.
However, it wasn't easy for the two to bring their personalities onto the court coming to UCLA. During each of their freshman years, Close said they both struggled to find their voice. And it wasn't until a "hot seat" team activity Burke's freshman year that Canada revealed her initial impression of her teammate.
"But then I told (Burke) how much I appreciate her, and that was when our relationship started to grow," Canada said.
Burke said she was extremely reserved when she first started playing at UCLA. But as she's developed over the years, the team has noticed both improved work ethic and communication from the junior guard.
"I think that (Burke) has no idea how powerful her influence is," Close said. "She underestimates how much people look up to her because of her sweet spirit, but also because of her incredible abilities on the court."
Nygaard noticed the same of her former player.
"Because (Canada) was such a good basketball player and so talented, sometimes shy comes off as aloof," Nygaard said. "But then when she gets on the court … she's going to battle and do whatever it takes."
Through mentorship from coaches like assistant coach Shannon Perry, Close said the two Bruins eventually began to carve out places for themselves. And it wasn't about becoming less shy or more vocal, but instead using their own personalities to guide their teammates and shape their game.
"They're different demeanors, they have different interests, they've got all these different things," Close said. "And now they've got this friendship for life … I'm looking forward to watching (Burke) continue to progress in her influence just like (Canada) has."
Complementing each other
On the court, the two have developed a chemistry that has contributed to UCLA's success this season.
Burke registered a season high of 19 points on 7-of-12 shooting against Baylor in November. Canada assisted on all but one of Burke's seven field goals, contributing to 13 of her total points.
While it was an accomplishment to take down the then-No. 3 team in the nation, the chemistry between Canada and Burke went unnoticed due to attention being directed toward other key players.
"It's fun to watch Burke play because she's so athletic – the tip-ins, I wish I could do that," Canada said. "She's so easy to play with (because she) has the ability to be so versatile at multiple positions, and I think that's rare in women's college basketball."
Against Baylor, Canada logged 20 points and dished out a season high of 13 assists to notch her 14th career double-double.
"(Canada) has great vision of where everyone is, and she always seems to find me," Burke said. "She knows when to pass it and when not to, so I think that's the special connection we have on the court."
After two wins against crosstown rival USC, 32 of Burke's 91 total field goals this season have been assisted by Canada.
Canada said she thinks Burke is unstoppable when she plays to the best of her ability.
She also praised Burke's maturity during practices and her proactiveness in executing reps consistently at game speed.
"They really challenge each other and they're both great players, so it's just been fun to watch those things grow," Close said. "One of the things I love about basketball in general is that it creates friendship and crosses lines that never would've been crossed, in the best kind of way."
Role models
Kevin Durant and Russell Westbrook used to represent one of the most effective All-Star duos in the NBA.
At UCLA, Burke models her game after Durant, while Canada aspires to be like Westbrook.
Burke, although listed as a 6-foot-1 guard, can comfortably play positions one through five. With a 6-foot-5 wingspan, she can run the offense, block a post player and execute in transition.
"I have so much confidence in her that when we need her to score and when we need her to get the job done, she will," Canada said. "You can't really say that for a lot of people, and I think she's starting to finally realize that."
For the 5-foot-6 guard, a surprise was coming Canada's way before the Oregon State game early January. Canada said she had never been starstruck before.
But then Westbrook walked through the locker room door.
"(When he walked in), I swear my heart dropped," Canada said. "I literally couldn't concentrate and my legs were shaking. And as we were walking out (before the game), he patted me on my back and said 'let's go,' and that's when I lost it."
Westbrook, a former UCLA player, delivered a pregame pep talk to the UCLA women's basketball team before they faced then-No. 16 Oregon State. The Bruins went on to rout the Beavers 84-49.
"I love him because of his tenacity (and) his aggressiveness," Canada said. "He gives it his all and you can tell that he cares about his teammates. … He plays with so much passion and he's so athletic and smart, and that's the kind of point guard that I want to be."
"I think that's you as well," Burke said.
Like Durant and Westbrook, the two will part ways after this season. While Canada, a top draft prospect, transitions to the WNBA, Burke will lead UCLA as a senior next year.
But like Durant and Westbrook, the two would not have made it this far without each other.
Or without the piggyback rides.
Hong is the 2019-2020 Managing editor. She was previously an assistant Sports editor for the women's basketball, men's water polo, women's water polo, women's tennis, and beach volleyball beats.
Hong is the 2019-2020 Managing editor. She was previously an assistant Sports editor for the women's basketball, men's water polo, women's water polo, women's tennis, and beach volleyball beats.