Editorial: Neighborhood Empowerment's proposed ordinance disempowers Westwood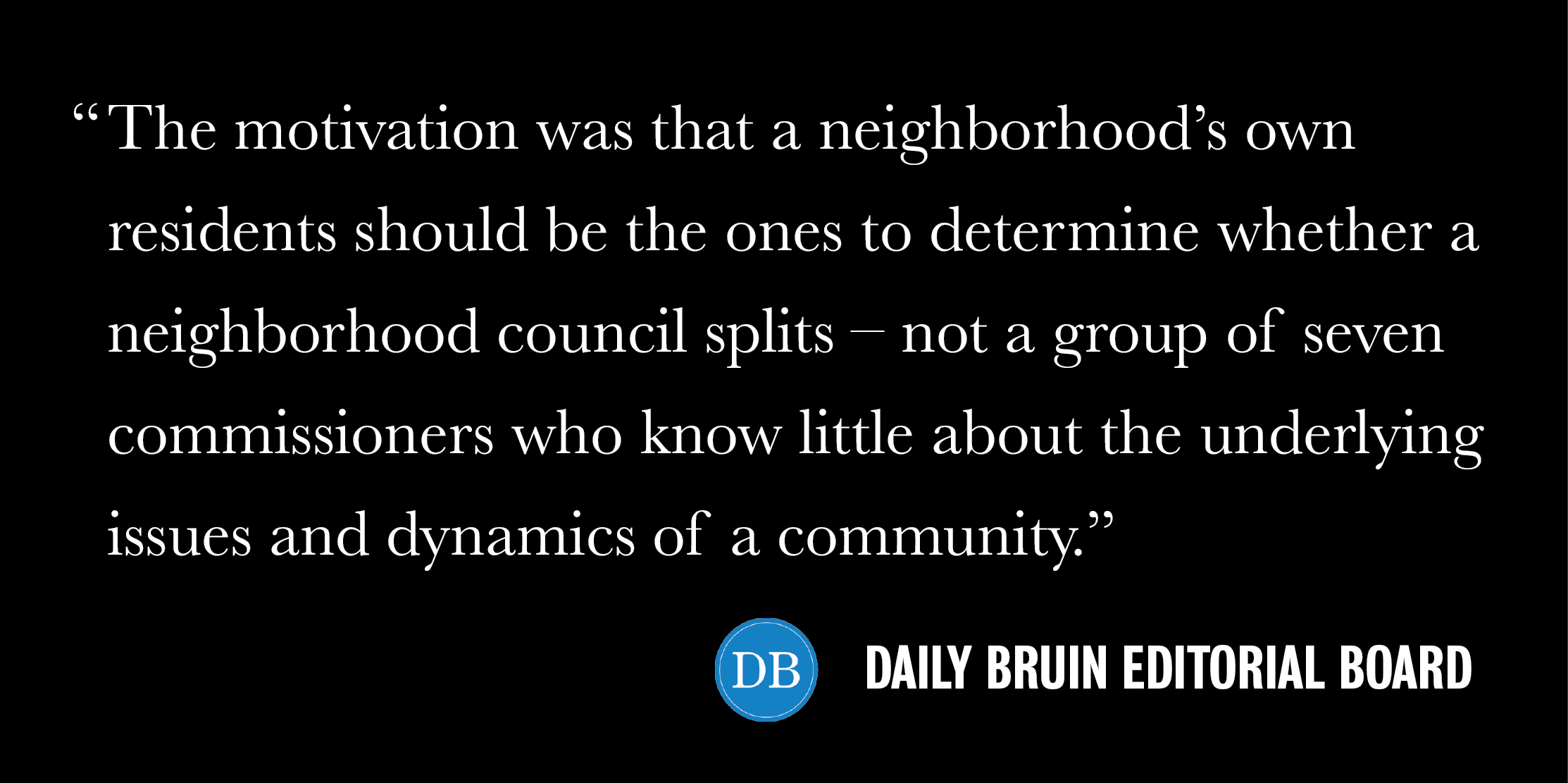 In a time when students are looking to become more involved in local government, it seems the system wants to keep them out.
Los Angeles' Department of Neighborhood Empowerment, which oversees neighborhood councils, proposed an ordinance change earlier this year that could lengthen the time it takes for neighborhood councils to split apart. The change would give authority to the city's Board of Neighborhood Commissioners to single-handedly reject requests to form new neighborhood councils, rewrite the proposed councils' bylaws and determine their boundaries.
In other words, the change puts an inordinate amount of power into the hands of a board that may not understand a neighborhood's needs.
Such a change muddies the prospects of Westwood Forward, a student-led coalition that recently submitted an application to the Department of Neighborhood Empowerment to establish the North Westwood Neighborhood Council. Should the bylaw changes be approved, the NWWNC's creation would be in the hands of a citywide board, not UCLA students or Westwood's community. The change would also lengthen the time it would take for the new council to form, throwing a wrench into coalition leaders' aim to create a council before finals, after which students leave campus for the summer.
The board should discard its proposed changes to the neighborhood council formation process. This ordinance would create yet another barrier for prospective neighborhood councils such as the NWWNC, which have already seen opposition from current neighborhood councils such as the Westwood Neighborhood Council. Passing this change would justify Westwood Forward's reason for creating the NWWNC in the first place: The current system is not working.
Neighborhood council members proposing these bylaw changes seem to have neglected the reason LA employs a complex system of neighborhood councils. Neighborhood councils were created to promote public participation and ensure city council hears constituents' needs. The motivation was that a neighborhood's own residents – not a group of seven commissioners who know little about the underlying issues and dynamics of a community – should be the ones to determine whether a neighborhood council splits.
For example, Westwood Forward's proposed bylaws for the NWWNC would allow for a "general resident stakeholder" such as a homeless individual and two representatives from community businesses to serve on the council. These bylaws represent a consensus among community members to create what they think is a fair and equitable council.
Yet, it's hard to expect a council member who represents residents from LA's Mid-City to understand the needs of Westwood stakeholders. It's even harder to expect the council to effectively write the rules for how a proposed neighborhood council is meant to govern Westwood. The proposed bylaw changes do, though – at the detriment of activists and residents.
There shouldn't be roadblocks when a group of concerned residents wants to make its voice heard. Certainly, neighborhood councils can't act unilaterally, but that's why the city defers to residents to vote on proposed neighborhood subdivisions.
Neighborhood councils are meant to encourage democracy in a large, diverse city. However, the Department of Neighborhood Empowerment's proposal only takes the empowerment out of LA's neighborhoods.