Senior opposite Hessenauer helps men's volleyball secure wins in new formation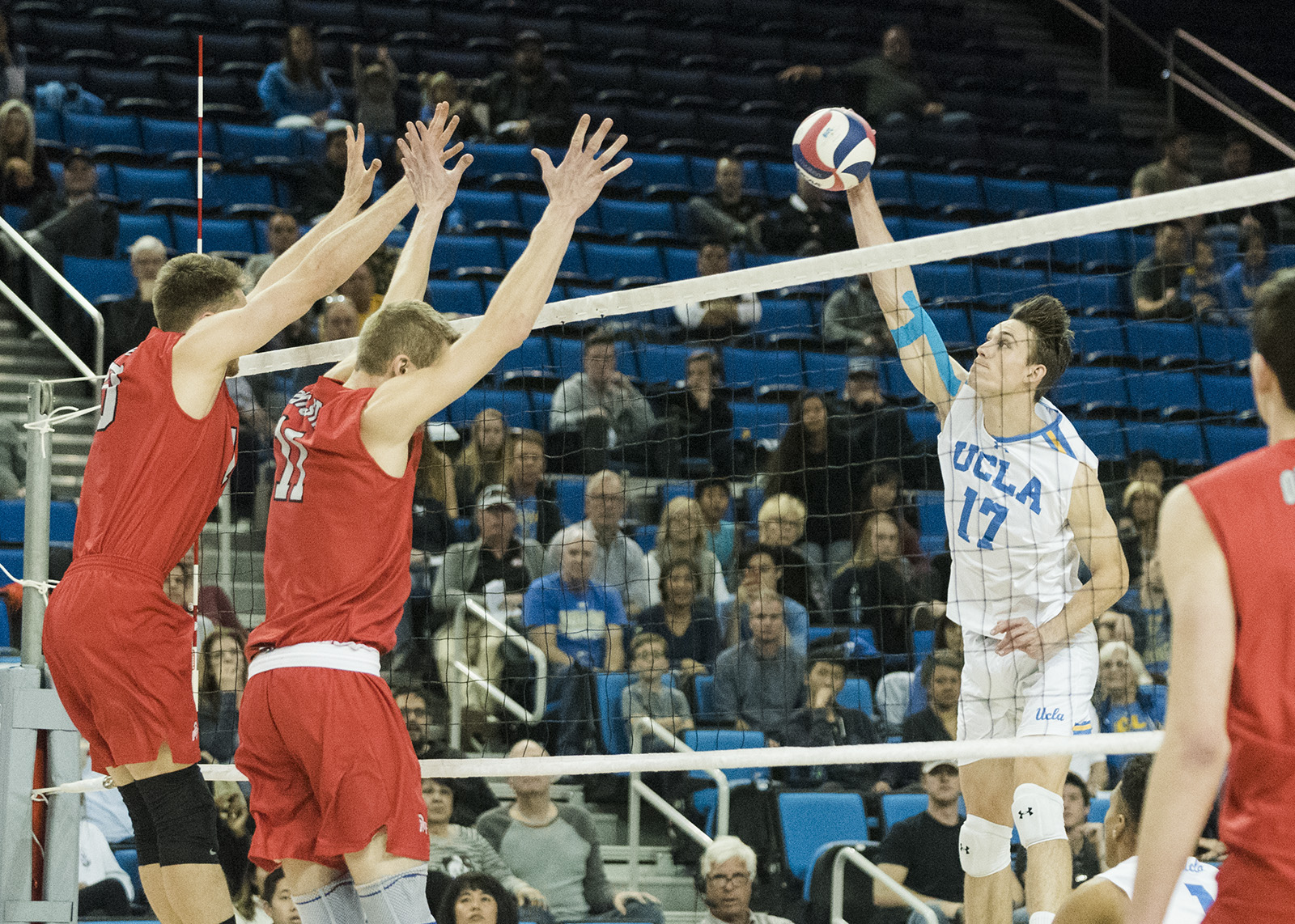 Christian Hessenauer has transitioned from a part-time player last season to a starter in 2018. The senior opposite has seen more playing time after the Bruins' switch to a 5-1. (Axel Lopez/Daily Bruin)
January 30, 2018 11:54 pm
Senior opposite Christian Hessenauer leads UCLA men's volleyball with 99 kills on the season thus far.
The No. 2 Bruins (8-1) have set their lineup this year, with Hessenauer taking on a larger role.
Coach John Speraw noted earlier in the season that Hessenauer, as a senior, would be playing more and starting as the right side hitter, playing in both the front and back row.
Less than a year ago, Hessenauer found himself splitting time between the bench and the court. He played in 23 of 27 matches and started in only nine of the 22.
Last season, UCLA favored a 6-2 offense, which concentrated on then-senior setter/opposite Hagen Smith and then-sophomore setter/opposite Micah Ma'a as the dominant figures on the right side of the court. This year is a different story.
The Bruins currently run a 5-1 offense with Ma'a as the sole setter. This switch opened up the court and provided Hessenauer with the opportunity to become an integral part of the Bruins' squad.
"(Hessenauer is) playing really well with Micah, they've been playing faster overhead," Speraw said. "I think that suits Hessenauer's game, so I'm excited about that."
Hessenauer averages 3.19 kills per set – a substantial portion of the team's overall average of 12.88 kills per set. He is also one of the top blockers on the team with 32 blocks.
Even with increased playing time, Hessenauer noted that with a deep team it is crucial to maintain intensity throughout the match.
Following Hessenauer, senior outside hitter JT Hatch has tallied 73 kills and junior outside hitter Dylan Missry has notched 69 kills on the season.
On Sunday, Hessenauer led UCLA with 20 kills on the night against No. 3 Hawai'i (7-1) with Hatch and Missry tallying 11 and 12 kills, respectively.
UCLA has faced four top-10 opponents, holding a 6-0 home record and a 2-1 away record. On Friday, Hawai'i dealt the Bruins their first loss of the season, and Speraw said the loss emphasized the areas that need improvement.
"Transition has been a real issue for us. … It always is for teams," Speraw said. "We had some opportunities we didn't capitalize on to potentially win that second set."
The players expressed similar sentiments about how the team needs to tighten up gameplay and strategy as the season progresses.
"We need to learn to adapt a lot quicker," Hessenauer said.
Missry also noted how serves have continued to be an issue for the team. UCLA has 193 service errors on the season so far.
"We missed a ton of serves, which has been our Achilles' heel the whole season," Missry said. "I think we need to serve and put the ball in play a bit more."
The Bruins have two upcoming matches this week, against unranked Princeton and their second game against No. 4 UC Irvine this season.
Rae joined the Bruin as a freshman in 2017 and contributed until 2018. She spent time on the men's tennis and men's water polo beats.
Rae joined the Bruin as a freshman in 2017 and contributed until 2018. She spent time on the men's tennis and men's water polo beats.