Track and field members finish strong at Columbia classic meet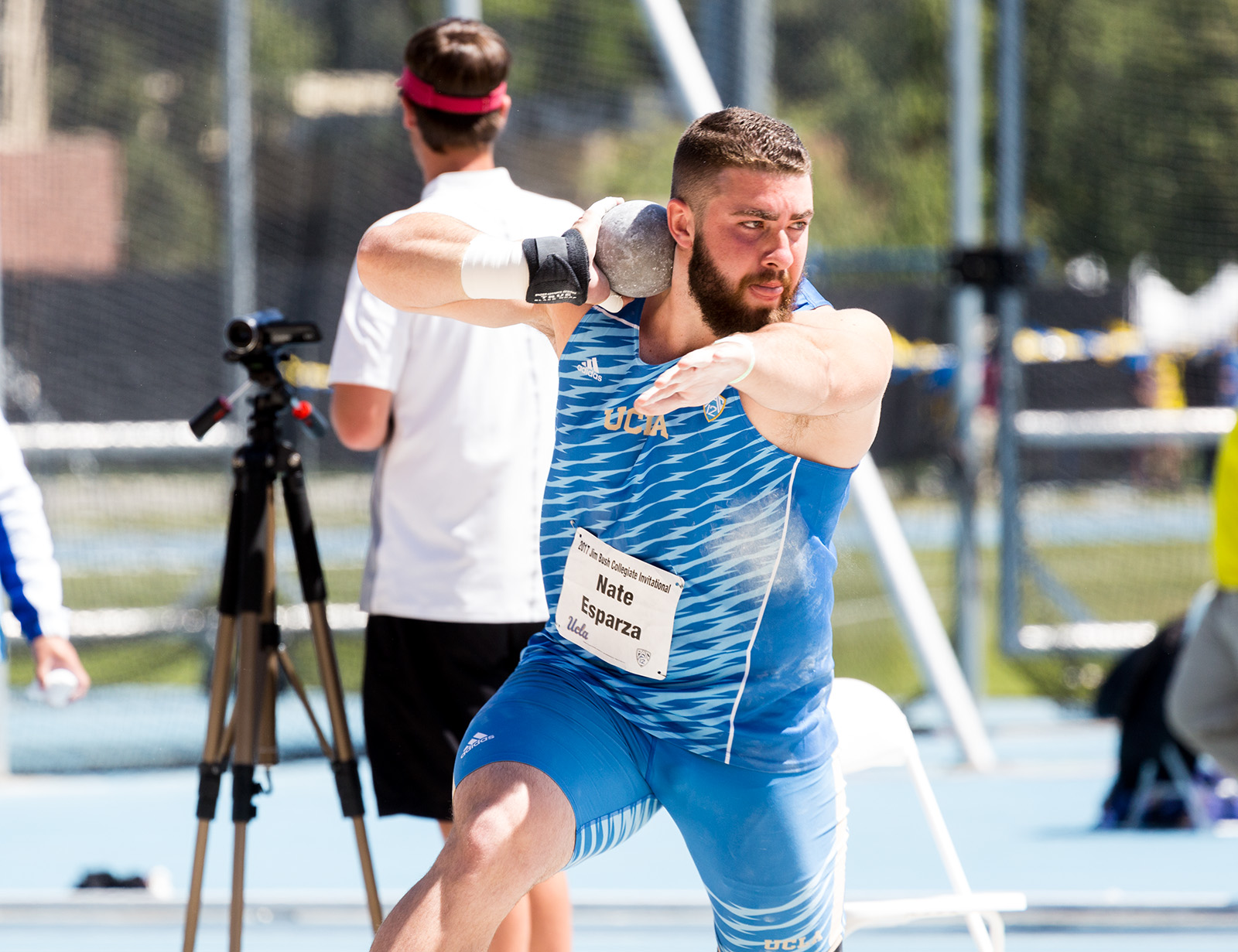 Sophomore Nate Esparza has finished in the top five for shot put in 2018's two meets so far this year. The thrower will now have two weeks to practice for the Bruins' next meet. (Keila Mayberry/Daily Bruin)
The UCLA track and field team continued their strong start to the indoor track season last weekend.
The Bruins are sustaining the success they've had in New York in previous years, even if the events they have won shifted slightly from the track to the field.
UCLA finished with 11 top-five finishes at the Columbia Challenge in New York, led by senior and junior pentathletes Kendall Gustafson and Christina Chenault, who finished first and second in the pentathlon, respectively.
Gustafson set a new school record in the pentathlon, totaling 4,065 points in the competition, beating UCLA's previous record of 4,041. The pentathlon comprises five events: the 60-meter hurdles, high jump, shot put, long jump and 800-meter run.
According to Gustafson, she and Chenault are nowhere close to peak form yet.
"There's a ton of meat on the bone for both of us," Gustafson said. "It's very exciting, but at the same time it's also exciting knowing that it wasn't even close to the best that I can do, and I was able to break the school record with what I thought was a pretty average performance for me."
Gustafson was able to take first place in four of the five events. In the one event she didn't claim, Chenault finished first, beating the second-place Gustafson by just under four seconds in the 800-meter run.
Sophomore Nate Esparza added a second-place finish in the men's shot put while redshirt junior Dotun Ogundeji finished fourth. Junior Justin Stafford has taken first and second in consecutive meets in men's weight throw to begin the season.
Freshman Alyssa Wilson, who is the all-time U.S. high school record holder in shot put, rediscovered her groove and claimed first place in the women's shot put after a "down performance" in her first collegiate competition. Her fellow thrower, redshirt junior Ashlie Blake, has claimed back-to-back second place finishes.
"This weekend during the shot put I was still nervous as can be. On my last throw, it started to sink in that I only had one more throw left," Wilson said. "I really love competing against (Blake) because we're very competitive and friendly at the same time."
UCLA's jumpers have also built upon a strong opening to the indoor season, with eight out of the team's 10 entrants placing in the top 10 or higher in their respective events.
A noticeable change within the team this year has been the atmosphere surrounding it. With the new coaching staff, many of the athletes have remarked on an improvement in team chemistry.
While track and field seems at a glance to be an individual sport, teamwork is an underrated aspect driving all of the athletes, and director Avery Anderson has shuffled things within the teams to inspire teamwork within his new squad.
"With the new (director), (director Anderson) coming in, he does a good job at getting us all together and cheering for different events," said sophomore distance runner John Carter Blunt. "Usually we room with people from our event groups, but to familiarize us with other teammates, he's roomed us with people we don't really interact with much."
Gustafson also echoed this sentiment in an interview earlier this season, stating that the team's culture seen a "drastic" and positive change under the new coaching staff.
With team morale at a new peak, the Bruins will have a chance to prepare for the next two weeks as they set their sights on the Husky Classic in Seattle on Feb. 9-10 and the Don Kirby Invitational in Albuquerque, New Mexico on Feb. 9-10.
Frederick joined the Bruin as a junior in 2017 and contributed until he graduated in 2019. He spent time on the cross country and track and field beats.
Frederick joined the Bruin as a junior in 2017 and contributed until he graduated in 2019. He spent time on the cross country and track and field beats.