Editorial: UCLA should monitor management after slew of administrative failures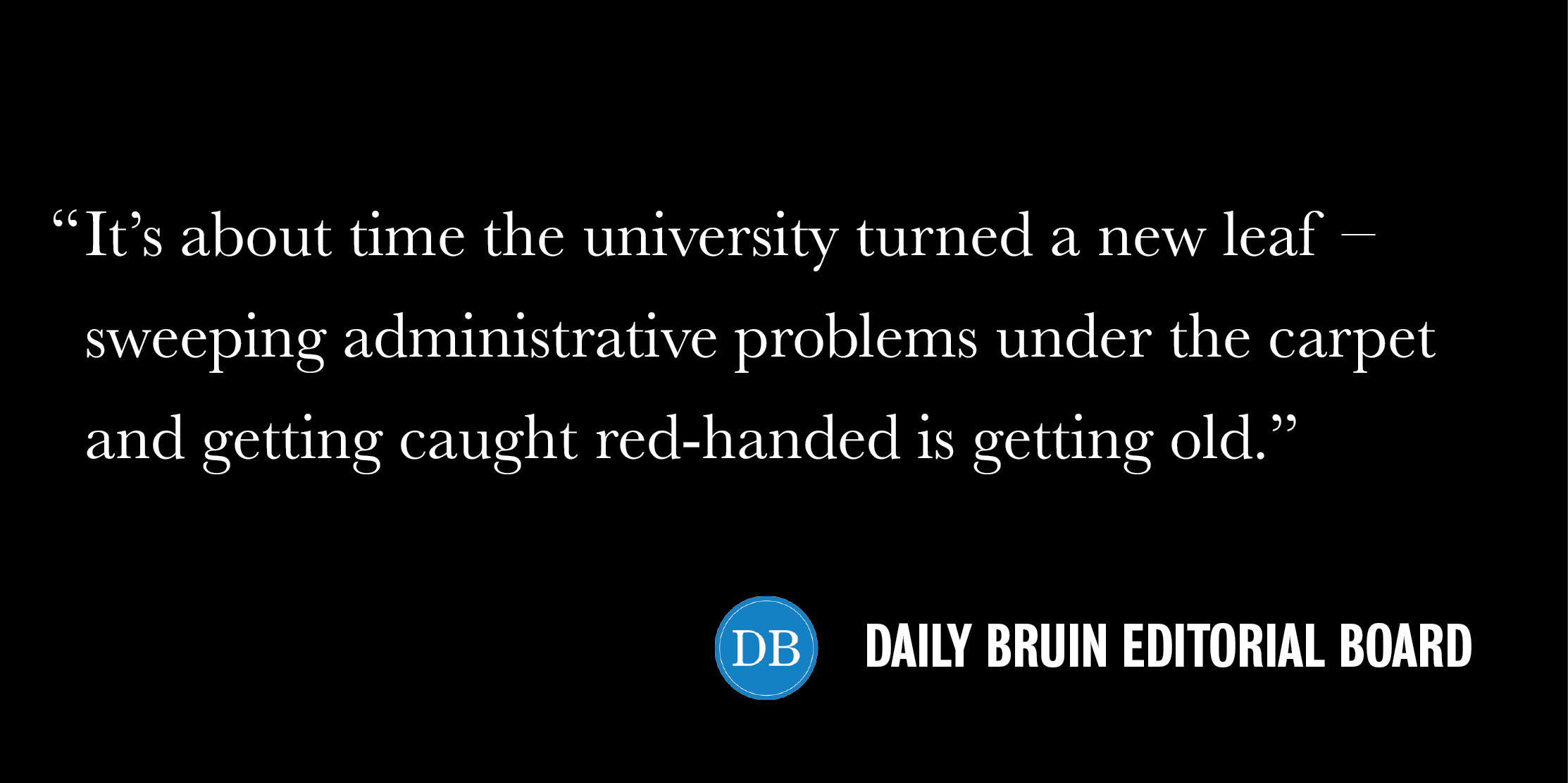 UCLA has had a rocky track record this past year: It made numerous errors when dealing with the Skirball fire and tried covering up problems in its Lab School. And it looks like the university won't be scoring any points for holding its extension program accountable either.
Last week, UCLA Extension announced major layoff plans this summer, citing decreases in revenue and student enrollment. However, some employees said the dean, Wayne Smutz, misused resources and failed to be transparent with staff, leading to an environment where employees felt they were left out of the loop and course registration systems malfunctioned.
UCLA Extension should have been able to navigate these issues with professionalism and efficiency. Instead, employees said the dean spent money excessively and left fellow staffers in the dark. In one instance, an employee said staff had to persuade Smutz to not buy students a Segway with an iPad strapped to it. Some administrative oversight UCLA has.
While the university can be forgiven for Smutz' misbehavior once, it should have monitored and stepped in sooner to address the dean's unsatisfactory leadership – before Extension had to suffer such drastic staff cuts and financial losses. UCLA needs to improve Extension's management by holding more internal audits throughout the year, actively soliciting employee feedback and allowing staff to file workplace complaints without fear of retaliation.
Employees from UCLA Extension spoke to The Bruin under condition of anonymity because they said the dean was threatening to fire those who did not agree with him. Not only was Extension losing out on valuable input from staff for how to improve the program, but this kind of workplace hostility is unbefitting of a school that prides itself on having one of the oldest university extension programs in the nation.
If UCLA had kept better tabs on its administrators, it might also have been able to prevent miscommunication. Employees said said the dean initially claimed the university offered $20 million for the extensions' center's planned relocation, but later admitted UCLA would not provide any funding. This left staffers wondering where they would go in case of a temporary relocation or even if they would lose their jobs. As of Friday, Extension still hasn't provided employees with this information, even though the permanent changes will start up in a few months.
This fiasco also affects students: Employees told The Bruin that a new internal service system makes it difficult for students to register for classes because there are numerous hiccups and delays for those who use early registration discounts – a problem that, employees said, could have been averted under proper leadership.
This mismanagement is troublingly common for UCLA. Parents voiced concern late last year about how UCLA handled the departure of its Lab School principal. And they complained early last year about mismanagement of the the Early Childcare and Education Centers by its executive director. Town halls and evasive public statements can only do so much. UCLA needs to start owning up and adopting preventative measures that hold its administrators responsible.
In an ideal world, supervisors should be trusted to do what they were hired for. But it's clear at UCLA that we shouldn't trust our administrators; instead, we need monitor them to ensure there isn't blatant wrongdoing or outright incompetence.
UCLA and its extension program owe their employees a great number of apologies. It's about time the university turned a new leaf – sweeping administrative problems under the carpet and getting caught red-handed is getting old.