Student creates startup to facilitate peer-to-peer tutoring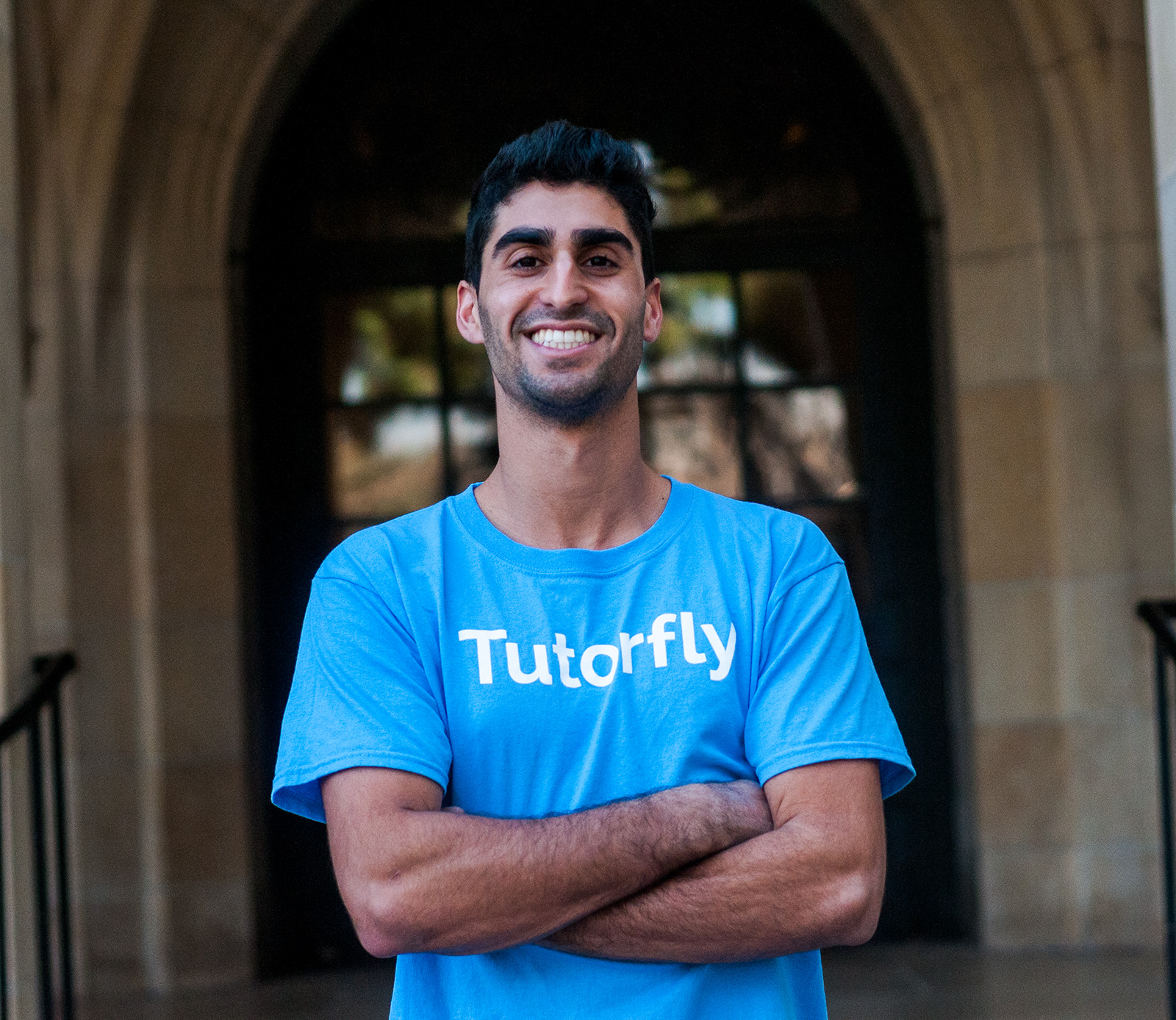 Parsa Rezvani, a fourth-year economics student,
founded Tutorfly to connect students with their peers for academic support. (Stella Huang/Daily Bruin)
Parsa Rezvani's father struggled in his high school English class when he immigrated from Iran until he befriended some American classmates. In exchange for helping them in their math classes, he received help in passing English.
"(My father) thinks he may not have gotten through those classes without them," said Rezvani, a fourth-year economics student. "That's when the seed was planted in my brain."
Inspired by his father, Rezvani started Tutorfly, which connects students with their peers in the same school for academic help in specific topics. He said he thinks peer-to-peer tutors who are close to age in students are more personal and effective teachers.
Rezvani founded Tutorfly last year at Homestead High School in Cupertino, California, and partnered with Bruin Belles, a campus community service organization, to launch it at UCLA on Monday.
Tutorfly at UCLA will help students find tutors who have taken the same course with the same professor, Rezvani said. He added it will also offer free final exam group review sessions.
Erica Nagase, Tutorfly's director of operations and a first-year neuroscience student, said she thinks students benefit more from tutors who have had the same teachers than from tutors who may be more knowledgeable about the topic but are unfamiliar with professors' specific teaching styles.
"It's a lot more effective because it's a tutor who's had the exact same classwork and knows the ins of the class and also because the (tutor) has taken it more recently," she said.
Tutors earn community service hours while the tutoring fee Tutorfly charges goes in part to a local charity. At UCLA, it goes to Bruin Belles' philanthropy efforts. Rezvani said Tutorfly charges higher tutoring fees for certain tutors, but caps it at $30.
"We want to make sure everyone can afford it," he added.
Bill Levin, an adviser for Tutorfly who earned his bachelor's and master's degrees from UCLA, said he first became interested in Tutorfly when he watched Rezvani's pitch at Startup UCLA's summer accelerator, a 10-week program that connects student teams to professionals in technology. Levin said he thinks there are not many startups that work in education and thinks Tutorfly can improve academic outcomes in low-income communities.
"On the education side, I thought (Tutorfly) was a clever idea," Levin added. "It could really help out in communities that, if you could get the cost down enough, it could be much more highly practiced and help out underprivileged kids."
Rezvani said Tutorfly has expanded to six high schools in the San Francisco Bay Area and is looking to partner with schools in Los Angeles and San Diego. He added he hopes to partner with 10 schools by the end of February.
The startup wants to support high schools with low graduation rates, Rezvani said.
"What we really enjoy is seeing students going from F's to C's," he said. "We want to launch Tutorfly clubs to increase their graduation rate and motivate their underclassmen by connecting them with overachieving upperclassmen."
Levin said that although the startup is only a year old, it has made a difference in the schools where it is operating. Tutorfly has about an 80 percent retention rate among high school students, Nagase said.
"I believe (Tutorfly) has a real opportunity to impact the education system," Levin added.
Rezvani said he hopes Tutorfly will encourage more students to become tutors and added that some students who were tutees and have now become tutors in the program.
"We want to have a lifetime impact – tutoring actually works," he said.