Repeal of alcohol prohibitions may benefit new Westwood businesses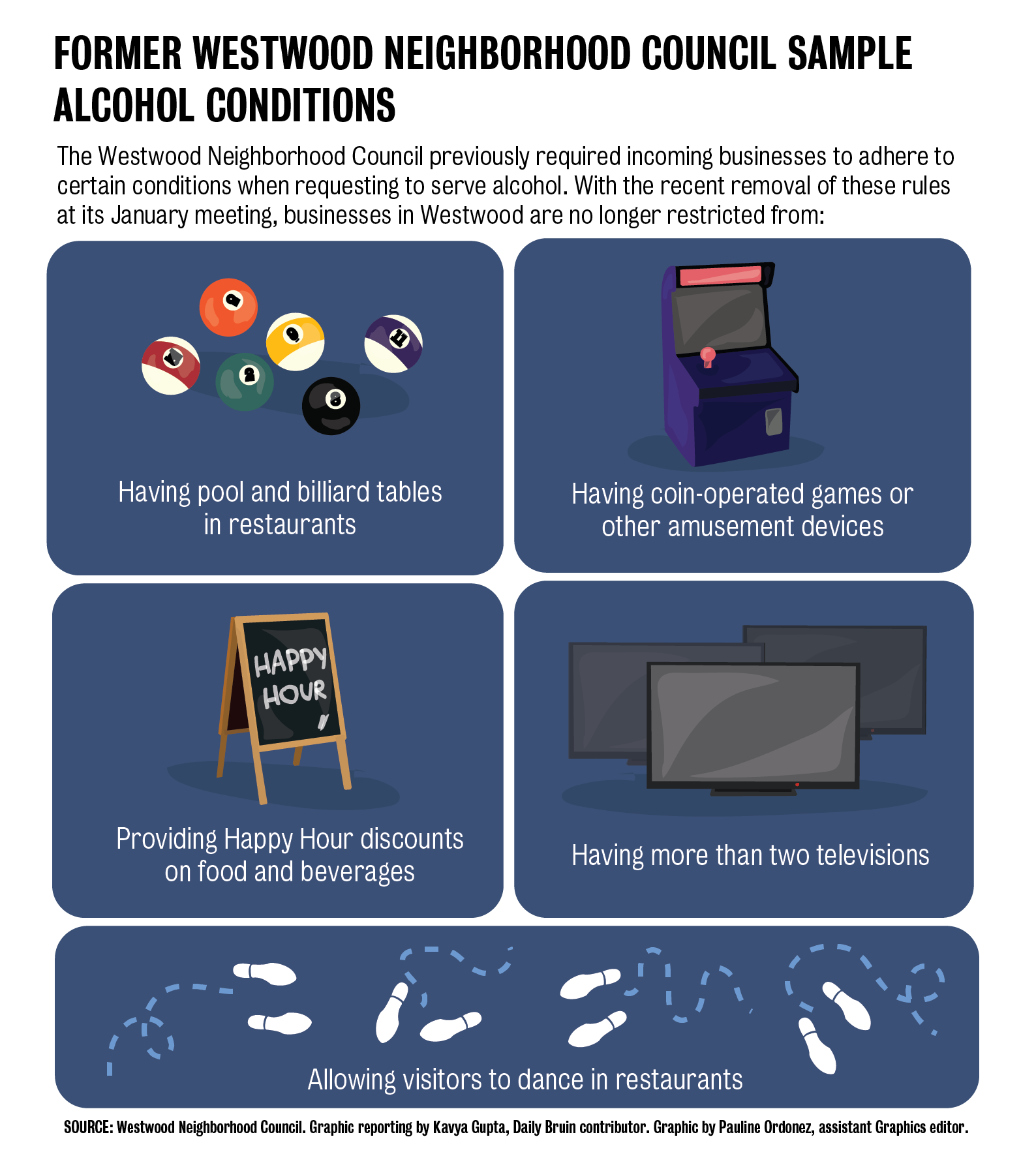 Future Westwood businesses may have an easier time serving alcohol in their restaurants.
The Westwood Neighborhood Council voted to remove its 32 sample alcohol conditions, which new businesses must agree to when they apply for an alcohol permit, at its Jan. 12 meeting. The council replaced the sample conditions with conditions from the California Department of Alcoholic Beverage Control. The department's rules focus primarily on alcohol consumption and sale, and unlike the old conditions, do not prevent businesses from having pool tables or happy hour promotions.
The council initially motioned to modify its sample alcohol conditions at its December meeting but was unable to pass the motion with a majority of votes. Although the council removed the 32 sample conditions at its January meeting, it still requires businesses to apply for a city conditional use permit for alcohol and entertainment if they want to serve alcohol, and requires businesses to not employ topless entertainment.
Council President Lisa Chapman said the changes will help counter Westwood Village's reputation of not supporting businesses that want to serve alcohol or have live entertainment. She said she thinks the new sample conditions will make it easier for businesses to come into Westwood because they could have more control over the amenities in their restaurants.
Chapman added she thinks the previous sample conditions were too restrictive. She said at the January council meeting she does not think the council should have the authority to tell businesses what they can and cannot have in their restaurants.
Michael Skiles, president of the Graduate Students Association and one of the leaders of the Westwood Forward coalition, said he thinks the council removed the conditions in response to the coalition's firm stance against sample conditions for alcohol, which it listed as one of its grievances against the council.
Westwood Forward, a coalition of students, business owners and homeowners, is advocating for a new neighborhood council for Westwood because it does not think the current council supports new businesses or adequately represents students' interests.
"The very next meeting after we announced the Westwood Forward coalition … (the neighborhood council decided) to get rid of those prohibitions," he said. "Westwood Forward was citing that list of 32 prohibitions as sort of a smoking gun."
Skiles said if Westwood Forward succeeds in forming a new neighborhood council, it would not impose any additional sample conditions. The Department of Neighborhood Empowerment, which oversees neighborhood councils, is currently reviewing Westwood Forward's application to divide the Westwood Neighborhood Council into two separate councils.
Adolfo Espinoza, manager of Rocco's Tavern, a restaurant and sports bar in Westwood, said he thinks more businesses will apply to operate in Westwood and get a permit because of the change. He added it was difficult for Rocco's to transfer its existing city permit when it opened in Westwood.
AJ Sacher, regional manager for Barney's Beanery, another restaurant and sports bar in Westwood, said businesses are often discouraged from opening in Westwood because of excessive regulations.
"Businesses try to open in Westwood; they get investment and they secure a space during that process, but they realize that they are so heavily restricted that it just becomes not feasible to keep a business," he said.
Sacher said he thinks repealing the old sample conditions will help the the Village fill more of its vacancies. The Westwood Village Improvement Association estimated about 15 percent of commercial spaces in the Village are vacant.
Chapman said she hopes the new conditions ensure future businesses will not be afraid to open in the Village.
"I just wanted to erase the perception that people have that Westwood might be anti-entertainment and anti-business," she said.