Students paint clothing bins, aim to create accessible donation options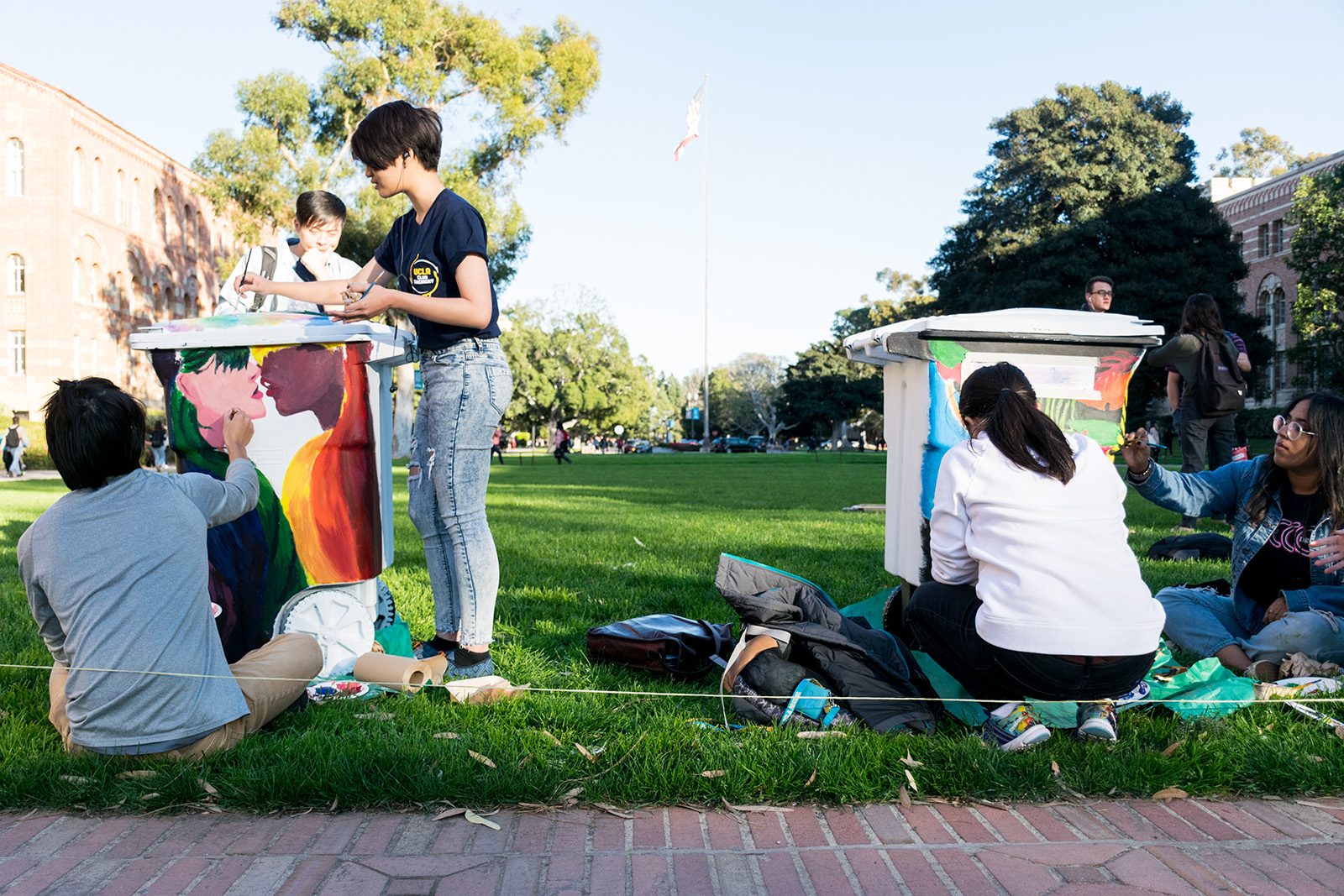 Members of the Bruin Visual Arts Club, which provides resources for UCLA arts students, painted clothing donation bins on Monday. (Farida Saleh/Daily Bruin)
Colorful clothing donation bins will be available throughout campus beginning next week.
Good Clothes Good People, a nonprofit organization that gives donations back to local communities, and the Bruin Visual Arts Club, which provides resources for UCLA arts students, painted clothing donation bins at Royce Quad on Monday as part of a project to encourage more individuals to donate clothes. The groups aim to place six decorated bins at various locations on campus, including the LGBT Campus Resource Center, Ackerman Student Union and Kerckhoff Hall.
Robert Watson, a second-year political science student and founder of Good Clothes Good People, said he created the organization in his hometown of Louisville, Kentucky, after discovering that donated clothes were often being sent to other countries.
Watson said he wanted to provide more donation options for UCLA students. He said he thinks the bins make it easier for students to donate clothes because the receptacles are located near students on campus.
The project held a media-painting kickoff event Monday in Royce Quad, where student artists showcased their work on the bins to the public.
Several students who decorated bins at the project's painting kickoff event said they liked that their art was being used for a charitable cause.
"It's a great public service activity for our club members. … We can use our talent to give back to the community," said Jade Suwanwanitch, a first-year biochemistry student and president of BVAC.
Students can currently donate clothes to UCLA Residential Life's Clothes Out, an annual donation drive held on the Hill at the end of spring quarter, which donates items to the American Textile Recycling Services.
Watson said his project will allow students to donate throughout the year. Good Clothes Good People gives donated items to local campus organizations including the Career Closet at UCLA, which provides professional attire for students, and the UCLA Thrift Shop in Santa Monica.
Watson also plans to hold drives for specific clothing items that are frequently demanded by students, such as business suits.
"There are students here who … can't (dress up) for a date because they just don't have the resources," Watson said. "The issue isn't just about clothes – it's about giving students a way to support other students."
He added he is working with Undergraduate Students Association Council leaders in order to better connect with student groups.
Good Clothes Good People is funded by the USAC Office of the President, Office of the Internal Vice President, and The Green Initiative Fund, which awarded the project with a $850 grant for being sustainable.
Zahra Hajee, TGIF chair and USAC Facilities commissioner, said she thinks the program will help create a more permanent process for students to donate clothes on campus and be mindful of their environmental impact.
"This project specifically raises awareness that there are different types of ways in which to reduce waste … such as thinking of personal items and whether they are considered trash," Hajee said.
USAC Internal Vice President Vivy Li said she supports the project because it improves students' access to basic necessities and alleviates stress for those who don't know how to donate.
"In the huge picture not everyone will want to donate … but for the ones who truly want to (contribute), this project will be super helpful for them," Li said.