Bruin Plate, Feast dining halls to serve as study spaces after hours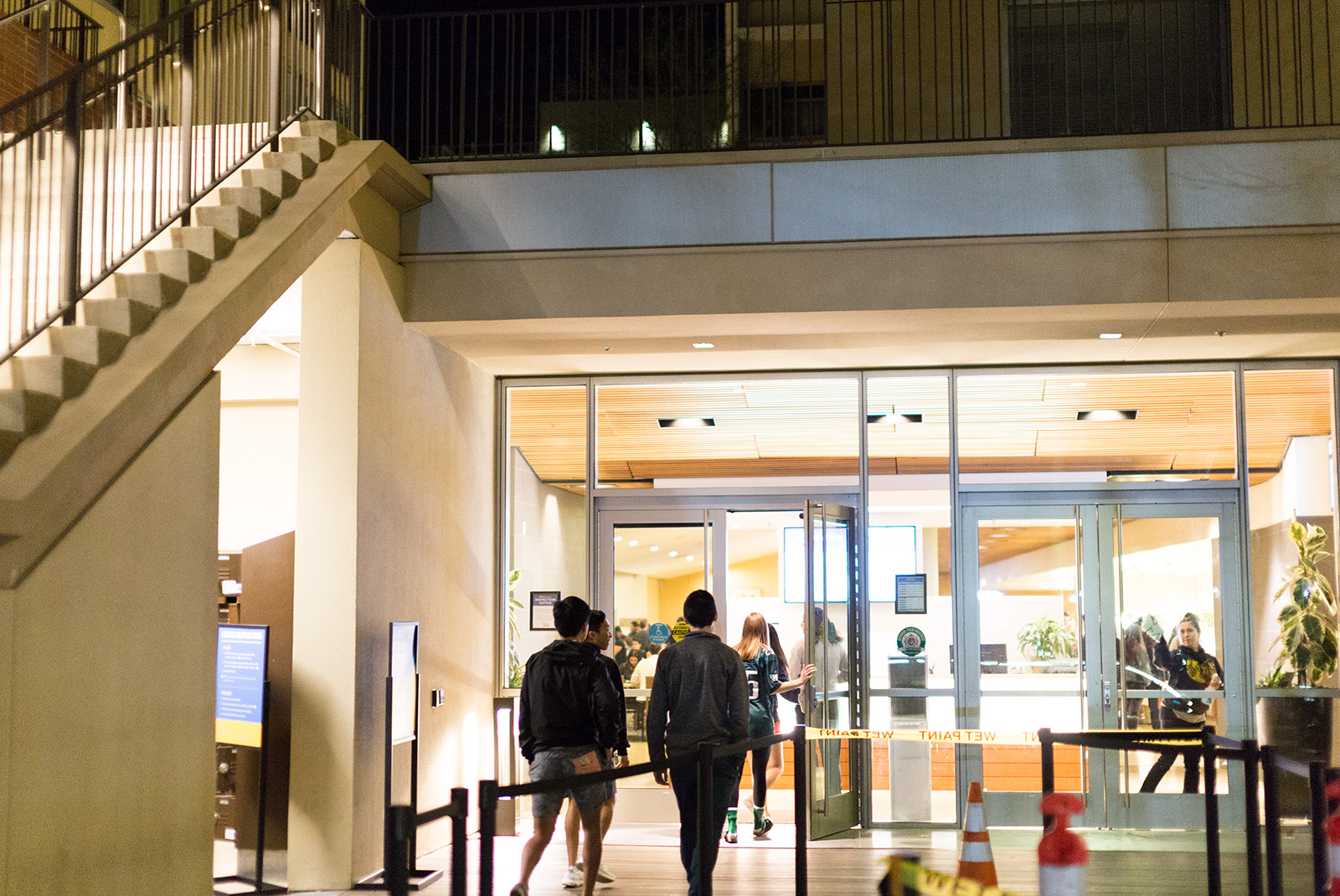 UCLA dining halls will be open late as study spaces as a part of the student study space initiative which aims to increase the number of study spaces on campus. (Amy Dixon/Assistant Photo editor)
Several dining halls on the Hill are now open as study spaces after dining hours.
Bruin Plate and Feast dining halls are open every day from 10 p.m to 2 a.m. as study spaces starting Sunday, said Divya Sharma, undergraduate student government Academic Affairs commissioner. The study spaces are open to all UCLA students with a Bruincard and will provide free coffee and tea.
The extended hours are part of a quarter-long pilot program for the student study space initiative led by the Academic Affairs Commission and UCLA Residential Life. This initiative seeks to increase the number of study spaces available to students on campus and the Hill.
AAC created the initiative after receiving feedback at the Study Space Town Hall in November, Sharma said. The town hall brought administration and students together to talk to about the shortage of and need for more study spaces on campus.
"The town hall discussed the possibility of Covel (Athletic Peer Learning Lab), the inquiry labs and of course the dining halls being opened for study," Sharma said.
Sharma added he thinks the Hill is a good location to start the initiative because they are newly renovated and can be easily adapted as a study space.
"There are so many possibilities on the Hill, that you don't have in other parts of UCLA, … as opposed to Kerckhoff or Powell Library, which you cannot reorganize or make much changes in because they are historical landmarks," Sharma said.
Nadirah Stevens, an AAC staff member, said she thinks UCLA is increasing admissions without addressing the need for creating more study spaces on campus, even though it is the smallest campus in the University of California system.
"We found that even though there are already spaces on campus and the Hill designed as study spaces for students, they are often always literally filled up," said Stevens, a third-year political science and African American studies student.
UCLA received the most applications of all the UCs with more than 100,000 freshman applicants for the second year in a row, according to data released by the UC.
Kossi Ogbuli, an AAC staff member and a second-year neuroscience and political science student, said he thinks a lack of study spaces on campus hurts students' overall academic success because current spaces are overcrowded and leave students with little options.
"Having a study space makes the difference between students earning the best grade they can receive or not," he said.
Several students who have found it difficult to study in their dorm rooms said they think the pilot program would give them more options to study on the Hill.
Maeve Gallagher, a first-year marine biology student, said that she has found it difficult to find places to study at night on the Hill.
"Even my common room and (The Study at Hedrick) are always so crowded and it's impossible to get a seat," she said. "I'm glad to see more space open up on the Hill for study, because I would waste fifteen minutes walking from my dorm to Powell."
Bryson Hill, a third-year psychology student, said he thinks the initiative gives students who may not want to stay in their dorm room an extra space to study.
"I find it hard to study in my room, because my roommates are either making too much noise or do not want to be disturbed for whatever reason," Hill said.
However, some students said they think the new study halls will become just as crowded as other study spaces.
Tyler McCallan, a second-year bioengineering student, said the school should create more study spaces on campus rather than focusing on crowded areas like the Hill.
"I think that creating more study spaces on the Hill is useless, they will always be crowded because that is where the majority of people spend their time," he said. "If they open up new places, those are going to be just as crowded – they opened up Hedrick Study last winter and that place is packed all the time."
Sharma said he is advocating for the UCLA Academic Senate to create an ad hoc committee to look into creating additional study spaces on campus and spaces that are also accessible to students with disabilities.
"It's not only about study space, it is about seeing how can we truly utilize the space that we have to make sure that it is as accessible as possible and enhances the retention of our students," he said.