Men's tennis sweeps Pepperdine despite top-ranked Redlicki's absence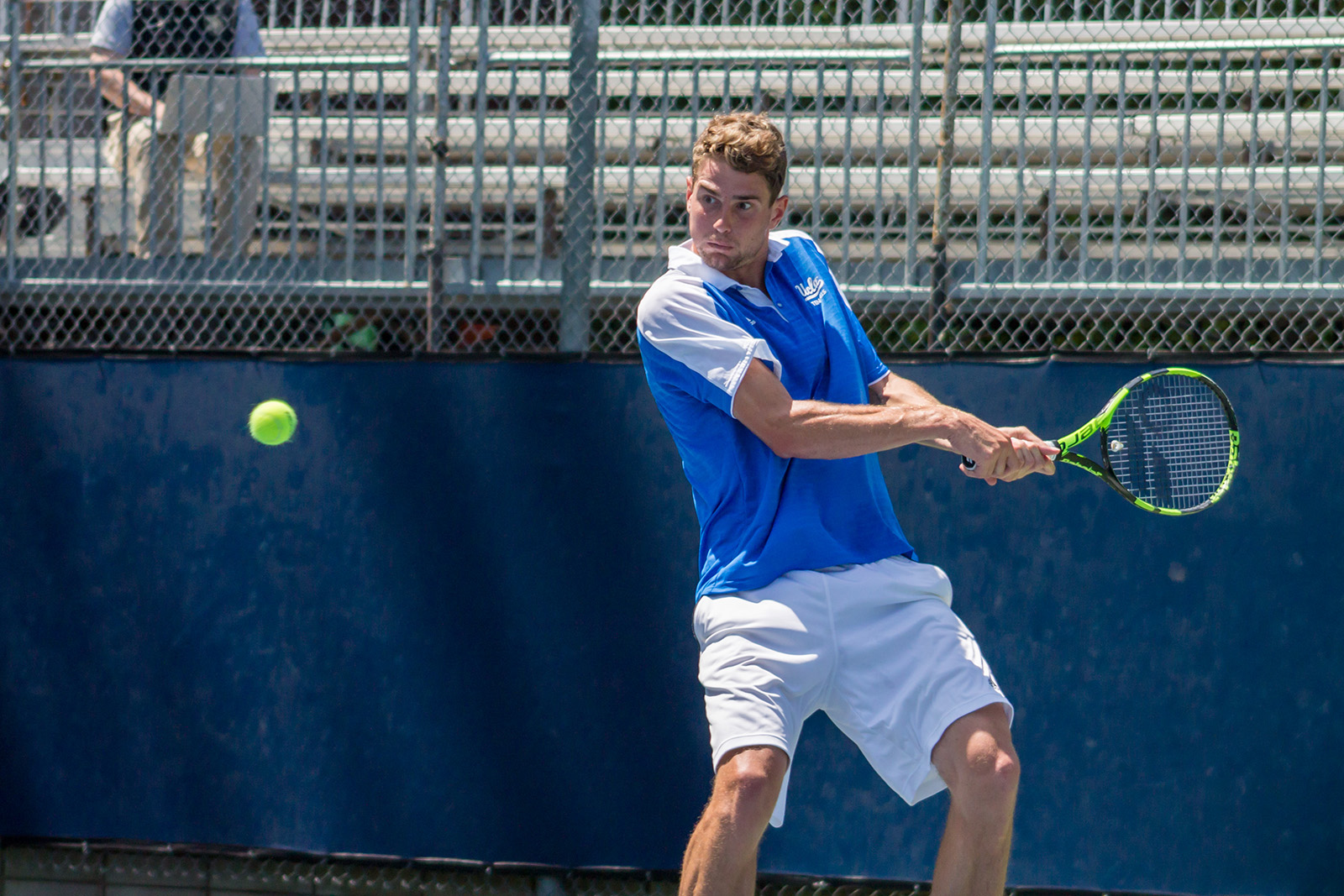 Junior Maxime Cressy and the No. 6 UCLA men's tennis team logged their third sweep in three days on Saturday against Pepperdine. The Bruins will host Loyola Marymount on Tuesday. (Daily Bruin file photo)
The two top UCLA singles players found themselves down early in their respective third-set tiebreakers.
Yet, with the support of their teammates and the crowd, freshman Keegan Smith and sophomore Evan Zhu fought back from deficits to win their matches, earning the No. 6 Bruins a 7-0 victory over Pepperdine.
"That's what I expect from the guys on the team," said coach Billy Martin. "I never in my wildest dreams would have ever thought that they would have just given up, or felt like it was over."
To open the afternoon duel, junior Maxime Cressy and freshman Bryce Pereira overmatched their opponents at court three with their aggressive play style, earning a 6-1 set victory.
"(Bryce and I) both love playing at the net," Cressy said. "After our returns, we go to the net and put a lot of pressure, and I feel like a lot of players don't do that in college tennis."
UCLA's two top doubles teams struggled to put their opponents away, however. Zhu and redshirt freshman Connor Rapp traded games with their opponents at court two and were eventually forced to play a tiebreaker.
Meanwhile, the Bruins' Smith and senior Austin Rapp found themselves down 4-1 early on. After a pep talk from Martin, the pair fought their way back to a 6-5 advantage.
While Zhu and Connor Rapp began to pull away in the tiebreaker, Austin Rapp and Smith clinched the doubles point off a serve-and-volley play to win the set 7-5.
"The momentum was definitely in our favor," Connor Rapp said. "I think if (Austin Rapp and Smith) didn't win, we would have closed it out."
In singles play, four Bruins won in straight sets, including No. 55 senior Logan Staggs. His victory at court three put the team up 4-0, sealing the third win of the season.
Meanwhile on court two, Zhu, who split his first two sets against Brian Berdusco 6-2, 1-6, was down 7-8 in the tiebreaker set and in danger of losing UCLA's first dual match point of the season.
However, Zhu pulled off three straight points, including a service ace, to win the set 10-8 and the match.
The last match to finish was at court one, where No. 108 Smith faced his first ranked collegiate opponent in No. 100 junior Dennis Uspensky. Smith split the first two sets 7-6, 4-6.
Following several unforced errors, Smith was down 4-7 in the tiebreaker. The freshman fought back to win the set 10-8 off of his powerful serves and volleys.
The win was notable considering senior Martin Redlicki, the top-ranked player in the nation, was away from the team, as he had qualified for a wildcard spot at this weekend's Oracle Challenger tournament in Newport Beach, California. His absence served as an opportunity of growth for the Bruins.
"I think it's a good character-building win to not have our top guy to rely on in singles and doubles and still come out and win." Martin said.
The victory marks the third sweep in three days for UCLA's men's tennis, who will host Loyola Marymount on Tuesday.
Auh is currently a Sports staff writer. He was previously a contributor on the men's golf, women's golf and men's tennis beats.
Auh is currently a Sports staff writer. He was previously a contributor on the men's golf, women's golf and men's tennis beats.