Vandalism incident sparks responses from Jewish student leaders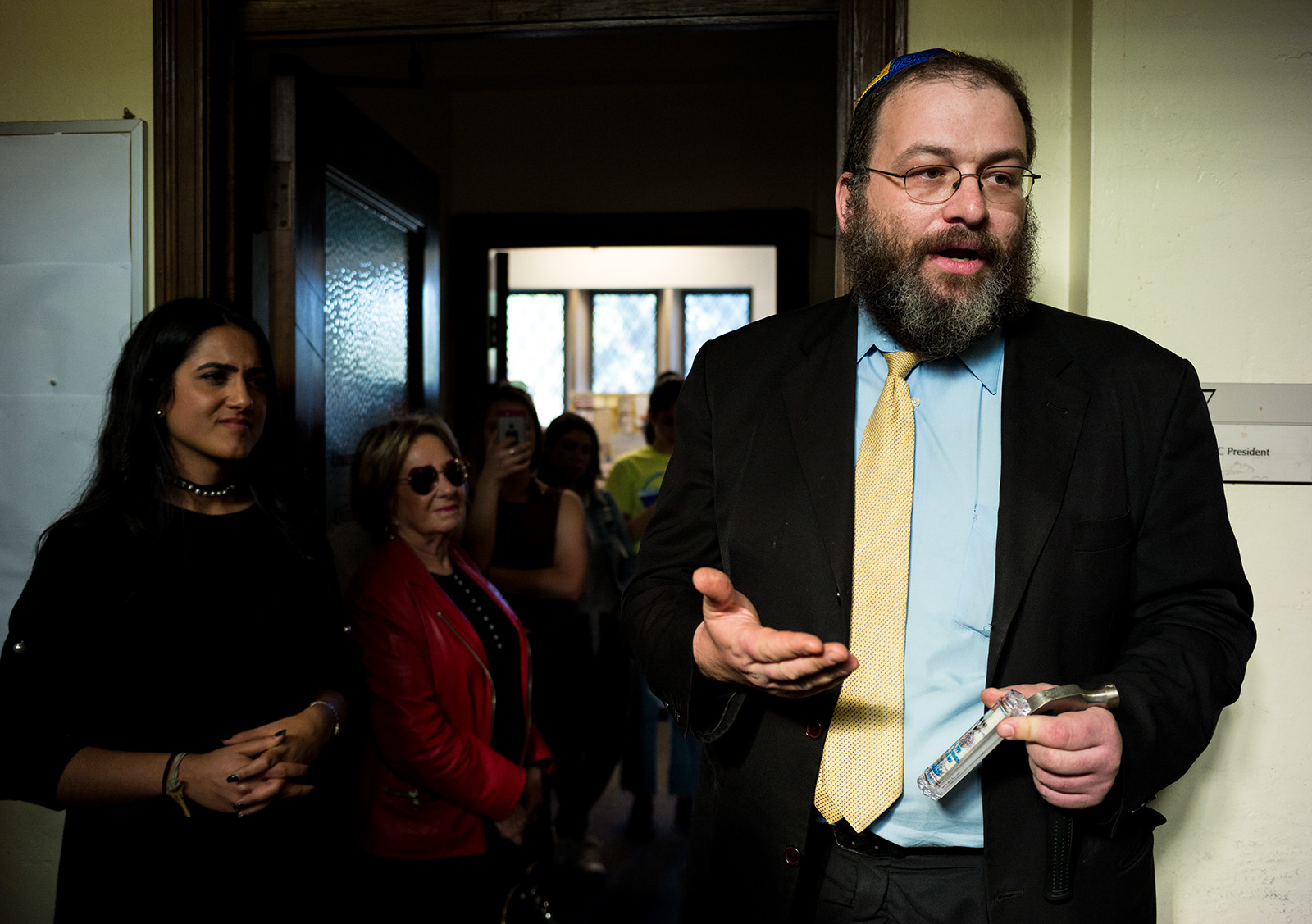 Undergraduate Students Association Council President Arielle Yael Mokhtarzadeh (left) held a rededication of a new mezuzah. The event was led by Rabbi Dovid Gurevich (right), who talked about the cultural significance of the mezuzah in the Jewish faith. (Ken Shin/Daily Bruin staff)
The president of UCLA's undergraduate student government rededicated a new mezuzah outside of her office Thursday after her previous mezuzah was vandalized over winter break.
Rabbi Dovid Gurevich led the rededication with a speech about the cultural significance of the mezuzah in the Jewish faith and closed the event with the installment of the new mezuzah. The previous one was torn off Undergraduate Students Association Council President Arielle Yael Mokhtarzadeh's doorframe between Jan. 2 and Jan. 8. A mezuzah outside former USAC President Danny Siegel's doorpost was damaged in 2017 as well, Mokhtarzadeh said.
A mezuzah is a small ornament that is placed on the doorframe of Jewish homes and synagogues. It contains two passages from the Torah that symbolize protection for practitioners of the faith, Gurevich said.
UCPD Lt. Kevin Kilgore said the department is investigating the incident as a potential hate crime because the mezuzah is religiously significant to the Jewish faith, and Mokhtarzadeh identifies as Jewish. He added there are currently no suspects or leads in the investigation.
Mokhtarzadeh said the rededication celebrated the Jewish faith and her own identity as a Jewish student.
Gurevich said he thinks hateful acts will not stop people from practicing the Jewish faith.
"You can steal a mezuzah, but not God," Gurevich said.
Several Jewish student leaders said they think the vandalism indicates that anti-Semitism is a problem at UCLA.
Hirmand Sarafian, president of Students Supporting Israel at UCLA, said he thinks anti-Semitism affects Jewish communities nationally and globally.
"For me, any individual who vandalizes someone's religious property and then runs away to avoid punishment demonstrates their own weakness in character and moral foundation," Sarafian said. "It was a pathetic incident and a pathetic attempt by a coward to dishearten the Jewish community on campus."
Sarafian thinks it is important for the Jewish community to come together to prevent incidents like this from occurring again.
"Hopefully, we can stop things like this from happening again, but we can't do it alone," he said. "We have to be united as a Jewish community, as a campus."
He added SSI will be co-hosting an event with Hillel at UCLA and Bruins for Israel, where students can listen to a talk from a University of Haifa professor about dealing with anti-Semitism on campus.
"We won't let this cowardice unnerve us, and we won't let this hate break us," Sarafian said. "Instead, we plan to stand strong in the face of anti-Semitism, just as we have in the past."
Amir Kashfi, president of Bruins for Israel Public Affairs Committee and board member of Hillel at UCLA, said he thinks the vandalism targeted Jewish students in leadership positions.
"The attacker attempted to show that Jewish students don't have a place of leadership on this campus," Kashfi said. "The attacker attempted to make Jewish students feel as though they aren't welcome at UCLA, to intimidate them."
He added that he thinks the attack was done in a public manner to intimidate Jewish students.
"This was a very public attack that was done in a way the attack would be widely shared, and I think that was intentional," he said. "The idea was to make Jewish students feel more insecure about their place at UCLA."
Kashfi added that anti-Semitic incidents have occurred in the past at UCLA. For example, when Rachel Beyda, then a second-year economics student, was nominated for a position on the USAC Judicial Board in 2015, several USAC members initially questioned her ability to objectively rule on cases because of her affiliations with Jewish campus groups.
"At this point, some of these attacks are unfortunate, but even though they are still incredibly harmful, they are not unpredictable," Kashfi said. "It's a really unfortunate reality that Jewish students on campus get used to this kind of discrimination and anti-Semitic incidents."
Mokhtarzadeh said she plans to take measures to prevent these types of incidents from occurring again by working with Associated Students UCLA to install security cameras on the third floor of Kerckhoff Hall.