Students address BruinAlert, police sensitivity during UCPD town hall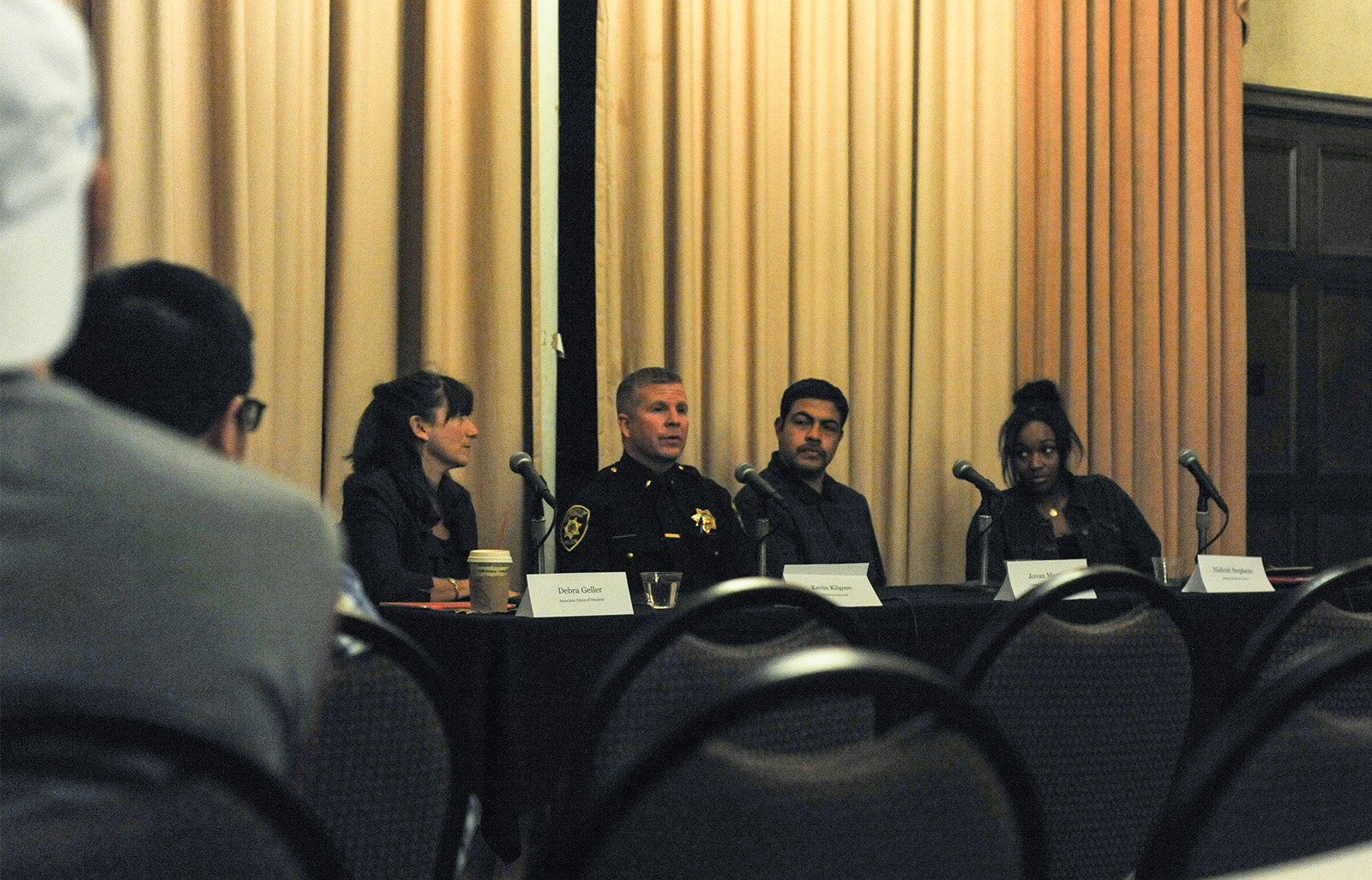 A panel consisting of students and administrators, including associate dean of students Debra Geller, UCPD Lt. Kevin Kilgore and Nidirah Stephens, the access coordinator of the Afrikan Student Union, answered questions regarding concerns about UCPD policies, campus climate and BruinAlert during a town hall event Wednesday. (Lisa Aubry/Daily Bruin)
January 19, 2018 12:15 am
At a town hall meeting Wednesday, students said they think university police and administration should be more transparent with students about campus emergency situations.
About 15 people attended the "UCPD & UCLA Campus Community: Town Hall" event hosted by the Undergraduate Students Association Council's Academic Affairs Commission. A panel consisting of students and administrators, including UCLA associate dean of students Debra Geller, UCPD Lt. Kevin Kilgore and Nidirah Stephens, a member of the Afrikan Student Union, answered audience questions regarding concerns about UCPD policies, campus climate and BruinAlert.
Academic Affairs Commissioner Divya Sharma said the purpose of the town hall was to increase engagement between UCPD and students and to hold the administration accountable. He added he thinks students are not often able to engage with them about issues such as police brutality.
"I hope students gain more understanding about procedures and their own rights in regards to protests, interactions with UCPD and emergency preparedness," Sharma said. "Having the knowledge on your specific rights in these situations is powerful."
Some students who attended the event said they do not always know whether or not they can trust UCPD because of previous experiences with police officers.
Zach Conner, a member of the Academic Affairs Commission, said he thinks police officers need to receive more cultural competency training to improve their interactions with students from minority communities. He added he thinks UCPD needs to consider the sensitivities of students from communities that historically do not have positive relationships with law enforcement.
"There is a power dynamic where you have someone with a gun and in uniform, and you have an unarmed civilian who may be from marginalized communities. That person may have some past traumas to deal with," Conner said.
Kilgore said every police officer in the department undergoes cultural competency training on a continual basis. He did not elaborate about what specifically the training entails.
Some students also said they think the administration did not adequately communicate with students during campus emergencies, including during the Skirball fire in December.
Alex Mendoza, a fourth-year English student, said he thinks limited communication from the UCLA administration during emergency situations often confuses students and leads to the proliferation of rumors. He added he thinks the administration should more effectively deliver information and instruct students on how to remain safe during emergencies.
Geller said she acknowledges students' concerns regarding BruinAlert and added the administration is working to improve BruinAlert to ensure that it gives students accurate information.
Sharma said at the town hall he is advocating for the administration to include web links in BruinAlert messages that can properly instruct students on what actions to take during emergencies.