Men's tennis sweeps George Washington, Grand Canyon in doubleheader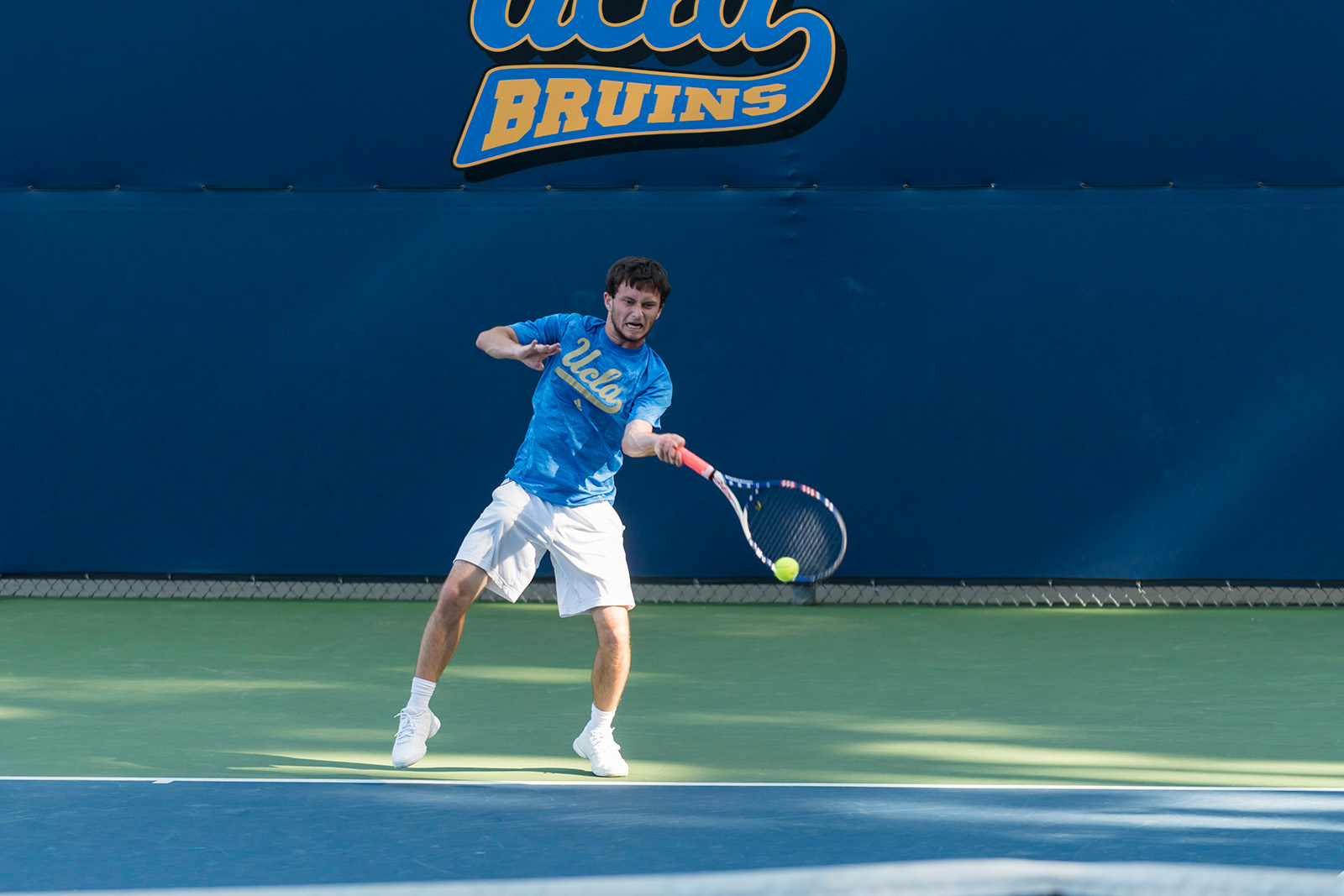 UCLA men's tennis swept both of its doubleheader opponents Thursday. In the singles competition, the Bruins won all but one match in straight sets. (Daily Bruin file photo)
The Bruins had only played one prior match ever against one of their doubleheader opponents Thursday and had never matched up against the other foe.
The unfamiliarity did not faze the No. 6 UCLA men's tennis team, which swept unranked opponents George Washington and Grand Canyon, 7-0 each, in its first two matches of the regular season.
Against the Colonials, the Bruins won the doubles point before the top-ranked doubles team, senior Martin Redlicki and sophomore Evan Zhu, had a chance to complete its match.
UCLA carried its strong play into singles, winning all but one match in straight sets.
At court three, junior Maxime Cressy started off slowly, dropping his first set to Christos Hadjigeorgiou 6-7. However, he regained momentum, winning the third-set super tiebreaker 10-6 to complete the first sweep of the day for the Bruins.
The afternoon match against Grand Canyon started off similarly to the first match. UCLA's second and third doubles pairs made quick work of their opponents, winning their sets 6-1 and 6-0, respectively, to secure the doubles point.
Following the team's struggles in doubles last season, the doubleheader was an encouraging start for the team's doubles pairs.
"We've got good depth, and I think doubles is really looking good," said coach Billy Martin.
The parallels between the first and second matches continued into singles play, as each Bruin defeated his opponent in straight sets, except at court three.
Dealing with a knee injury heading into the match, senior Logan Staggs won his first set 6-3 before conceding a close second set 6-7. Despite battling injury and rust, Staggs clinched the tiebreaker set and an undefeated start for the Bruins.
"(My opponent) played an impeccable second set," Staggs said. "But overall, I thought (this match) got me tuned and ready for this season."
Ten Bruins saw game action in the doubleheader, including four freshmen. All four of them took advantage of the opportunity to earn victories in the first dual matches of their careers.
"I really felt that especially our freshmen looked sharp out there," Martin said. "They didn't seem to be too flustered by (their first matches)."
In particular, freshman Keegan Smith carried over his momentum from his team-best semifinals appearance at the Sherwood Collegiate Cup. He earned dual match points in singles against both opponents and in doubles against George Washington.
"I've never played in an environment like this, where it's for the team if you win," Smith said. "There's a little more pressure, … but I wasn't as nervous as I thought I would be."
The Bruins will play two more matches at home before participating in the ITA Kickoff Weekend next week, where they aim to qualify for the National Indoor Championships.
Auh is currently a Sports staff writer. He was previously a contributor on the men's golf, women's golf and men's tennis beats.
Auh is currently a Sports staff writer. He was previously a contributor on the men's golf, women's golf and men's tennis beats.