Emily Merz: Marijuana license regulations necessary for new recreational market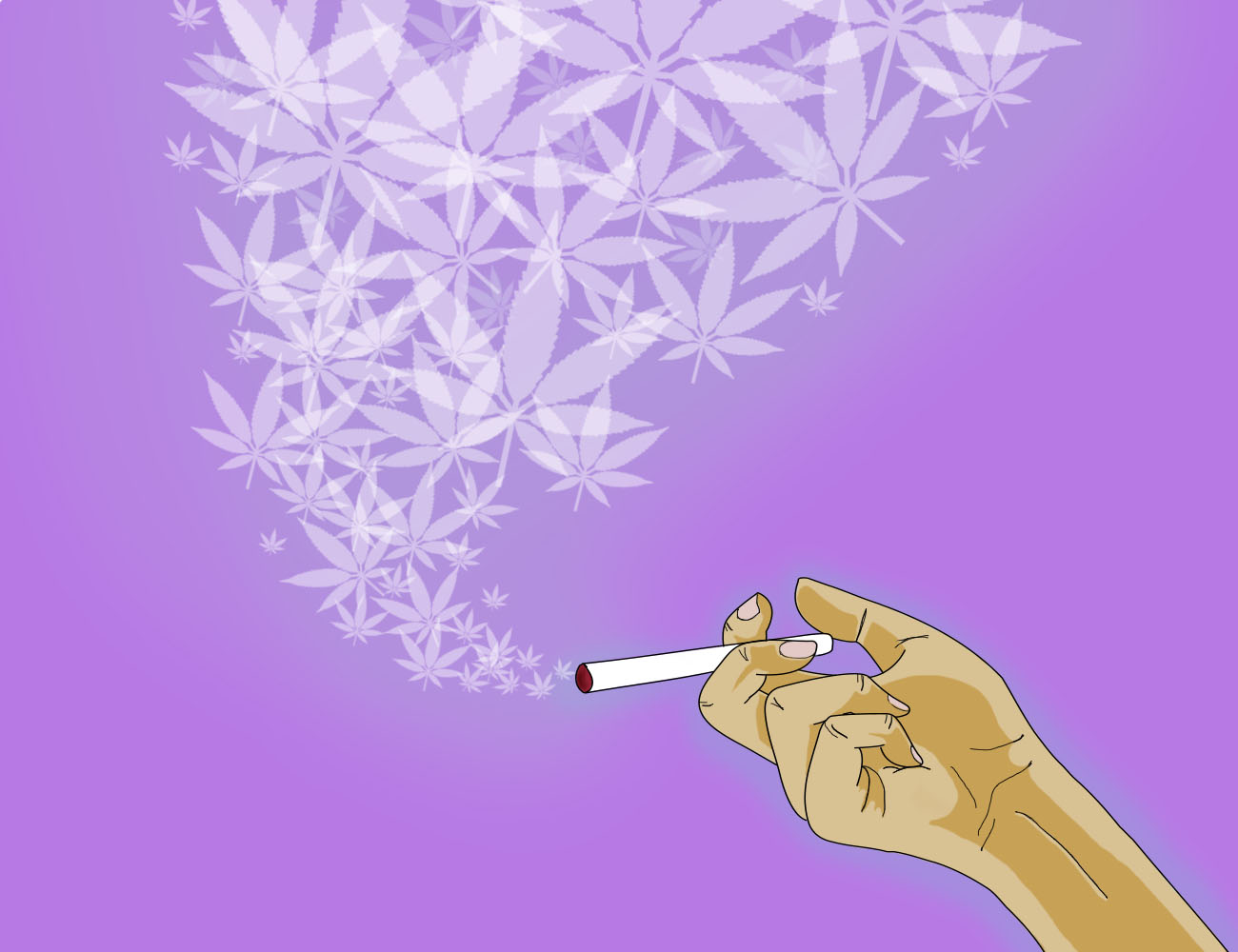 (Anh-Vy Pham/Daily Bruin)
UCLA students are in luck: Los Angeles is set to have the nation's largest cannabis market this year, according to the Los Angeles Times.
While students can easily and legally purchase marijuana now, there are a slew of regulations that make its legalization more complicated than a trip to a local dispensary. Any dispensary that wants to sell recreational marijuana must obtain a license from the city it operates in, and cities have discretion to determine how many and which licenses they give to dispensaries.
Marijuana has been legal for three weeks, and only a few firms have gained licenses, at the outcry of other small medicinal dispensaries looking to become recreational. Recreational retail dispensaries must also pay sales, local and state cannabis taxes.
These regulations and taxes have angered people in the industry. It's easy to believe cities are being too stingy with how they give out licenses, and that regulation and licensing fees make it difficult for small businesses to enter the market. But before people break out righteous sound bites about protecting small businesses, let's acknowledge the cannabis industry is more complicated than a simple "big-versus-small business" debate.
Marijuana is still federally illegal, and it has only been legal in California since Jan. 1. The impact legalization will have on the market is still unclear. Because of that, California should ease itself into the recreational marijuana market instead of abruptly opening it up to many dispensaries. Seemingly overbearing regulations for the early stages of marijuana legalization allow academics and public policy groups to research how to optimize regulations in a state set to have the largest international cannabis industry.
The fact that marijuana is illegal federally is especially timely now that Attorney General Jeff Sessions has reversed former President Barack Obama's guidance allowing states to choose how to enforce marijuana policy. This means no business by federal law can use a bank account to handle transactions dealing with cannabis, said Steven Davenport, a UCLA alumnus and a RAND Corporation researcher.
This inherently makes it difficult for small dispensaries to compete because businesses must handle all transactions in cash. Large businesses – regardless of state policy – will more easily be able to comply with federal laws, and thus enter the market.
That's unlikely to change, said Jim Newton, a UCLA professor at Luskin School of Public Affairs. Newton added since the Drug Enforcement Administration can shut down dispensaries, California must tread lightly and not give out too many licenses to all sizes of dispensaries, which could risk more federal attention.
Because recreational cannabis was just legalized, there was previously no regulatory framework for licensing – where marijuana would be allowed to be sold, where it would be permitted to be smoked, what the criminal consequences for misuse would be and what sort of impact that would have on the market.
Since the effects of such a large legal cannabis industry are unknown, California is right to ease into recreational marijuana with tough regulations while it figures out what the market will look like. Cries about injustice to small dispensaries and the formation of a marijuana market oligopoly are premature: Large-scale licensing would be chaos for the state legal system.
"We shouldn't be too concerned about market consolidation right now. That seems like next year's problem," Newton said. "The priority should be developing a regulatory scheme that recognizes California sells marijuana but that we don't want it everywhere."
Naturally, these regulations make it quite costly for an up-and-coming marijuana business to license and initially set up shop. But that's just temporary.
"Recreational cannabis industries must invest a lot in their facilities to produce and manufacture it, but once all the investments are made, the marginal cost drops," Davenport said.
Every state that has legalized marijuana has eventually seen steep price drops, Davenport said. For example, Washington saw a price drop from $20 per gram right after legalization, to $10 per gram, making it the cheapest legal weed America has seen, even when comparing marijuana potency, he added. Although many individual LA dispensaries such as Green Door West and Erba Collective have concerns about their price increases, aggregate levels should drop, based on what researchers like Davenport have observed in other states.
This doesn't mean that the regulations should remain this high, however. It's beneficial in the long run for the market to have both small businesses and large corporations. But right now, California can't handle a massive influx of recreational dispensaries, especially when the ramifications of legalization are unclear.
"The cannabis industry's power is much lower relative to what it will be in the future," Davenport said. "It's wise to slow down the industry and figure out the consequences."
Before we blame the state for not doing enough to protect small marijuana businesses, let's cut the government some slack. California is about to open on-the-premise smoking – which doesn't exist anywhere in the world – plus allow for the largest farming of the drug nationally and have the largest cannabis industry in the nation. It's fine if California takes some time to figure out who it wants to give licenses to and how regulations should look like in the future.
Merz is a staff columnist for the Opinion section.
Merz is a staff columnist for the Opinion section.