Editorial: Ban on in-house fraternity events with alcohol must be made permanent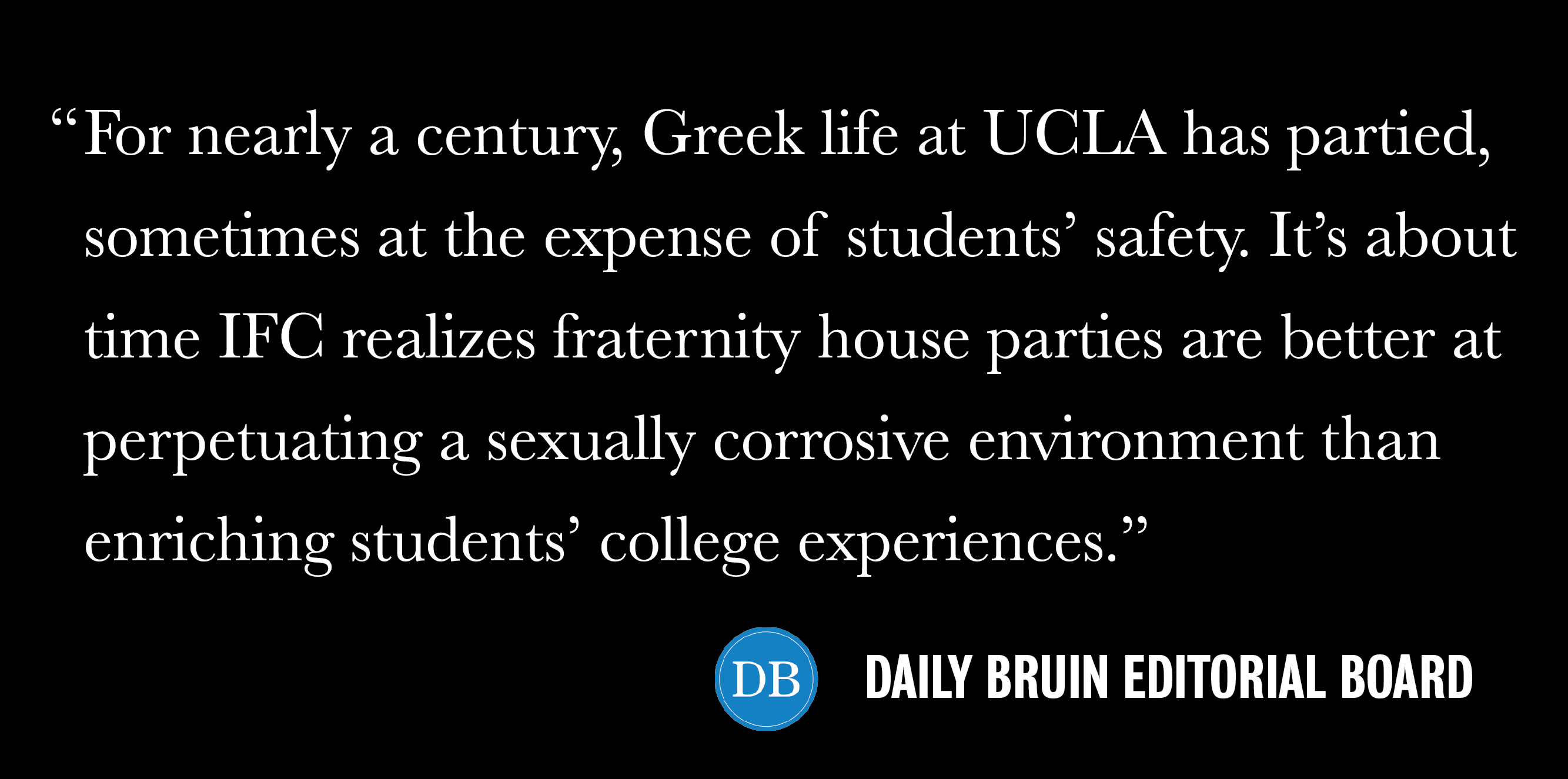 This post was updated Jan. 18 at 9:43 p.m.
Fraternity parties are a fixture of college life. And sexual violence is a fixture of fraternity parties.
Earlier this week, UCLA's Interfraternity Council indefinitely banned in-house events with alcohol at all fraternities following an alleged sexual assault Saturday night. The perpetrator, a UCLA student, was arrested and charged with assault with intent to commit rape and oral copulation. To make matters worse, the student was the 2016-17 president of UCLA's Theta Delta Chi fraternity.
This is only the latest in a long list of sexual assaults reported in UCLA's fraternity houses. Almost every year, the university finds itself investigating cases of sexual assault at fraternities, and, without fail, Greek life leaders race to express their condemnation and conduct sensitivity training on sexual harassment and assault.
However, these efforts have done little to address the fraternity party scene's sexual assault culture. Greek life has more than exhausted its three strikes, and Bruins should no longer be in harm's way at fraternity houses because the community hasn't figured out how to prevent its members from committing sexual assault. IFC needs to permanently ban in-house events with alcohol. Doing so certainly won't end sexual violence on campus, but would make spaces known to enable it off-limits.
IFC issued a statement earlier this week that the council was facilitating "constructive conversations" and speaking with administrators about how to best address the issue of sexual assault going forward. But these discussions are no different from what Greek life leaders tried – evidently with little success – in previous years.
In April 2016, Greek life leaders and members of the Undergraduate Students Association Council wrote a letter to students proclaiming they stood in solidarity with sexual assault survivors. Six months later, then-IFC President Derek Bergmann wrote a letter to the community about how his council would prioritize education concerning racial and gender identity to combat misogyny and racism at UCLA's Greek life institutions.
Fraternities also received tailored, in-person Title IX training for the 2016-17 year, with every single fraternity member having undergone training by February 2017. In addition, UCLA's Office of Fraternity and Sorority Life mandated that fraternities couldn't hold any social activities until every single member of their chapter had completed training.
Greek life has clearly tried to address sexual assault. But the results haven't been that promising: A former member of the IFC's executive council told The Bruin he thinks there has been an uptick in the number of instances of gender-based violence and discriminatory behavior this academic year. If true, the discussions and Title IX training sessions Greek life members have gone through over the past two years have been woefully insufficient.
That's not to say IFC isn't trying to make amends. IFC President Noah Mayer said the presidents' council unanimously voted to enact the ban without any pressure from the UCLA administration or knowledge that the student was arrested and charged. He also added the IFC is focusing on implementing updated bylaws that address concerns about sexual assault in fraternity houses.
This is certainly a start. But we should be far past the point of just starting to address sexual assault in Greek life spaces. Institutionalizing the ban on in-house activities with alcohol, if duly enforced, is the way forward.
Banning all parties may seem harsh to fraternities that can host events with alcohol and still prevent instances of sexual assault. But parties in sprawling, darkened fraternity houses, where it is easy for attendees to become lost and isolated while intoxicated, will always put students at risk.
Moreover, parties involving alcohol are wholly unnecessary to fraternities' missions and are already banned in sorority houses across campus. There is no reason for this double standard – especially when sexual violence has persisted at fraternities despite numerous efforts to address it.
For nearly a century, Greek life at UCLA has partied, sometimes at the expense of students' safety. It's about time IFC realizes fraternity house parties are better at perpetuating a sexually corrosive environment than enriching students' college experiences.