UCLA men's volleyball hands UCSD first loss of season, continues win streak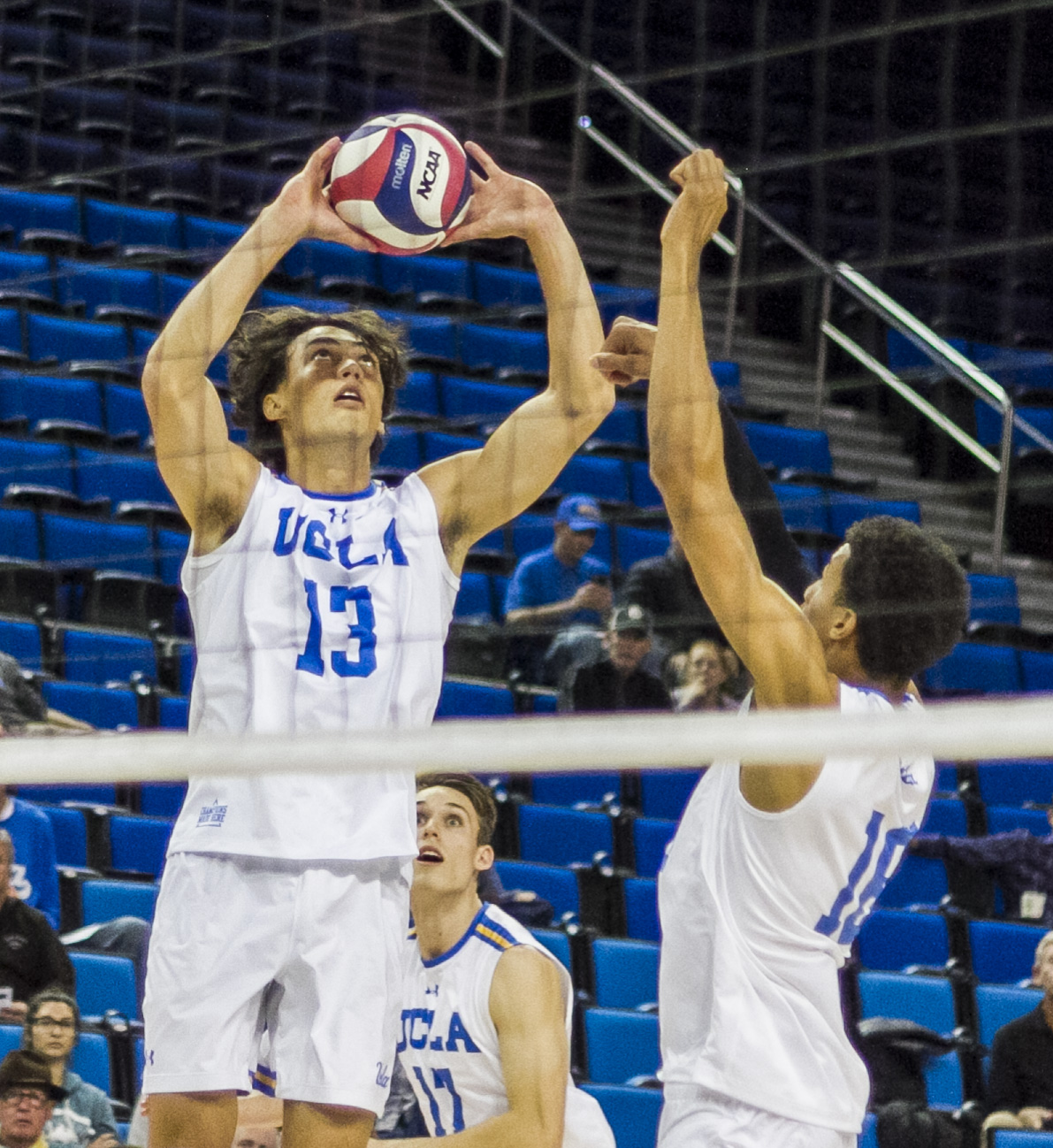 Micah Ma'a had 29 assists in UCLA's victory over UC San Diego on Tuesday night. The junior setter/opposite also registered five kills on as many attempts. (Habeba Mostafa/Daily Bruin)
The Bruins only registered five aces Tuesday night – just two more than their season low.
But strong serving was still a key factor as undefeated No. 2 UCLA (5-0) men's volleyball's handed UC San Diego (3-1) its first loss of the season.
"We didn't get as many aces as we did in a couple matches last week," said coach John Speraw. "But we got 'em out of system – and some overpasses – and we did a real nice job of putting pressure on them from the end line."
Speraw said his team did a good job serving the ball in the second and third sets – both of which UCLA won 25-18. In set one, the Bruins edged the Tritons 25-23.
The score was locked at 23 before UCLA notched two straight kills to close out the set. The first of those two kills came from senior outside hitter JT Hatch, who managed a team-best 13 kills throughout the match, although UC San Diego's opposite Tanner Syftestad bested Hatch with 14.
"We just tried to play (Syftestad's) tendencies, which worked, I'm going to say, fairly well," said junior outside hitter Dylan Missry. "He's a big, physical guy, we just tried to slow him down the best we could and did an all right job of it."
Although the Bruins kept Syftestad in check, both Speraw and Missry said the Bruins' blocking still needs to improve – despite the fact that the Bruins mustered a season-best 16 block assists compared to four blocks from the Tritons.
"Our block defense was okay," Missry said. "I think it's something we're going to need to continue to improve on as the year goes on, because I think the teams at the top really dig the ball well."
Speraw added that improving blocking defense is a gradual process because blocking is a complicated skill, but said he was pleased to see that his team made some improvements.
Junior setter/opposite Micah Ma'a said that the team really got excited when it was able to come up with blocks, particularly from sophomore middle blocker Daenan "Kofi" Gyimah and redshirt senior middle blocker Oliver Martin, who had six and two blocks, respectively.
"When we've got guys like Ollie and Kofi, it looks almost cartoonish out there," said Ma'a.
Gyimah also notched the final kill of the match to give UCLA its fourth straight win against an unranked team this season.
The Bruins will head back to Westwood to face a pair of top-10 schools in No. 9 Penn State and No. 3 Ohio State in the AVCA Men's Showcase starting Thursday.
Sered joined the Bruin as a junior in 2017 and contributed until she graduated in 2018. She spent time on the softball, men's volleyball and men's soccer beats
Sered joined the Bruin as a junior in 2017 and contributed until she graduated in 2018. She spent time on the softball, men's volleyball and men's soccer beats