Tabatha Lewis: UCLA must require explanatory module before students pay or waive UC SHIP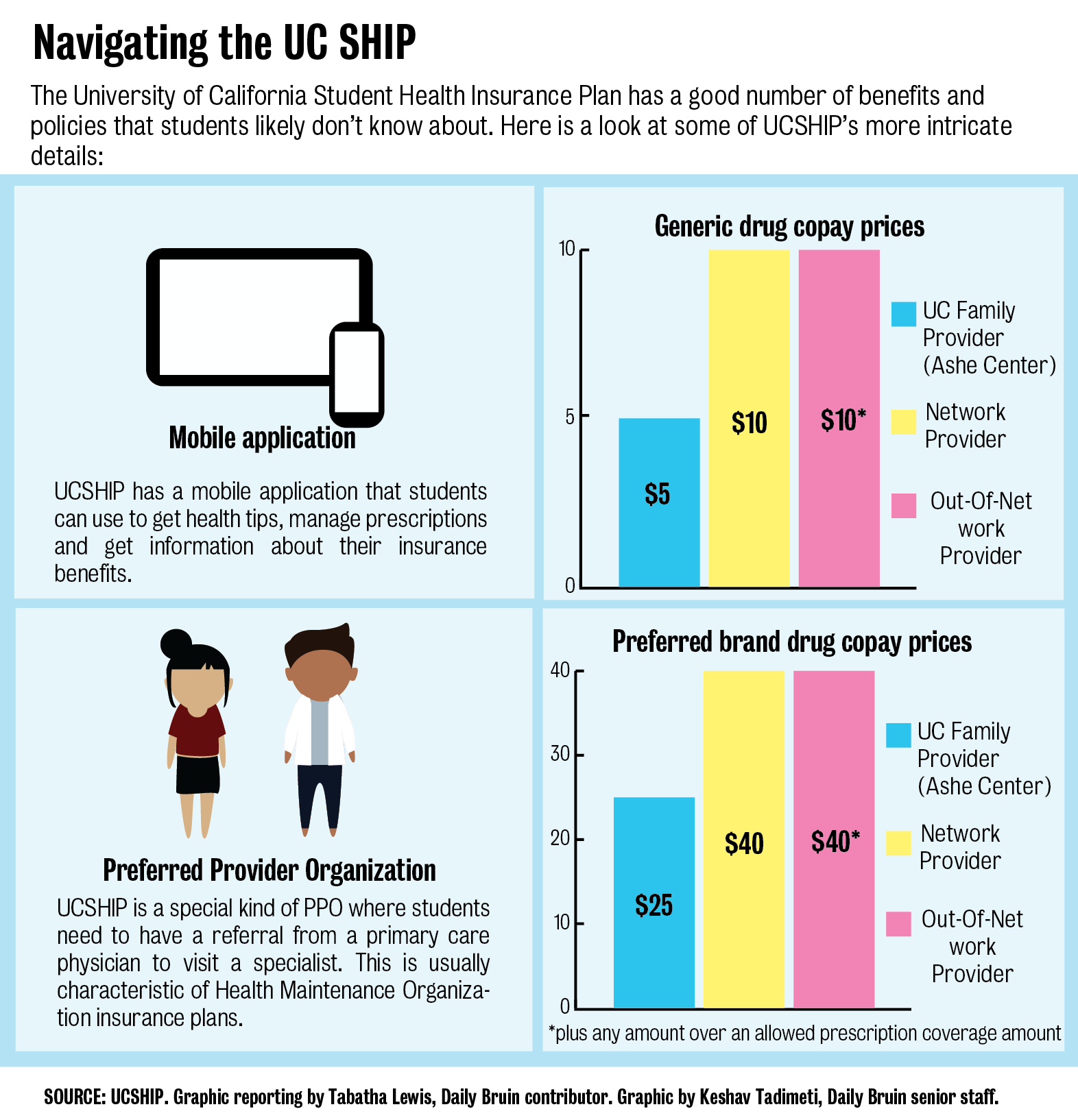 Imagine this: You wake up one morning at Ronald Reagan UCLA Medical Center with alcohol poisoning because you didn't follow the "one drink per hour" rule from the alcohol module that UCLA has incoming students finish before they come to campus.
Luckily, you're covered by the University of California Student Health Insurance Plan, so your hospital costs are reduced. You only have to pay the physician for treating you, the city of Los Angeles for shuttling you to the emergency room, the personnel on the ambulance for keeping you alive and UCLA Health for taking care of you.
Now you just need to read 139 pages of the UC SHIP Anthem Benefit Booklet to find out what all these costs are.
UCLA requires students to pay $2,177 every year for UC SHIP, the student health insurance plan that helps students pay for medical services on and off campus. Students have the option to waive this insurance if they already have a health plan with another provider, but UCLA will drop them from their classes if they fail to either pay or waive UC SHIP.
There is no doubt UCLA takes health insurance seriously, but the university doesn't provide an intuitive way for students to understand exactly what they are paying for and how they can take advantage of the benefits provided by UC SHIP. And if they want to find out how to schedule appointments for special treatments, learn what their deductibles – the amount someone pays before insurance kicks in – are or what potential copayments – the amount you pay when you check into an appointment – are, they must dig through multiple websites and brochures to obtain this basic, yet essential information.
If UCLA requires students to pay thousands of dollars for health care, it should at least teach students how to use it. The university must require incoming students to complete an online health care module to teach them about health insurance and how to take advantage of UC SHIP's benefits. Doing so would allow students to understand the benefits and limitations of their health plans.
For example, students on UC SHIP may not know they have to visit a primary care physician before booking an appointment with a specialist. In order to find this information, the student must navigate UCLA's Ashe Center website to find the flyer that explains how to make a specialty care appointment or page through a hefty benefits booklet.
Noah Reid, a third-year classics student who is on a premedical track and has worked in an emergency room, said he was able to find the cost of a deductible and copay online on the Ashe Center website, but couldn't find the out-of-pocket maximum expenses.
"For someone who was covered by their parents' insurance, (the website) is difficult to navigate, and you don't know what to look for or what the benefits of having UC SHIP are," Reid said. "If you don't know what you are using, it's not fair, and you won't be able to take full advantage of what you are paying for."
Michael Scheipe, a fourth-year human biology and society student who has UC SHIP, also said he doesn't know essential facts about UC SHIP – a testament to the lack of accessibility to the service's policies and benefits.
"You don't get much information about what UC SHIP covers," Scheipe said. "I think that the burden to learn about health insurance falls on the student."
Furthermore, if students have UC SHIP and another health insurance, it's not always clear when it is best to use which. To illustrate, if a student schedules an appointment with an orthopedic doctor using UC SHIP, they would have a $40 copay. However, an outside health insurance might not have a copay. If students don't specify they want to use their outside insurance, they might end up paying extra money out of pocket. Without knowing all available benefits from UC SHIP, it's tough to make an informed decision.
In order to further inform its students about health care, UCLA should require incoming students to complete an online training module on health care before they are asked whether they want to waive UC SHIP. The module could include information about what common health care terms mean and how students can find out details about their current health plan, such as the out-of-pocket maximum their insurance provides or copayment costs – some of which vary based on which UC campus a student is attending.
If UCLA is requiring students to pay so much money for UC SHIP or go through the process of waiving it, it should not solely be up to students to educate themselves about health insurance. Mass emails and confusing websites are passive attempts at informing students and do not effectively convey information regarding UC SHIP. If UCLA is capable of effectively informing students through online modules about topics such as alcohol consumption, it can most certainly employ an online module to teach students how to schedule an appointment to see a dermatologist for acne.
Alcohol consumption is not relevant to all students, but health care is. And the university cannot obligate students to either pay for or waive UC SHIP if it doesn't help them understand the basics of health insurance.
Lewis is an Opinion columnist and News contributor.
Lewis is an Opinion columnist and News contributor.