Editorial: UCLA needs transparency if it wants to keep parents' trust, support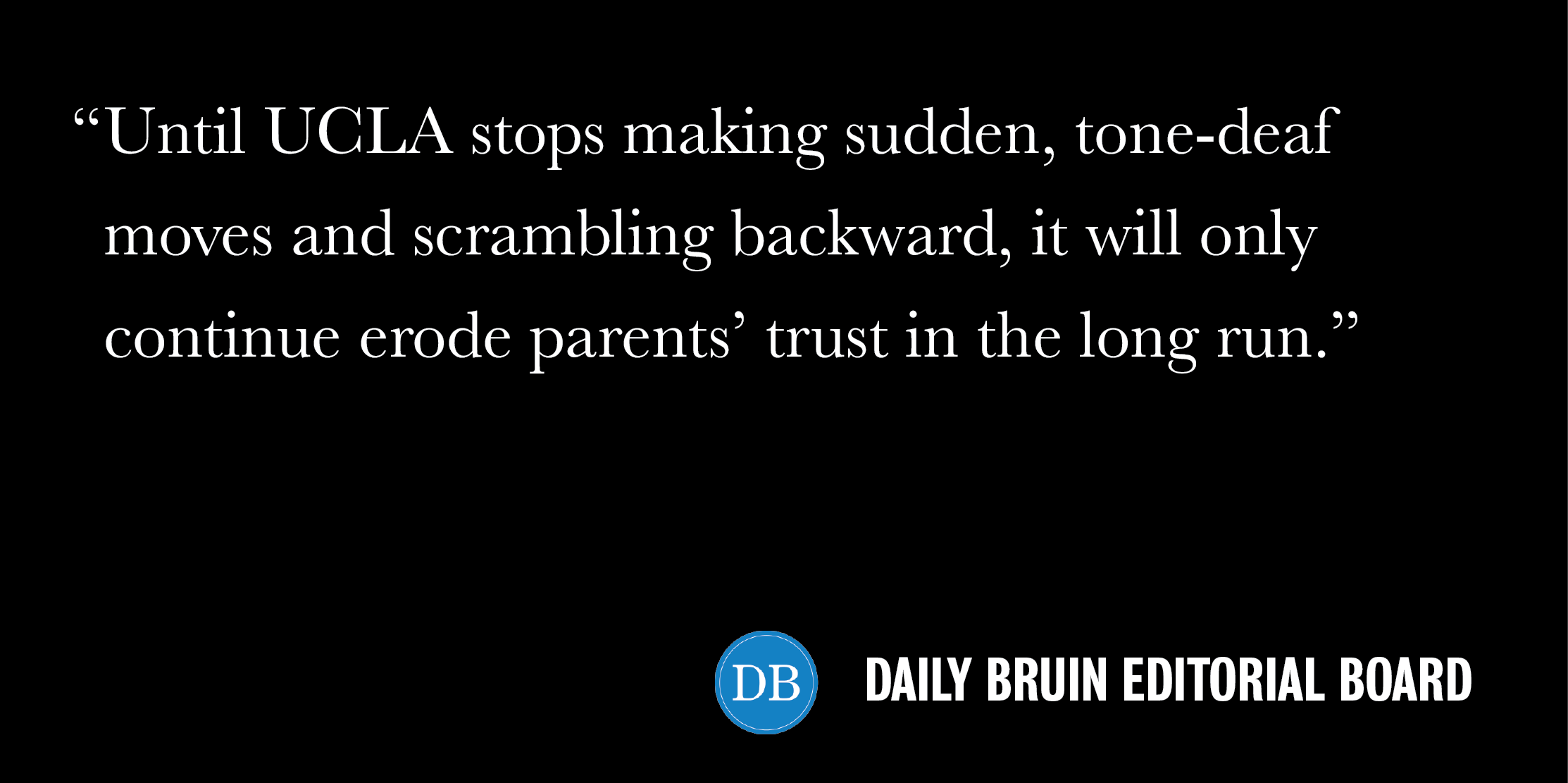 UCLA rang in the new year by keeping up with an old tradition: angering parents who entrust the university to take care of their children.
Last month, the university administration placed Norma Silva, the principal of the UCLA Lab School, which enrolls pre-K through sixth grade students and is operated by the Graduate School of Education and Information Studies, on leave with little explanation to the school's community. Marcelo Suárez-Orozco, the dean of the GSEIS, told parents in a Dec. 17 email that Silva was placed on leave but refused to provide any details.
Following outcry from parents, Scott Waugh, executive vice chancellor and provost, held a town hall and told parents that Silva would remain at the lab school until June to handle certain administrative duties. Waugh, however, declined to provide any details for why UCLA changed its decision.
UCLA's handling of Silva's employment runs similar to its mismanagement of its Early Care and Education centers, a child care program for children of faculty and graduate students. Back then, parents complained about the university's snail-paced response to abrupt classroom changes and staff negligence at ECE centers, as well as its lack of transparency in addressing classroom issues. Fast-forward a year, and the university is still holding town halls and not being direct with parents about its administrative decisions.
The administration's lack of explanation has in many ways tarnished the reputation of the lab school and of Silva, who, by many parents' accounts, was a popular principal. For example, after seeing GSEIS personnel escorting Silva from the school on the last day of class before winter break, some parents speculated she was put on leave for being involved in criminal activity.
UCLA spokesperson Ricardo Vazquez rejected claims that the administration's decisions regarding Silva's employment had to do with criminal activity. The university's silence on why Silva was initially put on leave, however, has only fueled the fire for these kinds of rumors.
In addition, the administration neglected to consult parents or other lab school stakeholders before making its decisions regarding Silva's employment. Some parents argued the university failed to adequately communicate with the lab school's board of advisors, which consists of parents, community members, lab school faculty, the GSEIS dean and the lab school principal – an action that shows a surprising lack of foresight, considering a meeting with advisors could have quelled several of the community's misunderstandings.
The lab school debacle not only makes UCLA look negligent, but also has the potential to affect the well-being of the students at the school. Parents are right to be concerned that innovative programs Silva introduced, including dual-language classes and a lab program that trains students in multiple disciplines such as science and activism, could be lost in the upcoming transition period. While Waugh did say in the town hall that the administration would like those programs to continue in the future, a haphazard transition could jeopardize them.
To its credit, UCLA administration has promised to establish a committee made up of UCLA Lab School faculty, parents and administrators to search for a new principal, and Waugh has said he plans to hold more town halls with parents. But UCLA's response is similar to the one it made in the ECE situation. The problem isn't a lack of town halls but the administration's unwillingness to be transparent.
And until UCLA stops making sudden, tone-deaf moves and scrambling backward, it will only continue to erode parents' trust in the long run.