UCLA women's basketball has back-to-back wins against Colorado, Utah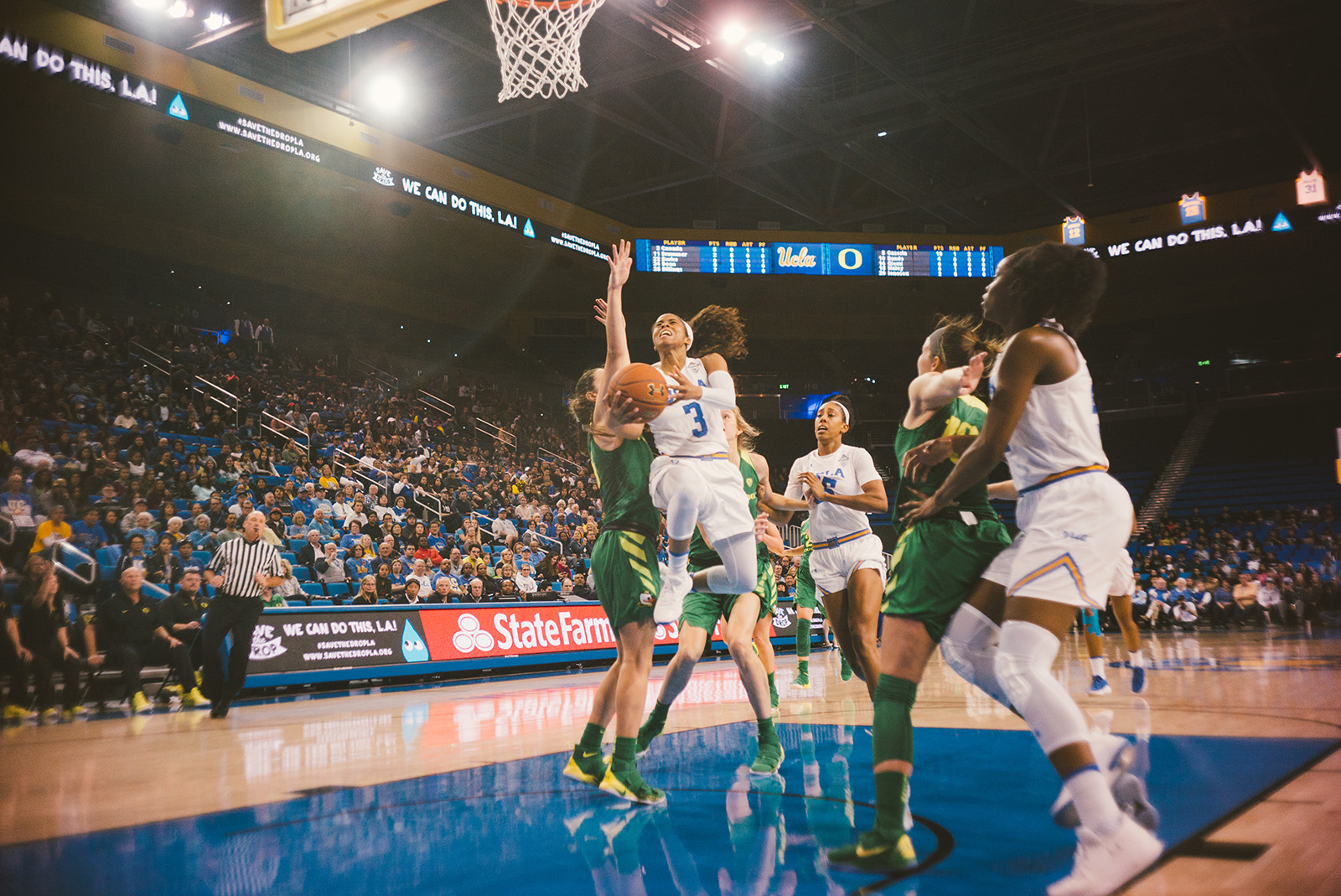 Senior guard Jordin Canada made history in Sunday's win over the Colorado Buffaloes. She became the first Pac-12 player to ever record 1800 points and 700 assists for a career. (Ken Shin/Daily Bruin)
After starting Pac-12 play 2-2, the Bruins responded with back-to-back conference road wins for the first time this season.
In what were two different types of games, No. 13 UCLA women's basketball (13-4, 4-2 Pac-12) won a back and forth battle against Utah (12-5, 3-3) 81-74 and routed Colorado (11-6, 2-4) 93-55.
The Bruins and Utes traded baskets in the first half, but in the third quarter, UCLA was able to build up a 7-point lead. The Utes began to chip away, cutting the lead to just two, but before the Bruins could answer back, senior guard Jordin Canada sprained her right ankle, landing on Utah's senior forward Tanaeya Boclair.
"I was really worried for her actually because I know she was in pain," said freshman forward Michaela Onyenwere. "But I knew that we had to do this for her, she's led us to this point and she's done a great job of it … so I knew we needed this win for her."
However, Canada's right ankle didn't keep her out for long as she returned towards the end of the third quarter. Midway through the fourth quarter, the Utes cut the lead to one after a 3-pointer, but Canada answered with a coast-to-coast, and-one opportunity to push the lead back to four.
That was the last successful field goal for the Bruins, securing the win from the free throw line.
Onyenwere, who stepped up while Canada was out, had career-highs while obtaining her second double-double of the season, posting 20 points and 11 rebounds.
"My teammates just found me and that gave me the confidence to go all out for my team" Onyenwere said. "I wanted to do everything in my power to help my team and that was from me rebounding and finding the open shot."
On Sunday against Colorado, UCLA opened the game with a 16-0 run and forced eight turnovers en route to the 38-point victory.
"We generated points off of our defense early, which always gets us going," said coach Cori Close. "We started the game with consecutive stops and whenever you start the game with nine consecutive stops you're going to set yourself up for pretty good rhythm."
It was the seventh time this season the Bruins held their opponent under 60 points, but their usual defense this time was paired with an efficient offensive game as they shot 46.8 percent from the floor and 47.4 percent from three.
Eleven players hit the floor for UCLA and all of them scored, with six in double figures. The Bruin's leading scorer was junior guard Japreece Dean, who hit five 3s and scored 21 points in her highest scoring game as a Bruin.
The lone double-double of the game came from Canada who posted 10 points and 11 assists with just one turnover. It was her fourth of the season and 16th of her career. Her 11th assist of the game was also the 700th of her career, making her the first ever Pac-12 player to reach 1,800 points and 700 career assists.
"It means a lot, it's something I can't really describe, it's an honor to be a part of history to be able to be with the great players in the Pac-12," Canada said. "All thanks to my teammates though because without them making shots I wouldn't be able to have those 700 assists, so to all the ones I played with and the ones I'm playing with now I owe them all that. It's a great honor."
Next week, UCLA will take on California (13-4, 4-2) and then attempt to avenge their loss to Stanford (11-7, 5-1) from earlier in the Pac-12 season.
Chen is currently a contributor for the Stack. He was previously a contributor for the women's basketball and softball beats.
Chen is currently a contributor for the Stack. He was previously a contributor for the women's basketball and softball beats.