New Public Service and Civic Engagement floor fosters community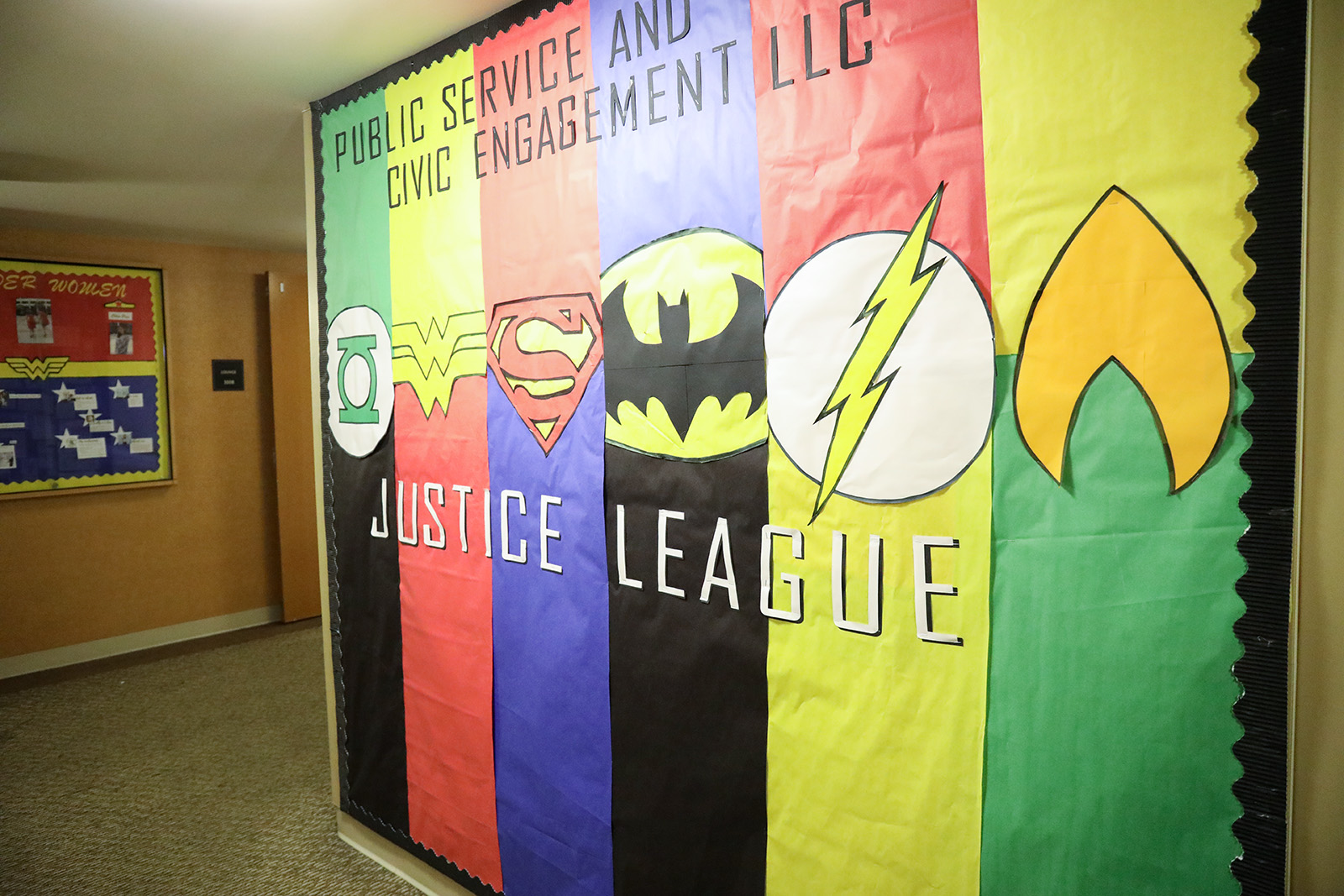 A new Public Service and Civic Engagement floor, a Living Learning Community at Rieber Hall, aims to better connect civic-minded students. (Chengcheng Zhang/Daily Bruin)
January 12, 2018 12:01 am
Alex Adame found a second home at UCLA through a new living-learning community on the Hill.
Adame, a first-year political science student and resident at the new Public Service and Civic Engagement floor at Rieber Hall, said he connects with others on his floor because of their shared interests.
"I can't imagine living anywhere else," he said.
The themed floor for civic-minded students started in fall quarter as part of the UCLA Residential Life's Living Learning Community program. The residential community aims to expose students to service initiatives on and off campus and provide access to mentorship and professional development opportunities. Students can apply to LLCs through their housing applications.
LLCs are themed floors that allow students with similar interests or backgrounds to live together. LLC resident advisors organize events, plan field trips and provide resources for residents that relate to the floor's theme.
Chloe Pan, a fourth-year international development studies and Asian American studies student and a resident assistant on the floor, said she proposed the LLC to UCLA Residential Life last year to provide a community for students who are interested in civic engagement. Pan, who is also the UCLA Undergraduate Students Association Council external vice president, said she came up with the idea after seeing how the Global Health LLC supported the students on its floor.
"People (were) helping each other pick classes, find internships, applying to scholarships, even getting involved in campus (organizations)," Pan said. "I remember thinking how nice it would be to have a community like that for people who are more oriented towards service and policy issues."
Bergen Watterson, a second-year neuroscience student and RA on the floor, said the Public Service and Civic Engagement LLC, unlike some other LLCs such as the [email protected]/[email protected] LLC, is not specific to students' identities but aims to connect students with a common interest for public service.
The Public Service and Civic Engagement LLC was the second-most applied to LLC for the 2017-2018 school year, Pan said.
Pan added that although there is a limit to how many students the LLC can house, the floor's events are open to all residents on the Hill.
She said that about 80 percent of the LLC's resident applied to be on the floor, while the other 20 percent did not.
Jasmine Roman, a first-year microbiology, immunology and molecular genetics student, said although she did not request to be on the floor, she appreciates the floor's strong sense of community and feels people support one another's varying interests.
"Everyone's trying to help each other out in different areas," Roman said.
Some of the floor outings the LLC held last quarter included visiting downtown Los Angeles to learn about the city's culture and giving public comment in September at a public hearing over UCLA's planned housing projects in Westwood, Pan said.
The LLC also plans to hold a Hill-wide voter registration drive, which Pan and Watterson said they hope to establish as an annual event. Voter registration drives on the Hill have been difficult for student groups to organize in the past because there are many regulations governing how registration forms are handled, Watterson said.
"This could be the main mechanism through which (UCLA Residential Life) can do voter registration on the Hill," Pan said.
Samantha Garduno, a first-year Chicana and Chicano studies and history student, said people in her hometown do not often vote, so she thinks voter registration is a great opportunity for people to get more politically involved.
Watterson said she thinks the floor has a good sense of community because residents connect with each other and take the time to support each other's interests.
"It's fun seeing people singing along to 'Hamilton' until 2 a.m. and having people post their extracurriculars in the GroupMe and people supporting them," she said.
Morris is the 2018-2019 assistant News editor for the campus politics beat. She was previously a writer for the campus politics beat. She is also a second-year global studies student at UCLA.
Morris is the 2018-2019 assistant News editor for the campus politics beat. She was previously a writer for the campus politics beat. She is also a second-year global studies student at UCLA.