BruinBus extends hours, merges bus lines in response to complaints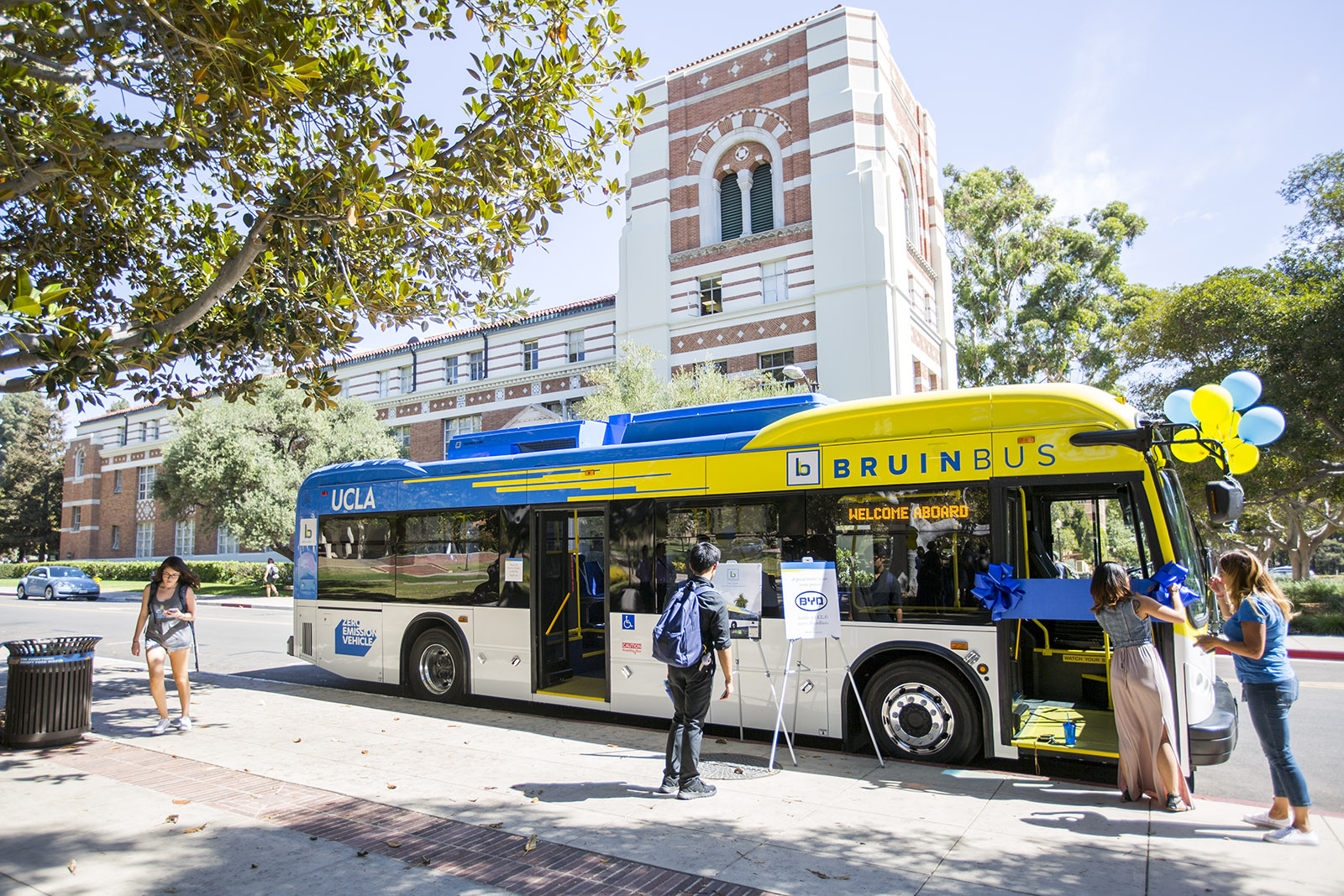 BruinBus will be merging its Wilshire and Campus routes into one line from 6:45 to 8 p.m. The combined line can take students to the Weyburn Terrace apartments, Murphy Hall and the Wilshire Center. (Daily Bruin file photo)
BruinBus extended its weekday hours and changed some of its routes beginning winter quarter.
BruinBus has been running from 7 a.m. to 8 p.m. on weekdays since Jan. 2 and has merged its Weyburn Express and Campus route bus lines for more frequent service.
BruinBus, a year-round bus service students and faculty can use to travel around campus and areas near UCLA, previously ran from 7:30 a.m. to 6:30 p.m. for its Wilshire route, and from 7:30 a.m. to 7 p.m. for its Campus route on weekdays.
The Weyburn Express, a bus line that shuttled passengers between Murphy Hall and Weyburn Terrace, is now integrated with the Campus route, allowing passengers to go to locations near UCLA, including the UCLA Medical Plaza, Macgowan Hall and the Gonda Neuroscience and Genetics Research Center.
BruinBus' Wilshire and Campus routes are now combined into one line from 6:45 to 8 p.m. on weeknights. Students can take the route to the Weyburn Terrace apartments, Murphy Hall and the Wilshire Center. The Wilshire route connects the UCLA campus with stops ranging from Murphy Hall to Westwood Boulevard during the day.
Clinton Bench, the director of UCLA Fleet and Transit, said BruinBus passengers complained to UCLA Transportation for many years that some lines have had crowded buses and short hours of operations.
"This change allows BruinBus to provide more evenly spaced departures from Weyburn Terrace in the morning and reduce crowding on Campus route trips," Bench said.
Some students said they think the changes were not well-advertised but added that the later hours and longer routes have created a better passenger experience with BruinBus.
Preston Sloan, a first-year business economics student, said he thinks BruinBus' marketing campaign was too small because he did not realize there were changes to the schedule.
"I wish these developments were advertised a bit more," Sloan said. "I honestly didn't even realize services changed until now."
Tijs Bronnenberg, a first-year mathematics/economics student, said the new changes to the BruinBus would allow him to get around campus in the evenings.
"This change lets me get around campus faster at later hours, which is something I was hoping for considering my late study schedule," he said.
Ankush Bharadwaj, a first-year biology student, said he can now get back to the Hill from campus at later hours thanks to the new changes.
"I have a job on the other side of campus that lets me off pretty late," he said. "I used to always miss the last BruinBus that went near the Hill, but now I'll definitely make it."