Transfer, veteran resource centers provide study space and workshops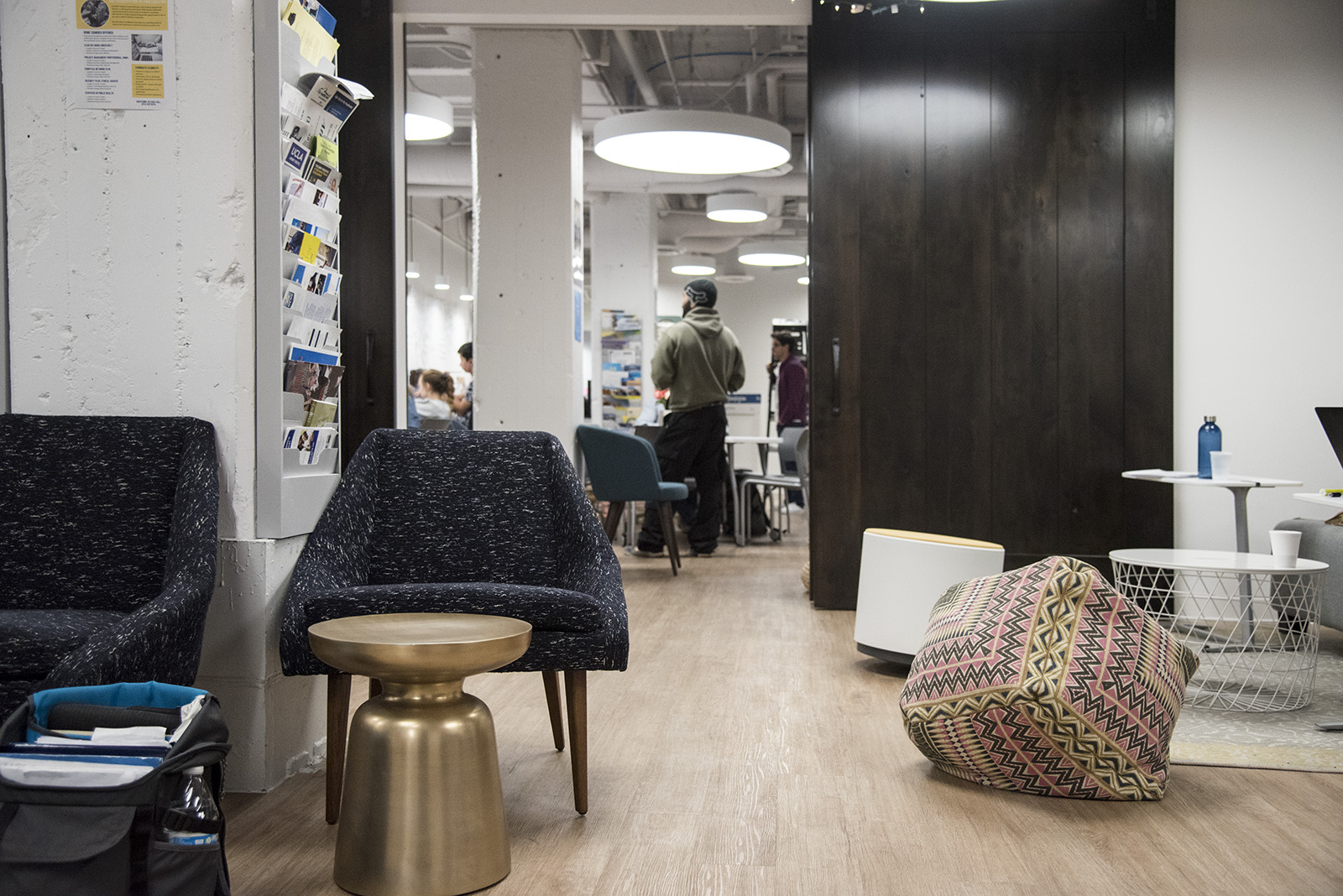 The Transfer Student Center and Veteran Student Center, which are now located at Kerckhoff 128 and 132 and recieved 4,578 sign-in, relocated in July to accomodate new students. (Daniel Leibowitz/Daily Bruin staff)
January 10, 2018 10:05 pm
The Transfer Student Center and Veteran Resource Center have been able to accommodate an increasing number of students since its opening last summer.
The transfer and veteran centers, which were previously located at the Student Activities Center, moved to Kerckhoff 128 and 132 in July. The new centralized space has received 4,578 sign-ins between September and November, said Heather Adams and Emily Ives, directors of the transfer and veteran centers, respectively.
The centers' purposes are to help transfer and veteran students adjust to academics at UCLA and get connected to research opportunities, internships and study abroad programs, Adams said.
Veteran students have specific needs because they must adjust to their lives as students outside of the military, Ives said.
"Veteran students are navigating campus and a new identity not being in the military anymore," Ives said. "The veteran program is about adjusting to civilian life and supporting students' military service."
Transfer students sometimes struggle with academics because they have less time at the university to adjust to classes and get involved, Adams said.
"It's really hard to navigate a research university in two to three years and build a network," she added.
The centers' old location had limited physical space and also housed other programs in the Bruin Resource Center, which made it difficult for the two programs to accommodate high student demand, Adams said. Half of all visitors to the Bruin Resource Center at the time were veteran and transfer students, Ives added.
"We were in one office for four different programs," Adams said. "We couldn't have nearly as many people in the space because there were so many programs in the same building."
After relocating, the Transfer Student Center and Veteran Resource Center collected student feedback about what they wanted the centers to provide and set up office hours with campus organizations, such as the Academic Advancement Program, Counseling and Psychological Services, and College Academic Counseling, to bring services directly to students, Adams said.
Adams added the transfer center has also been able to hold workshops informing students about programs such as study abroad opportunities and graduate school planning and provides commuter students with a study space late in the day.
The centers also worked with UCLA Transportation to help commuter transfer students appeal the parking process if they do not get a parking permit, Adams said. She added the centers also worked with UCLA Housing to provide housing for veteran students who may struggle to find housing in Westwood or accessible housing if they have a disability.
The veteran center has also helped students who come to the office understand their benefits under federal programs such as the GI Bill, which allows many veterans to receive free tuition and disability compensation, Ives added.
Adams and Ives said they hope to expand professional resources for students this quarter, such as internship opportunities and career planning. She added the center focused more on providing academic and research support for students last quarter.
Adams said they also plan to improve the physical space of the centers by adding more seats and wall decorations.
Students who use the centers said they visit the space more frequently since they relocated to Kerckhoff Hall.
Sadaf Tabibzadeh, a third-year English student, said she visits the transfer center about four times a week because she enjoys studying there between classes.
"It's so nice to have a basic study spot and moral support at the center," Tabizadeh said.
She said she hopes the transfer center extends its hours more often than once every other week because she has night classes.
She added her favorite part of the center is its transfer mentor program, which pairs third-year transfer students with fourth-year transfer students that are studying similar subject areas.
Ralph Arellano, a third-year anthropology student, said he learned about the center from his friends and has visited it five times since it opened.
"I haven't used the resources too much, but they seem very helpful if I ever needed them," he said. "It's a cool study space since they have coffee and some events."
Sona Babayan, a third-year political science student, said she studies at the transfer center about twice a week but has not used the counseling and workshops it provides yet.
"It's a great study environment," she said. "I feel at home here. … There are couches, coffee and tea, so it's much more comfortable than studying in one of the libraries."
Merz is a staff columnist for the Opinion section.
Merz is a staff columnist for the Opinion section.