Al Gore discusses climate change at screening of his documentary at Hammer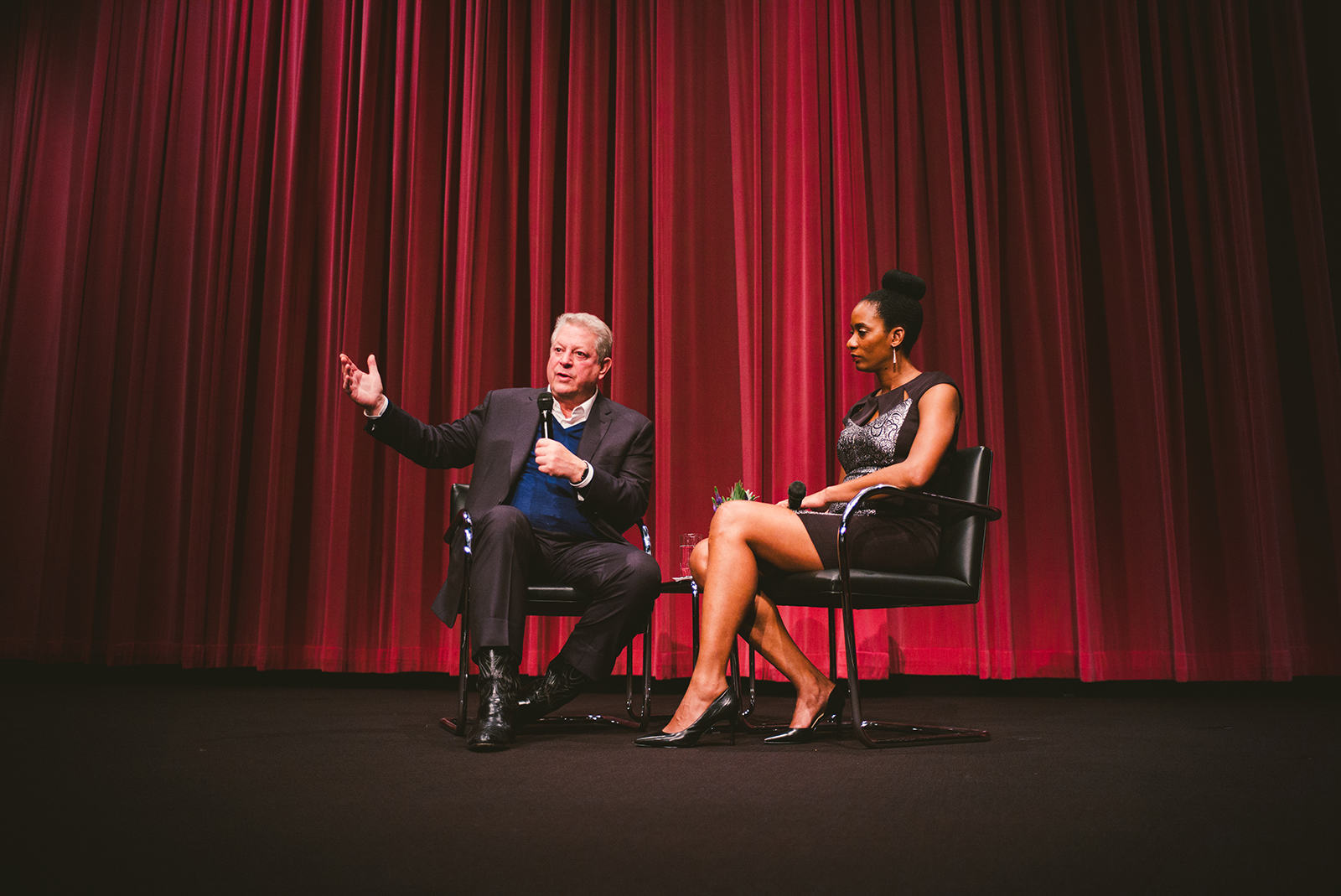 Former Vice President Al Gore spoke about the importance of environmental conservation at an event at the Hammer Museum. (Ken Shin/Daily Bruin)
Former Vice President Al Gore said he thinks recent natural disasters should be a wake-up call for Americans to focus more on conservation efforts at an event at the Hammer Museum on Sunday.
The Hammer held a screening of "An Inconvenient Sequel: Truth to Power," Gore's second documentary about his environmental advocacy work. In the Q&A session following the screening, Gore said he thinks rising sea temperatures caused last year's hurricanes in Texas and Puerto Rico, showing that combating climate change is becoming an urgent issue.
"Every night on the news, it's like a nature hike through the Book of Revelation," he said. "And I think people are connecting the dots on their own."
Gore added he thinks the recent fires in California, including the Thomas fire in Santa Barbara last month, are a result of climate change. One hundred ninety five countries signed the 2016 agreement to address pollution and other climate change issues.
However, individuals, states, communities and corporations are taking action to combat climate change, Gore said. He added that Governor Jerry Brown is one of the state leaders advocating for environmentally friendly policies.
"The U.S. is on track now to exceed the commitments it made in the Paris agreement," he said.
Judy Zhang, a student from Palisades Charter High School, said she thinks Gore is optimistic about the future of conservation efforts because he said many young people are getting involved in environmental activism.
Zhang added she thinks the documentary showed that anti-conservation policies, such as the U.S. withdrawal from the Paris agreement, have actually encouraged more Americans to support environmentally friendly policies.
"(The climate change deniers) brought out a side of the world to be even more active," she said.
Tina Johnson, a former policy director of the US Climate Action Network who moderated the Q&A, said she hopes the documentary encourages younger generations to continue efforts to address climate change. She added that universities like UCLA and regional communities can contribute to the conservation effort by using more renewable energy sources.
"What does UCLA need? What would work for your campus?" Johnson said. "We have to find … what we can collectively agree on that has a multiplicity of benefits."
Gore said he thinks elected officials from different political backgrounds need to work together to protect the planet's future.
"The one element we most need is political will – to take the solutions and put them in effect to solve the crisis," Gore added.