Women's basketball offense shines in 77-68 win against Seton Hall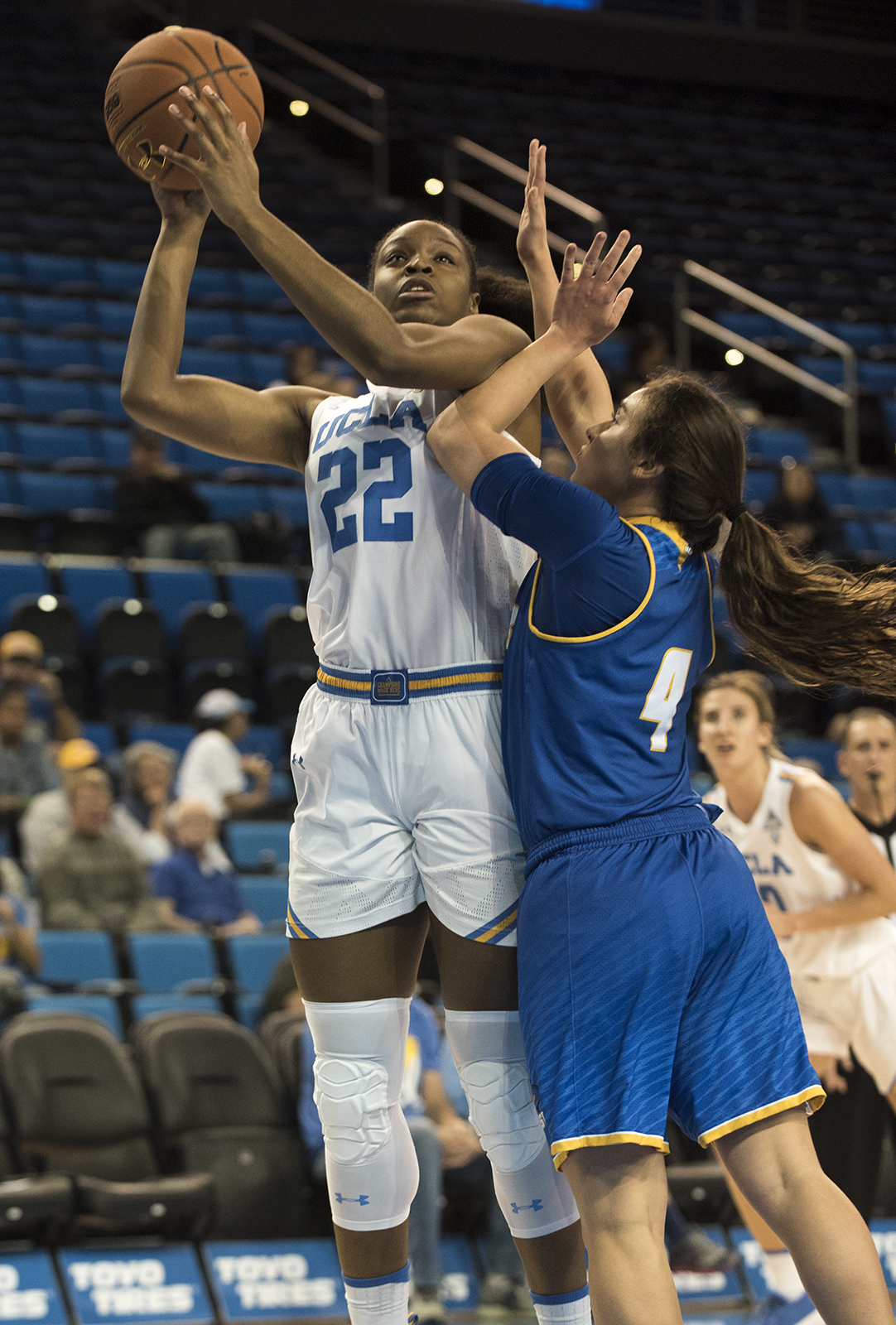 Junior guard Kennedy Burke scored 10 points on 5-of-8 shooting at Seton Hall on Sunday morning. The Bruins went on to pick up their first win of their five-game road trip that began with a loss to Oklahoma State on Dec. 8. (Jenna Smith/Daily Bruin)
December 18, 2017 2:47 pm
Like any other game, the Bruins did their pregame dancing; but when the time came, they took care of business.
No. 11 UCLA women's basketball (8-2) played its second straight road game Sunday, defeating Seton Hall (7-3) 77-68 in a full-team effort. There wasn't one stand-out performance, as the Bruins showcased five players scoring in double digits.
"I think it was just the balance of our team today," said assistant coach Shannon Perry. "(This game) really emphasized that you never know whose night it's going to be in terms of scoring threats."
After cutting into the Bruins' 15-point lead during the second quarter, the Pirates remained in striking distance throughout the contest. However, UCLA's athleticism proved to be too much.
"On the offense end, we were just being really patient with the ball moving," said junior guard Kennedy Burke. "We were not rushing shots, and I think that's what helped us keep our lead in the game."
UCLA shot 67 percent from the field on 10-of-15 shooting in the first quarter. It also held Seton Hall to just 17 percent from the floor, even though Seton Hall had eight more attempts than UCLA.
Despite the poor shooting percentage, the Pirates managed to hang on by attacking the rim aggressively to force Bruin guards into early foul trouble. Seton Hall guard Nicole Jimenez came off the bench for a career-high 20 points.
"When (senior guard Jordin Canada) was in foul trouble, … I had to step up and play the point guard spot. … But she really played one of her best games," Burke said of Canada, who finished with her second double-double of the season.
Although Burke did not put up any off-the-chart numbers, her ability to play multiple positions on the floor – including the point and even center – showcased her versatility.
"If we want to make a deep run in the Pac-12 and NCAA Tournament, (Burke) is a major factor of that," Perry said. "So our success is highly dependent on how well she does, … impacting both sides of the ball."
Coming off a nine-day break with just one game left before conference play, UCLA wanted to improve its execution in the paint. It did just that, finishing the first quarter with 14 of its 22 points in the paint.
Freshman forward Michaela Onyenwere scored the first six points of the game, establishing a fast-paced start for the Bruins offensively. She finished 7-of-9 from the field with 14 points and nine rebounds in her first career start in place of senior forward Monique Billings.
"I was really nervous, actually," Onyenwere said. "But I was just really happy to be able to contribute to my team right off the bat."
Perry said Billings came off the bench due to a violation of team rules, but was impressed by her adjustment after she put up 17 points, seven rebounds and six blocks – tying a career-high. So far this season, Billings leads UCLA in scoring and rebounding averages at 15.3 and 8.6, respectively.
With freshman guard Kayla Owens out with an injury, UCLA depended on a seven-man rotation in its previous game Dec. 8, falling to Oklahoma State 87-72.
But the Bruins welcomed junior guard Japreece Dean, who notched eight points, including 2-for-4 from behind the arc, in her debut. Dean transferred from Texas Tech in winter 2016 and played her first game after serving the transfer suspension of one academic year.
"She's an amazing addition," Onyenwere said. "We've all been waiting for her to be able to play, but I think she handled things well – she's the person we need."
UCLA will visit Fordham (7-3) on Dec. 20 to play its last nonconference game.
Hong is the 2019-2020 Managing editor. She was previously an assistant Sports editor for the women's basketball, men's water polo, women's water polo, women's tennis, and beach volleyball beats.
Hong is the 2019-2020 Managing editor. She was previously an assistant Sports editor for the women's basketball, men's water polo, women's water polo, women's tennis, and beach volleyball beats.