Scott Bays: Bike share program must offer new incentives, improve campaign strategy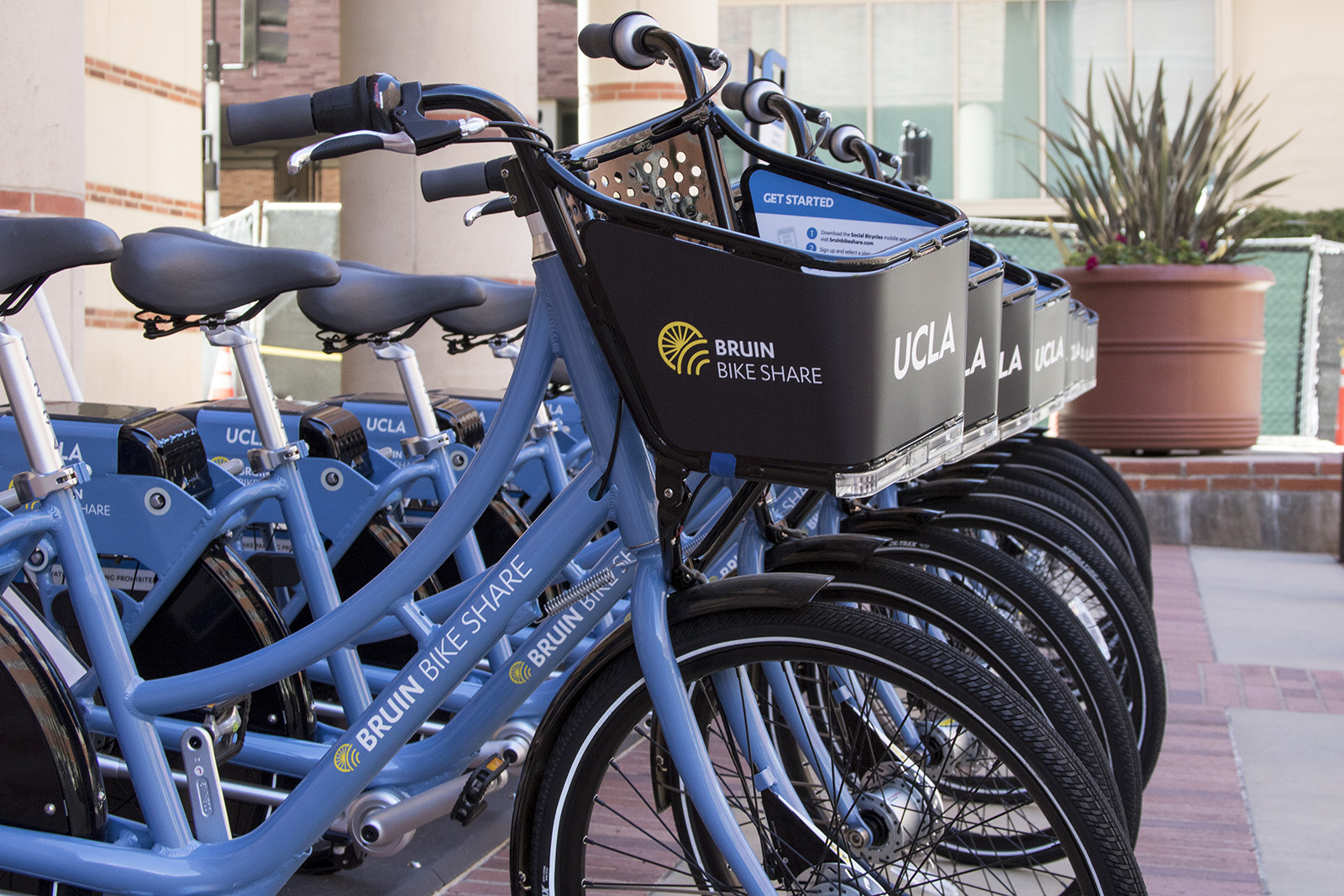 (Jacob Preal/Daily Bruin)
John F. Kennedy once mused,"Nothing compares to the simple pleasure of riding a bike." Evidently, many Bruins agree.
UCLA Transportation launched its Bruin Bike Share program in October to allow the UCLA community to rent bikes for annual, monthly or single-time fees. The service requires riders to create an account with UCLA Transportation to unlock a bike from one of the stalls on campus or in Westwood and ride it for a set amount of time. Bikes can be returned to any Bruin Bike Share stall.
The program has been a success so far. As of Nov. 21, UCLA Transportation garnered 17 percent more memberships than projected. However, pay-as-you-go rentals haven't sold as well. Dave Karwaski, senior associate director of UCLA Transportation, said there were 530 total single-use bike rentals as of Dec. 1, putting the department behind its projected 5,000 single-use rentals within the program's first year.
This could be because community members looking to rent bikes may not always be able to find one. Karwaski pointed out that because bikes can be returned to any stall, they can build up at some locations, leaving others undersupplied. He added UCLA Transportation will install additional spots on popular stalls to rack more bikes, but doesn't anticipate adding more bikes this academic year.
But to fully accommodate the demand for bikes and ensure they are more frequently available, UCLA Transportation needs to add more bikes to the program, offer incentives for returning bikes to their original stalls and better market these incentives to students.
Arman Salehi, a third-year sociology student who uses Bruin Bike Share to travel between North and South Campus, said he has seen evidence of this because he has found it increasingly difficult to find a bike in the stalls as the program has grown. He said recently there haven't been as many bikes near Bunche Hall or other key campus locations, making it tougher for students, faculty and visitors to pick up a bicycle for single use.
Karwaski attributes this bike congestion and the shortages its caused to bikes being left at popular stalls rather than where they were rented from. For example, he pointed out that the Weyburn Terrace stall sometimes has more bikes than spots because students don't want to ride uphill.
One of the incentives UCLA could provide is to offer a credit for returning a bike to its original stall, which would reduce shortages caused by a buildup of bikes at certain hubs. This feature seems feasible, given that Bruin Bike Share currently offers $1 credits for returning unracked bikes to stalls.
UCLA Transportation also needs to iron out its marketing strategy if it hopes to attract more single-use riders in 2018.
Miguel Palma, a second year psychology student, said he knows nothing about the program's features besides the stalls he sees on campus. Even Salehi, who rents bikes almost daily, said he was unaware that Bruin Bike Share accounts can be linked to Bruincards.
Karwaski suggested the department should pursue some kind of marketing promotion in the spring and make more people aware of Bruin Bike Share's pricing and features, though he was unsure on specifics.
UCLA Transportation could address these marketing gaps by flying flags detailing the program's pricing and credit incentives around campus roadways and pedestrian hot spots. It could also add more bikes into the system and provide credits for returning bikes to their original stalls. These efforts could improve pay-as-you-go numbers and move UCLA Transportation closer to meeting its projections for the year.
It may appear that pay-as-you-go numbers are below projections because many single-use riders converted to memberships. However, this ignores the initial promotion that encouraged some to purchase memberships. Those that joined at the program's start received goodies such as helmets and bags and were named "founding members." But UCLA Transportation should not assume these membership spikes will continue without more incentives.
Besides, it's already early enough to see that a better distribution of bikes is necessary to ensure all Bruins have access to the program. If Bruin Bike Share has already begun suffering bike shortages at some stalls only a few months after its inception, spring membership spikes would make the problem even more pronounced.
Bruin Bike Share is going to need a notable marketing and incentive gear-up to keep its wheels rolling.