Students voice opinions on administration's response to Skirball fire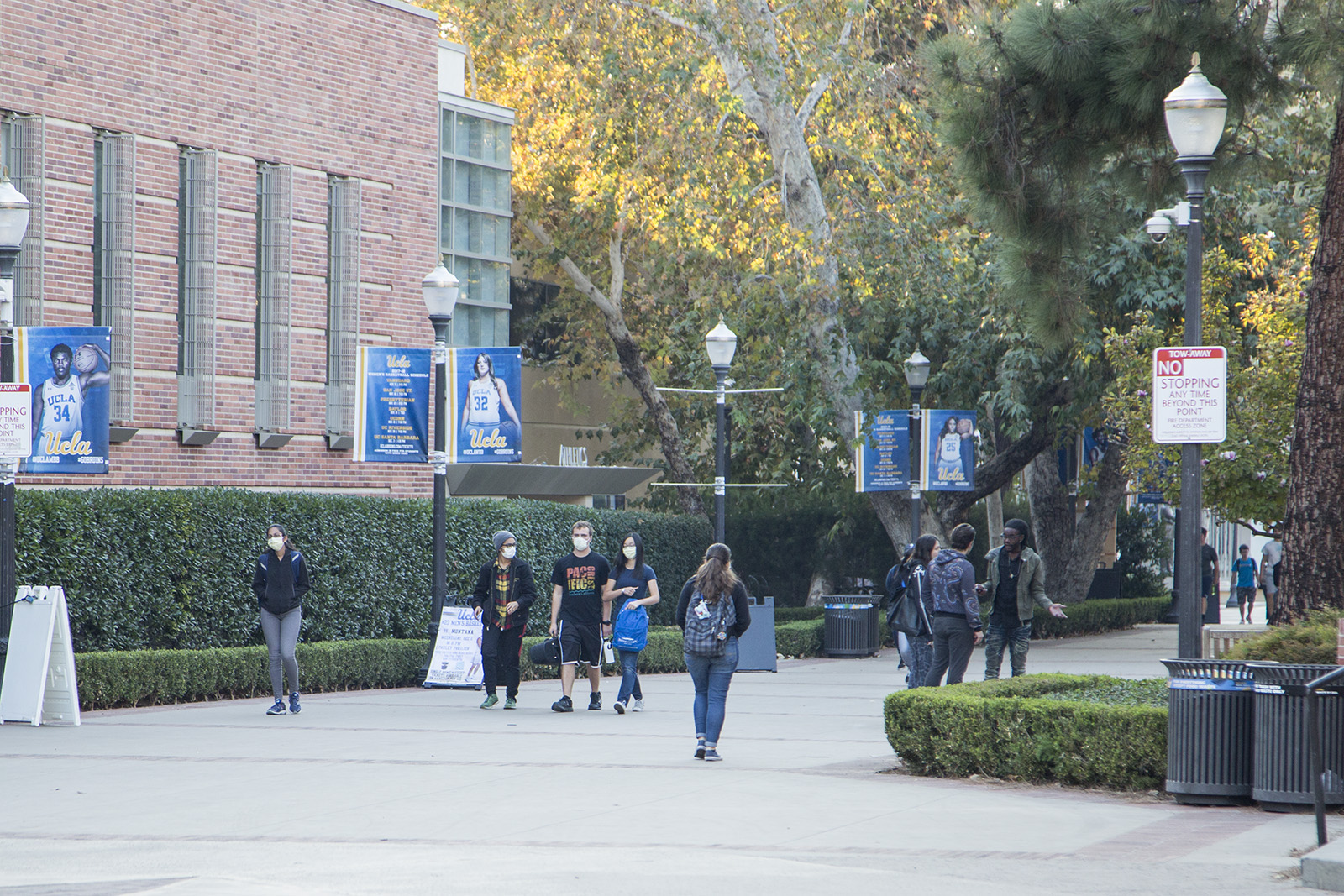 Several students said the Skirball fire impeded their ability to focus on finals and that UCLA should have provided faster updates on the fire and campus operations. (Amy Dixon/Assistant Photo editor)
Ky'Tavia Stafford-Carreker asked her professor Wednesday if she could miss class because the poor air quality from the Skirball fire worsened her seasonal allergies and sinus infection. However, her professor asked her to show proof of her respiratory issues.
"It was putting us in danger," she said. "We have to choose our lungs over our classes."
A fire burned through Bel-Air on Wednesday and Thursday, leading UCLA to cancel classes Wednesday afternoon and all day Thursday. The Skirball fire, which began near the northbound 405 Freeway early Wednesday morning, was 30 percent contained as of 5:00 p.m. Thursday.
Stafford-Carreker, a second-year history student, said her doctor could not give her a note to show her professor unless she met with her doctor in person, but she thought missing class would hurt her grades.
"I was thankful classes were canceled," she said. "I would be in jeopardy if I couldn't go – the pressure to go was really immense."
Stafford-Carreker added the fire prevented her from focusing on studying for finals because she was busy coming up with backup evacuation plans and talking to her family.
"I was trying to study and couldn't calm down because I was anxious," she said. "It took a lot out of me. I can't get that time back."
Several students said they think the UCLA administration was slow to update them on the status of the fire, whether or not classes would be canceled and whether or not the Hill would be evacuated.
Ali Ashraf Ismail Mohamed, a first-year aerospace engineering student, said he thinks the administration infrequently updated students with information.
"The texts were really sporadic – it was really unprofessional and disorganized," he said. "I'm disappointed at the reaction."
Mohamed added he thinks UCLA should have been more prepared for the fire because wildfires are common in California.
"(The administration) should know what their plan is going be as soon as it happens," he said.
Timothy Nguyen, a first-year biochemistry student, said he thinks the university informed students classes would be canceled Thursday later than it should have. The university posted a message on its website shortly after midnight Thursday informing students that classes would be canceled that day.
"The timing was off," said Nguyen. "I feel like they could have given information out quicker."
Justin Wolfman, a second-year materials science major, did not know classes were canceled until he woke up Thursday morning to his alarm.
"I was already asleep … and when I woke up for class, it was canceled," he said.
Wolfman added he thinks classes should have resumed Thursday because of finals during Week 10 and finals week.
"I had a class today where we were going to go over the final," Wolfman said. "I think we probably could've had class today."
Although undergraduate classes were canceled throughout campus Thursday, the UCLA School of Law continued to hold finals.
Pinar Palabiyik, a law student, said many law students thought their Thursday final exams would be canceled when the BruinAlert early Thursday morning canceled UCLA classes because of the fire. She added some law students went home for the day, and had to either rush back to campus or miss their finals when the law school announced at 6:29 a.m. Thursday that finals were still on.
Palabiyik added she thinks the law school should create a specific program to quickly distribute information, especially if it contradicts campuswide instructions.
Amit Liran, a law student, said he was glad the law school held finals Thursday because he wanted to finish them as soon as possible.
"We can't cancel finals just because there is a fire in Los Angeles," he said. "This is the real world."
Other students said they were concerned about Wednesday night rumors that UCLA would evacuate the Hill at 3 a.m.
Braeden Nelson, a first-year environmental science student, said he thinks UCLA should have been more clear about possible evacuation protocol. He added that false rumors about a possible evacuation made him nervous.
"I wish I felt more confident that I knew that (the administration) knew we weren't going to have to evacuate," Nelson said. "I didn't really trust that they knew that."
Contributing reports from Hedy Wang, Sharon Zhen, Jacob Preal and Rupan Bharanidaran, Daily Bruin senior staff.
Ostergaard was the 2018-2019 assistant News editor of Features and Student Life. She was previously a News contributor. Ostergaard is a second-year Cognitive Science student at UCLA.
Ostergaard was the 2018-2019 assistant News editor of Features and Student Life. She was previously a News contributor. Ostergaard is a second-year Cognitive Science student at UCLA.