Editorial: UCLA's handling of Skirball fire lacked foresight, clear communication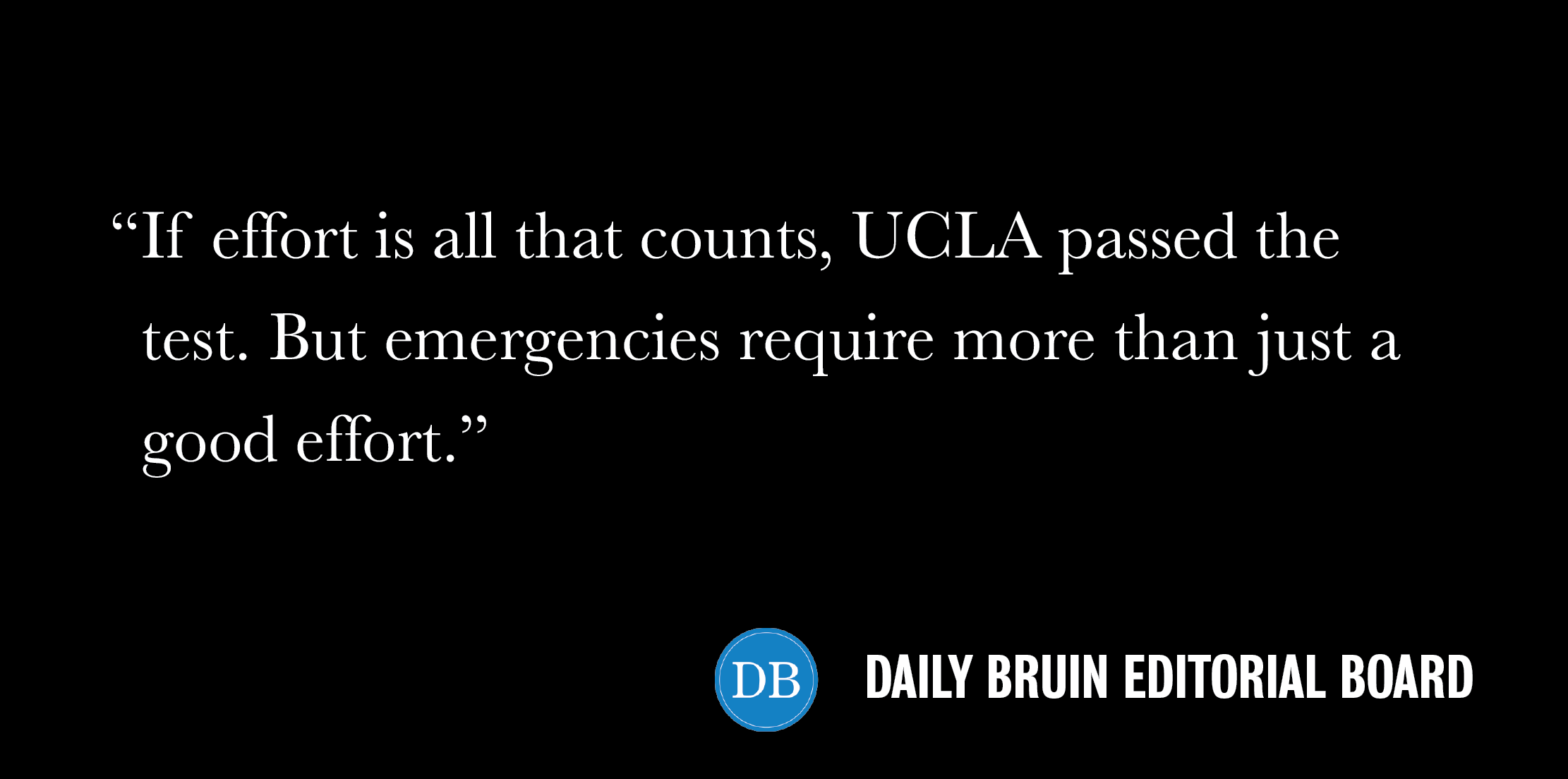 Smoky skies. Masked students. A near-deserted campus.
This is what Bruins witnessed Wednesday, as a fire raged less than two miles away from campus in nearby Bel-Air. Students, faculty and staff weathered everything from power outages to ashy winds to intractable traffic as flames licked the hills by the 405 Freeway and the Getty Center, incinerating homes and bringing traffic to a standstill.
If the fire remains in a contained perimeter, UCLA will have made it out of yet another campus emergency. But administrators failed, as they did during 2016's murder-suicide, to take the initiative and act expediently to protect and inform university members in the midst of a campus emergency.
Of course, administrators eventually canceled classes Wednesday and Thursday amid traffic and smoke concerns. Chancellor Gene Block sent a campuswide email Wednesday night, detailing how the university constantly communicated with emergency officials and worked hard to keep the UCLA community safe. UCLA also sent out frequent BruinAlert messages to keep campus members informed about the state of the fire and safety of the campus.
But the university shouldn't expect to be showered with praise for doing the bare minimum to keep UCLA afloat. Its handling of the Skirball fire emergency was riddled with problems.
Take, for example, the administration's reluctance to cancel classes early in the day on Wednesday. By 7 a.m. Wednesday, state officials had closed off the northbound lanes of the 405 Freeway and were already closing the other half of the roadway, making it nearly impossible for students, faculty and employees who use the highway to get to campus.
It did not seem to occur to administrators that getting to campus would be difficult – impossible, even. Instead, administrators urged students, faculty and staff as late as 9 a.m. Wednesday to come to UCLA if they were able to, stating instructors would hold classes at their discretion and that students on campus should report to lecture, discussion or lab as usual.
In other words, UCLA left the decision of whether there would be classes – despite a significant portion of students and the workforce not being able to come to campus – to instructors. And the results were costly: A good number of instructors held lectures or conducted discussion sections, pressuring students to go to class despite smoke warnings and slow traffic.
That isn't even mentioning the handful of instructors who insisted on holding classes despite the university's eventual announcement that all afternoon classes would be canceled – a clear demonstration of the lack of cohesion between administrators and faculty during emergency situations. It's easy to say students should prioritize their safety, but with final exams just around the corner, it's naive to think students would willingly skip classes and risk their grades if instructors insist on holding lecture or discussion sections.
UCLA also blundered in how it informed students of campus safety measures. Toward the middle of Wednesday morning, UCLA reported the Los Angeles Department of Water and Power had experienced power outages, forcing the campus to fall back on its internal supply of electricity. In order to keep essential services such as UCLA Health operational, the university had to pull the plug from dining halls, residential halls and other "nonessential" buildings.
Despite knowing of these contingencies, it took the university nearly an hour after the outages began to inform students that the shut-offs were intentional – a rather notable communication error, considering students were frantically evacuated from dining halls and other areas because of these outages. The university also didn't disclose how it would evacuate campus if necessary, leading some to wonder whether it had even planned that far in advance.
These are many of the same errors UCLA made during last year's murder-suicide. Back then, administrators failed to disseminate information effectively and inform students of the campus' emergency protocols. The same problems persist more than a year later. UCLA is still choosing to engage in damage control rather than act proactively during campus emergencies, and we're all feeling the burn of that.
If effort is all that counts, UCLA passed the test. But emergencies require more than just a good effort. The university failed to act with foresight. Campus officials didn't effectively inform students, and they failed to take pre-emptive action. Until they are addressed, these managerial problems will continue to scorch students' trust in UCLA's ability to navigate campus emergencies.