Swim and dive have strong weekend at Texas and Georgia invitationals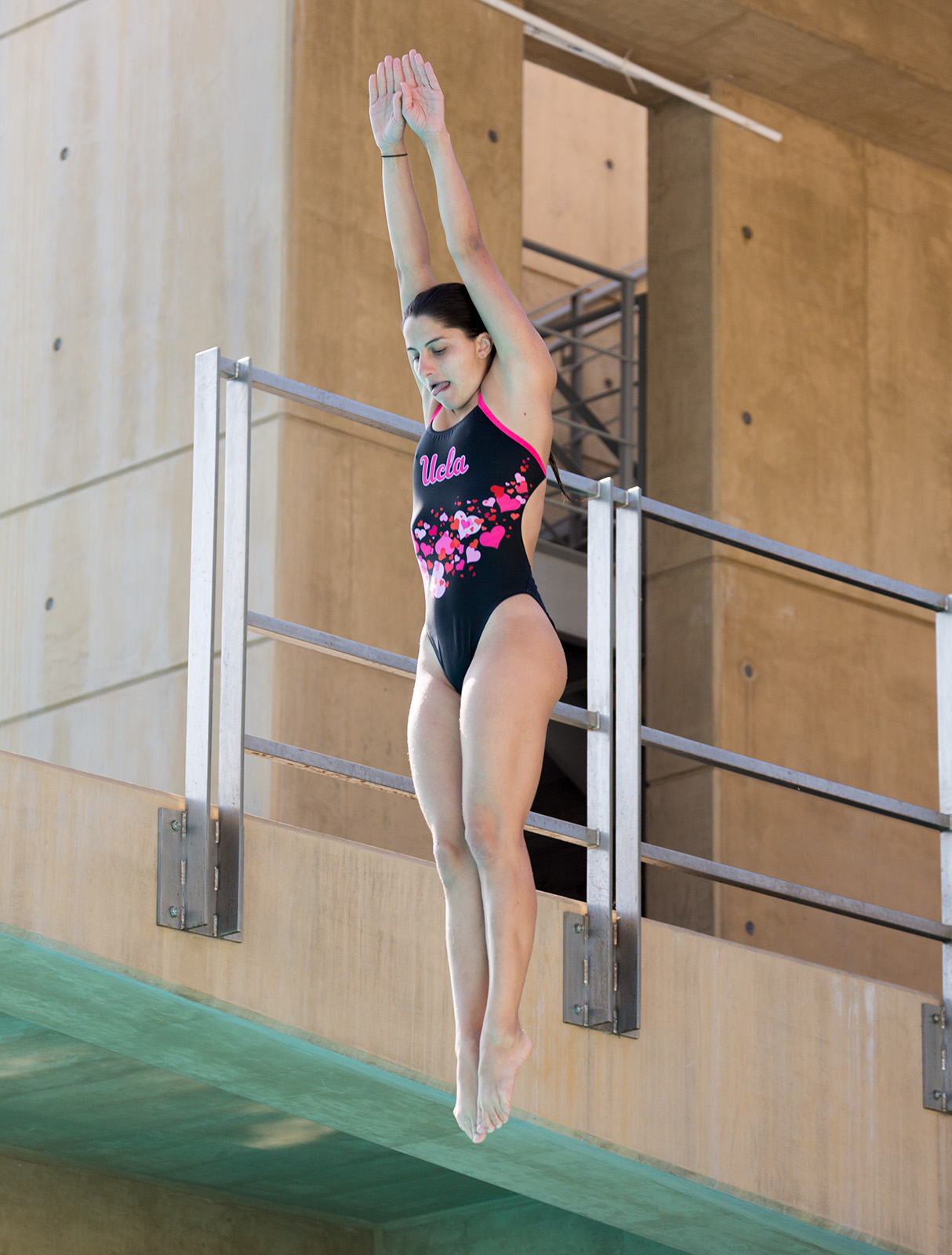 UCLA diving had two finishers in the top five in the 1-meter, 3-meter and platform competitions at the Georgia Fall Invitational. (Stella Huang/Daily Bruin)
The Bruins left Texas with not only personal bests, but a new school record.
The No. 25 UCLA swim team (4-3, 1-2 Pac-12) competed against 11 other teams at the four-day Texas Invitational, which ended Saturday. Meanwhile, the dive team competed at the Georgia Fall Invitational, which ended Sunday, and had five top-four performances.
Junior Emma Schanz finished fifth overall in the 200-yard individual medley to set a new school record with a time of 1:56.51.
"I didn't even realize that I broke the school record until my coach told me, but it was just more exciting for me personally to go a best time," Schanz said.
Schanz beat her personal best by more than a second and a half, which swim coach Cyndi Gallagher said was a huge triumph considering that she had been struggling to move past that time for quite a while.
"It's a tradition, so the former record holder, Lauren Hall, texted and said she was a super stud," Gallagher said. "So it meant a lot to (Schanz) that she broke it and that she got that really high level."
Schanz attributed the personal victory to her approach in this competition and what she's been working on at practice.
"I just have really been working on being comfortable being uncomfortable. So just embracing the pain that comes with the race," said Schanz. "And we've been working really hard on details and so I think that kind of just translated into the race this weekend."
Schanz also set a new personal best in the 200-yard breaststroke with a time of 2:09.03, with which she placed fourth overall.
Senior Katie Grover finished sixth in the 50-yard freestyle, fourth in the 100-yard butterfly, sixth in the 200-yard freestyle, and fourth in the 200-yard butterfly.
"Katie Grover was clutch on everything," said Gallagher. "She's just doing really well."
Senior Margaux Verger Gourson won the C final in the 500-yard freestyle and finished eighth overall in the 1650-yard freestyle, her first races back from a back injury sustained in February that left her in rehab. Gallagher said her performance in these races gave her and the rest of the team more confidence going forward.
"She swam the 500 free, and she just lit it up," said Gallagher. "And the whole team was just going crazy because they know what struggles she had."
Fellow distance swimmer junior Sandra Soe finished fourth place in both the 500-yard freestyle and 1650-yard freestyle.
In the Georgia Fall Invitational, the dive team boasted the top two finishes in the 1-meter competition. Junior Eloise Belanger took the title, and senior Ciara Monahan placed second.
"Ciara made a couple small mistakes, but I really liked the way she competed on the first day," said diving coach Tom Stebbins. "She made some errors but she clawed her way back into that second spot, really proving her toughness and how far along in her training she is."
Belanger finished in the top four for all three diving events. In the 3-meter, Belanger took fourth and Monahan took fifth. Belanger again led the Bruins in the platform competition with a third-place finish, while junior Traci Shiver took fifth.
Stebbins said he thought the team performed well physically, but needs to be more mentally prepared.
"I think we got a little overwhelmed in certain moments and didn't manage ourselves very well," said Stebbins. "That's something we will spend a big part of this next segment on for sure."
The two invitationals mark the close of fall competition for UCLA.