UCLA scholars criticize FCC's proposal to repeal net neutrality rules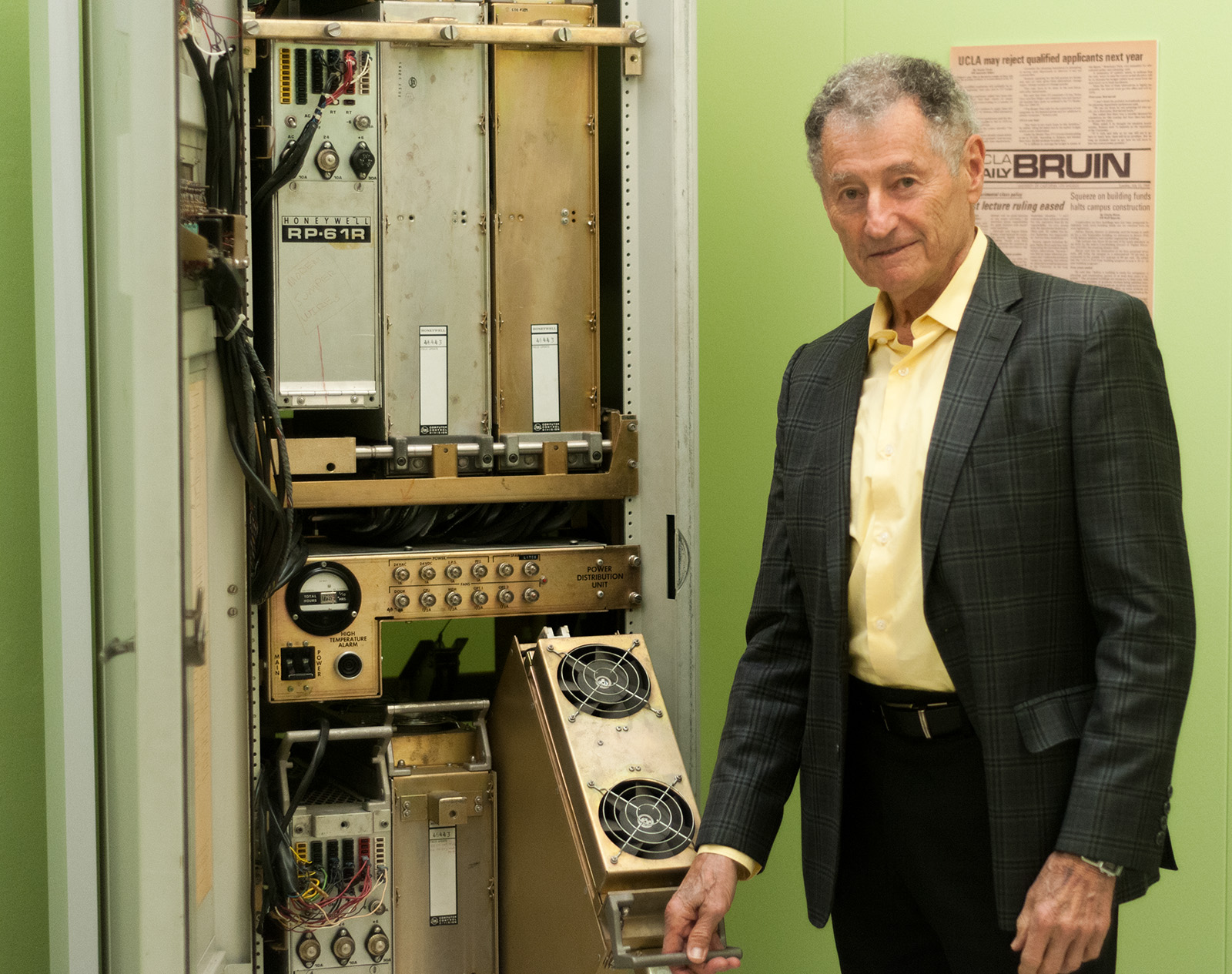 Leonard Kleinrock, a distinguished professor in computer science at UCLA and one of the creators of the Internet, said he thinks net neutrality is fundamental to keeping the internet open and accessible to everyone. (Sharon Zhen/Daily Bruin)
Computer science experts said UCLA students may experience an increase in internet costs if a government agency votes to repeal net neutrality rules next month.
Ajit Pai, the chairman of the Federal Communications Commission, proposed a plan last week to lessen government control over the internet by removing the commission's net neutrality rules. The FCC's current net neutrality rules guarantee users equal access to internet content by prohibiting internet service providers from blocking and throttling content or prioritizing paid content.
The FCC could vote on the proposal at its Dec. 14 meeting.
Leonard Kleinrock, a distinguished professor of computer science at UCLA and one of the creators of the internet, said he thinks net neutrality is important to keep the internet open and accessible. Removing net neutrality requirements would allow corporations to distort marketplaces by prioritizing paid content, he said. For instance, companies could pay internet service providers for larger bandwidth compared to other websites, meaning users can access the websites faster than those of companies that cannot afford increased bandwidth.
Kleinrock said when he first helped invent the internet, he did not anticipate that it would become monetized.
"In those early days, I knew everybody on the internet – they were my friends and colleagues – and didn't anticipate that there would be improper behavior," he said. "The fact that it has evolved into a big business is just fine, (but I) didn't anticipate it would become a political football."
Kleinrock said he thinks net neutrality is important to the current political climate because it can prevent large corporations from influencing the accessibility of online content.
Major internet service providers often own other companies such as news outlets and social media sites. For example, Comcast Corp. owns media companies like NBCUniversal, and Verizon owns Yahoo, Tumblr and Huffington Post.
"There are times (when) regulations and government control is necessary and makes perfect sense," Kleinrock said. "The less regulation there is, the more the powerful people can exert their influence and control in the way they want to go in their questionable goals."
Net neutrality allows students to be able to read any kind of information they want, said Peter Polack, an information studies postdoctoral researcher and member of UCLA's digital rights group ReadMe. Without net neutrality, companies can control access to websites without students knowing whether the information they are accessing has been influenced .
"As scholars, we're essentially trying to look at new places for information at all times," Polack said. "Without net neutrality in place, you could imagine having this sense of not knowing whether the information that you're accessing is something that is suspect to a specific party that you're not even familiar with."
Keith Gibson, assistant director of Startup UCLA, said repealing net neutrality would benefit large corporations because they will be in a better financial position to negotiate increased bandwidth with internet service providers than smaller companies – such as startups – that lack capital.
However, Kleinrock said corporations could also be negatively affected by the elimination of neutrality rules because internet service providers will be completely in control of bandwidth speed.
"Netflix, for example, supplies an enormous amount of streaming content," he said. "If they were treated differently, that could very much impact what they can deliver, where and how much."
Gibson said repealing net neutrality could limit internet access to students because they could also be required to pay more for the internet services they currently use. He added services that began without the support of large corporations would struggle to be discovered and widely used, decreasing innovation.
"Without net neutrality, we would not have Youtube, Instagram or Facebook," Gibson said.
Gasparyan was an assistant Opinion editor from 2018-2019. She previously contributed as an opinion columnist for the section and writes about issues surrounding gender equity and student life.
Gasparyan was an assistant Opinion editor from 2018-2019. She previously contributed as an opinion columnist for the section and writes about issues surrounding gender equity and student life.