New operator looks to expand, diversify Westwood farmers market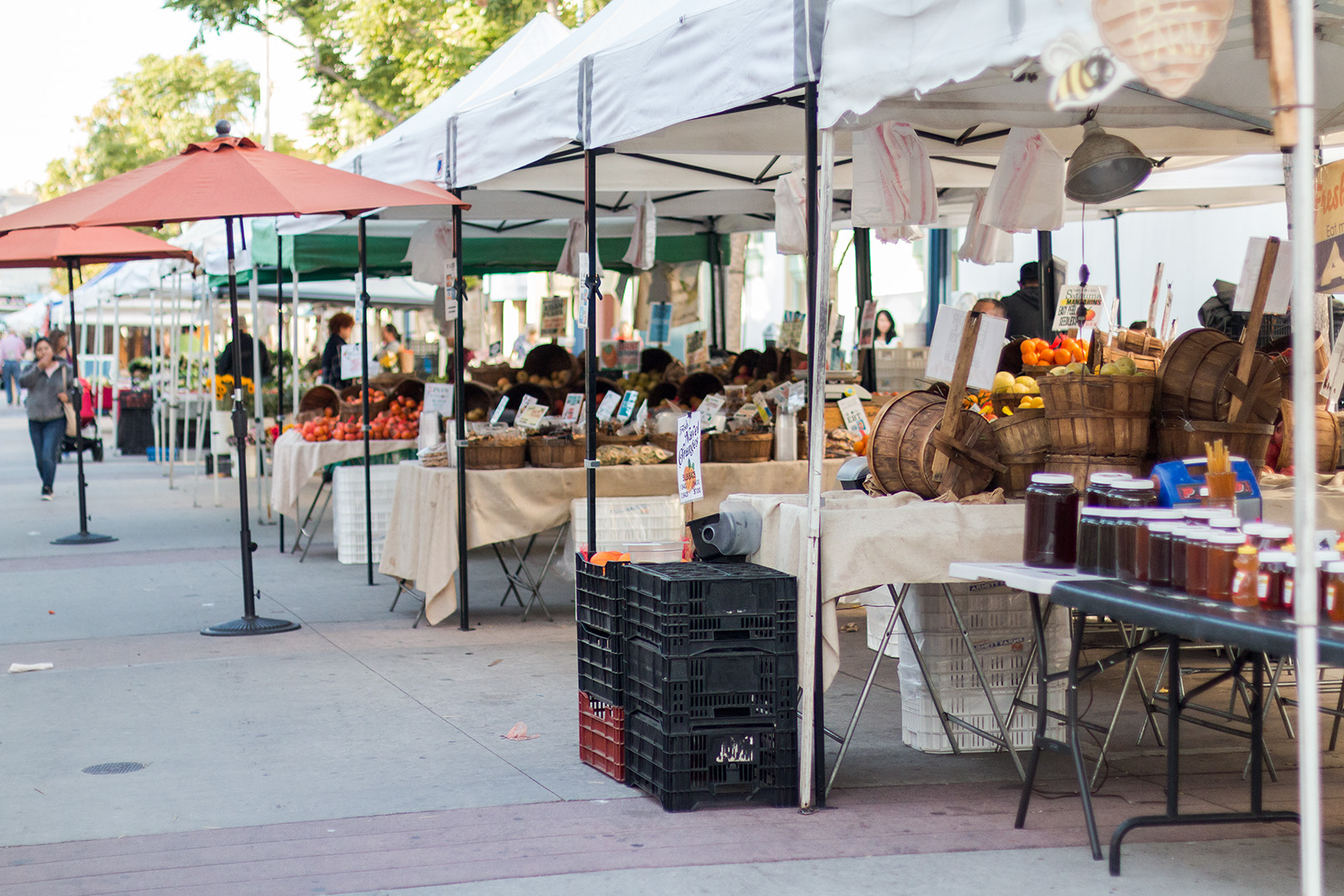 Farmer Mark has brought new vendors to the Westwood Farmers Market, including Rawesome Morsels, an independently owned artisan food vendor, and Trashfish, a fish subscription program that sources less popular fish from local California fishermen. (Eljona Pinon/Daily Bruin)
A new operator for the Westwood Village Farmers Market has been working to diversify vendors, survey customer preference and ensure compliance.
The Westwood Village Improvement Association, which oversees the market, replaced the former operator, Bautista Community Events, with Farmer Mark in June. The Westwood Village Farmers Market operates Thursdays from 12 p.m. to 6 p.m. and features locally sourced farmers and artisans.
Andrew Thomas, the association's executive director, said the association decided to replace the previous operator because it thought Farmer Mark would improve the experience for the Westwood community by having a greater variety of vendors that provide different types of products.
Earlier this year, several Westwood community members protested the association's decision to change the operator, because they said they were afraid the market would lose the former management's personal touch and convert the Westwood market into a corporate-run farmers market.
Thomas said he does not think Farmer Mark is a corporate operator because it only handles six markets across Los Angeles. He added he thinks Farmer Mark has so far focused more on gauging customers' preferences rather than making any significant changes to the market.
Allison Koehler, operations and marketing consultant at Farmer Mark, said she thinks it has done an adequate job of organizing the market. For example, Koehler said Farmer Mark has arranged regular checks for sanitation and operational permits.
"We don't see this as a strict rule, but as a way to help the vendors to be prepared for official reviews at anytime," she said.
Koehler added Farmer Mark added more health-focused and vegan vendors to the market, including Rawesome Morsels, an independently owned artisan food vendor, and Trashfish, a fish subscription program that sources less popular fish from local California fishermen.
However, several members of the association, including Thomas, said they think Farmer Mark has not conducted enough community outreach. For example, during the association's November meeting, several members said they were upset that Farmer Mark did not thoroughly advertise the market's Nov. 16 grand opening.
"There's really no excuse for (the lack of community outreach); we have to work to get more residents involved," Thomas said.
Koehler said Farmer Mark has been looking to further engage the Westwood community, but added she thinks there will be lower attendance at the market next month because many UCLA students will not be on campus during winter break.
She said Farmer Mark's social media efforts have partly been impeded because the old management's farmers market Facebook page is still active.
"We are trying to get word out through social media – but the conflict with the previous management's Facebook page has been dampening our impact," she added.
Some vendors at the farmers market said they think Farmer Mark has helped keep the market organized.
Orlando Saravia, an employee of Gaytan Family Farm, a vendor at the market for the past 25 years, said he thinks the market under Farmer Mark's leadership has been running smoothly. However, he added he heard one vendor left the market because they felt Farmer Mark was too strict.
"They have been putting more money into publicity. I've seen flyers and banners around the area," Saravia added.
Branden Pelayo, a salesman for Skyline Flowers who has also conducted business at other farmers markets throughout LA, said Farmer Mark persuaded him to come to Westwood. However, he said that while the rates he pays to operate in Westwood are cheaper than in other areas, he thinks the Westwood community is not the most active customer base for a farmers market.
"This market is definitely much slower than others," Pelayo said.
Steve Nelson, owner of Rawesome Morsels, said he thinks Farmer Mark's organization has been effective because it regularly checks in with vendors.
"Farmer Mark is community driven in their approach and has been able to create a great variety of artisanal vendors along with local farmers," he said.
Koehler said Farmer Mark is looking to expand the market by including more artisans and merchants in the market, along with live music and other forms of entertainment.
"In the next few months, we will be looking to maximize the number of vendors to completely utilize the space we have available," she said.