UCLA launches improved mobile app to request rides from campus van service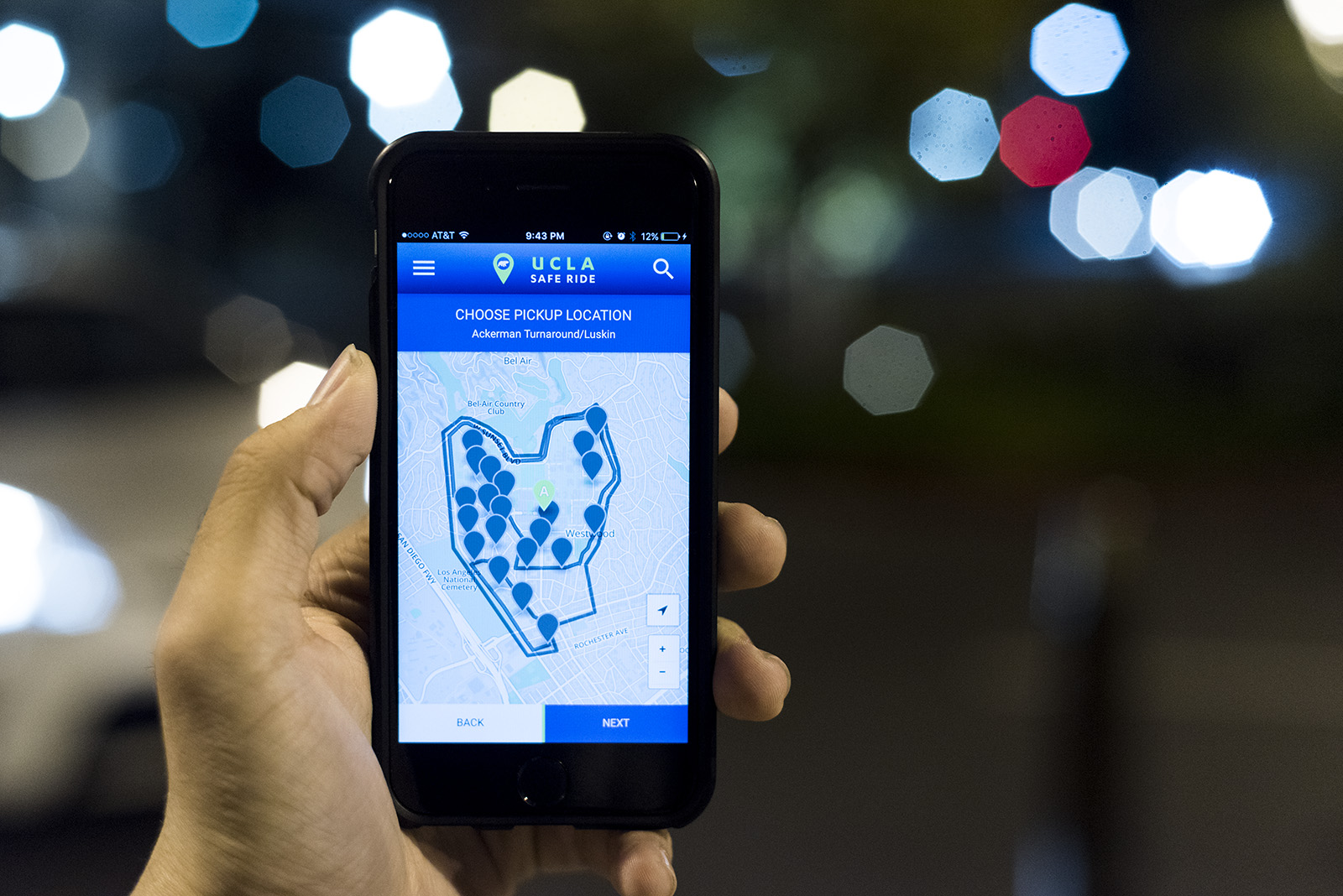 UCLA Transportation launched Safe Ride, an app that allows students to arrange rides with the Community Service Officers' Evening Van Service in a similar fashion to apps like Uber. (Michael Zshornack/Photo editor)
Students can now use an improved mobile application when requesting rides from the campus van service that picks them up in the evening.
UCLA Transportation launched Safe Ride, an app that allows students to arrange rides with the Community Service Officers' Evening Van Service, on Monday. Students can use the app to request vans in a similar fashion to apps like Uber and Lyft. The van service previously used a beta version of the mobile app TapRide, said Connie Englert, an operations manager at UCLA Transportation.
Zahra Hajee, the undergraduate student government facilities commissioner, said Safe Ride is easier to use than TapRide because the app is customized to UCLA. Because TapRide was used by multiple universities, students would have to navigate through multiple screens in order to request a van.
"We did not want students to feel uneasy downloading an app they did not recognize, or that seemed very general," Hajee said. "This is why we created a customized app so that students knew from the outset that they were using a service directly associated with the university."
Hajee added students use their UCLA logon to sign into the app, so CSOs get more specific information about students requesting rides. For example, students with disabilities and special needs can identify themselves when they request a ride.
Englert said UCLA Transportation introduced TapRide to determine whether students would use a van-hailing app, with the goal of eventually creating an app customized to UCLA.
"We didn't want to commit to creating a customized application of this sort without testing a general version, like TapRide, first," Englert said.
Englert said there were no additional financial costs in launching Safe Ride after TapRide.
"We always planned to transition into creating a customized application if the pilot program was successful, so the initial resources were committed to Safe Ride," Englert said.
Students said they think the app is helpful and convenient for them to use.
Karen Marin, a third-year geography/environmental science student, said she thinks the app is user-friendly and makes it easier for her to use the service.
"I don't want to walk back alone at night, so its nice for people with anxiety," she said.
Katy Maldonaldo, a third-year biology student, said that while she thinks the app is easy to use, she thinks the rides' timings are not consistent.
"The time is not right," she said. "(The app) said the waiting time was about 40 minutes and it literally took like two (minutes)."
Contributing reports by Isabella Gago, Daily Bruin contributor.