Student group aims to improve mental health support in engineering school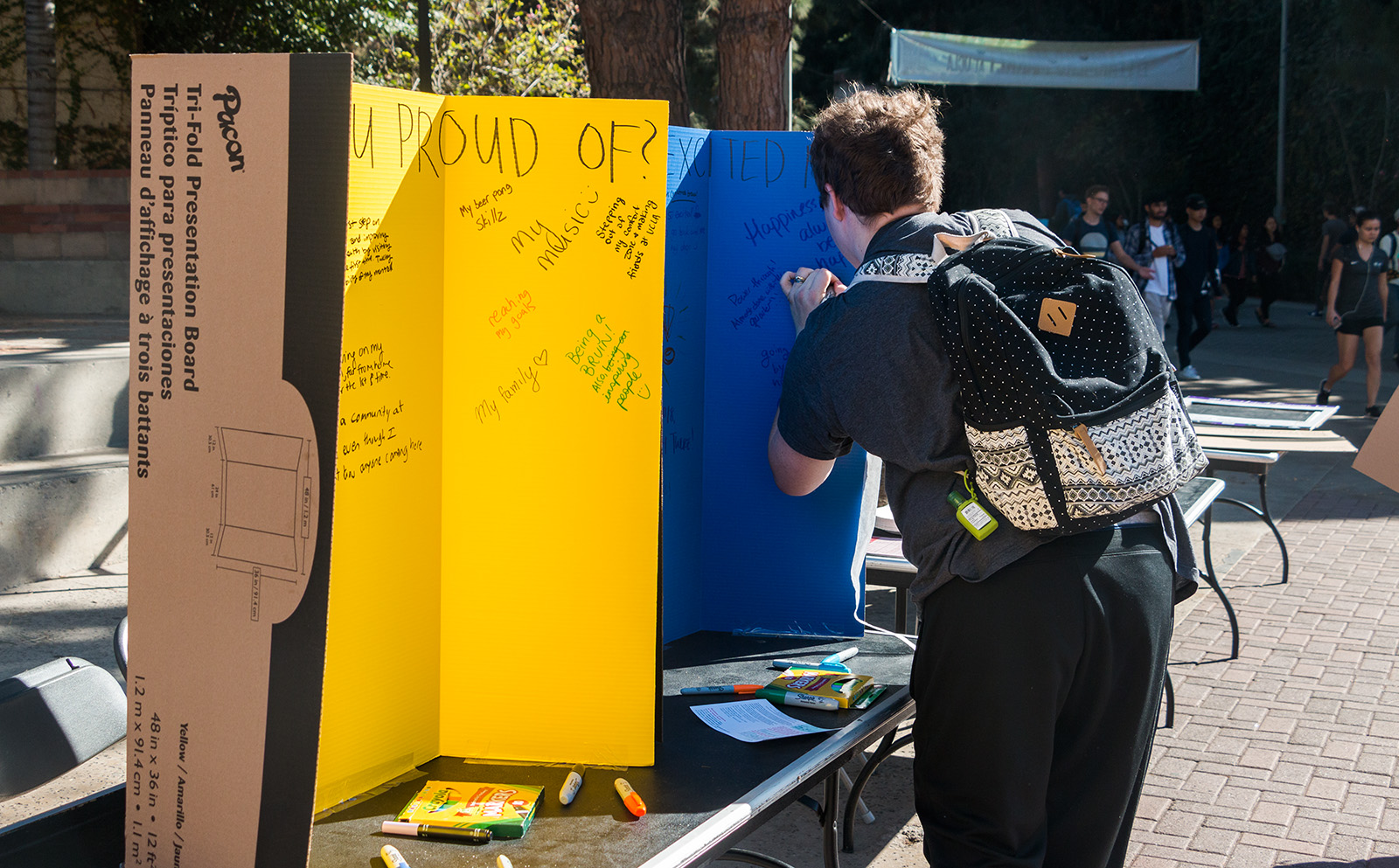 The Society of Women Engineers organized a mental health awareness week, which featured events such as the positivity wall pictured above that aimed to inform engineering students about mental health resources and build a community for engineering students. (Laura Uzes/Daily Bruin)
The Society of Women Engineers says UCLA's engineering school does not provide adequate mental health support for students enrolled in programs that often feature heavy workloads and fierce competition.
SWE is holding a series of events this week to promote mental health awareness among the engineering community, including a "positivity wall" in Bruin Plaza on Tuesday and a yoga and healthy snack workshop Wednesday. Ikaasa Suri, SWE's advocacy director, said the events are designed to inform engineering and other students about resources they can turn to if they feel alone or stressed and build community within the engineering school.
"The structure behind a lot of our classes is very conducive to an environment where students suffer from anxiety," said Suri, a second-year computer science and engineering student.
Suri said she thinks the engineering school's demanding curriculum can make students feel overwhelmed and contribute to mental health problems. She added she thinks curving engineering classes creates competition among students that can exacerbate mental health problems.
Amanda Ly, a SWE member and third-year bioengineering student, said she thinks the fast pace and heavy workload of engineering classes can also impact students' mental health.
"In most classes, there are two midterms along with quizzes," Ly said. "There are more opportunities to be stressed out – it's continuous."
Suri said she also thinks the engineering school does not do enough to destigmatize seeking help for mental health problems.
"The dean does a really good job of sending out emails letting people know about resources, (but) there's a particular stigma about engineering school that if you do feel stressed or if your workload is causing beyond stress, it's kind of admitting defeat," she said.
High competition over extracurricular activities and internships also causes stress among engineering students, said Swetha Akella, a third-year linguistics and computer science student.
"Everyone one wants to work for Google and Apple – companies can't accept everyone," Akella said. "Going to all these interviews all the time and getting rejections, it's hard."
Ly said many student-run engineering organizations focus on academic success rather than students' well-being.
"Other clubs are major-related and geared toward career opportunities and furthering academics," she said. "I think it was important for us to take (a step) back and realize that the key to success of all of those is having good mental health."
Ly also said racial and gender minorities in engineering are often stressed because they feel they have to work harder to perform better than other engineering students in order to represent their communities in the best light.
Akella said that at first, she felt hesitant to pursue engineering because she didn't see many women in the field.
"When I was growing up, because of that huge (gender) divide, I thought to myself, 'No way I can be an engineer, because that's a guy thing,'" she said. "But when I got to college, it's nice to see women supporting each other."
Suri said she hopes this week's events will help engineering students struggling with their mental health feel less alone.
"The competitive spirit (in the engineering school), through no fault of students on their own, is very prevalent," she said. "I hope engineers feel they have a community that they can rely on and that there are resources among their peers and on the broader UCLA campus."