Professor's lecture parallels current xenophobia with American history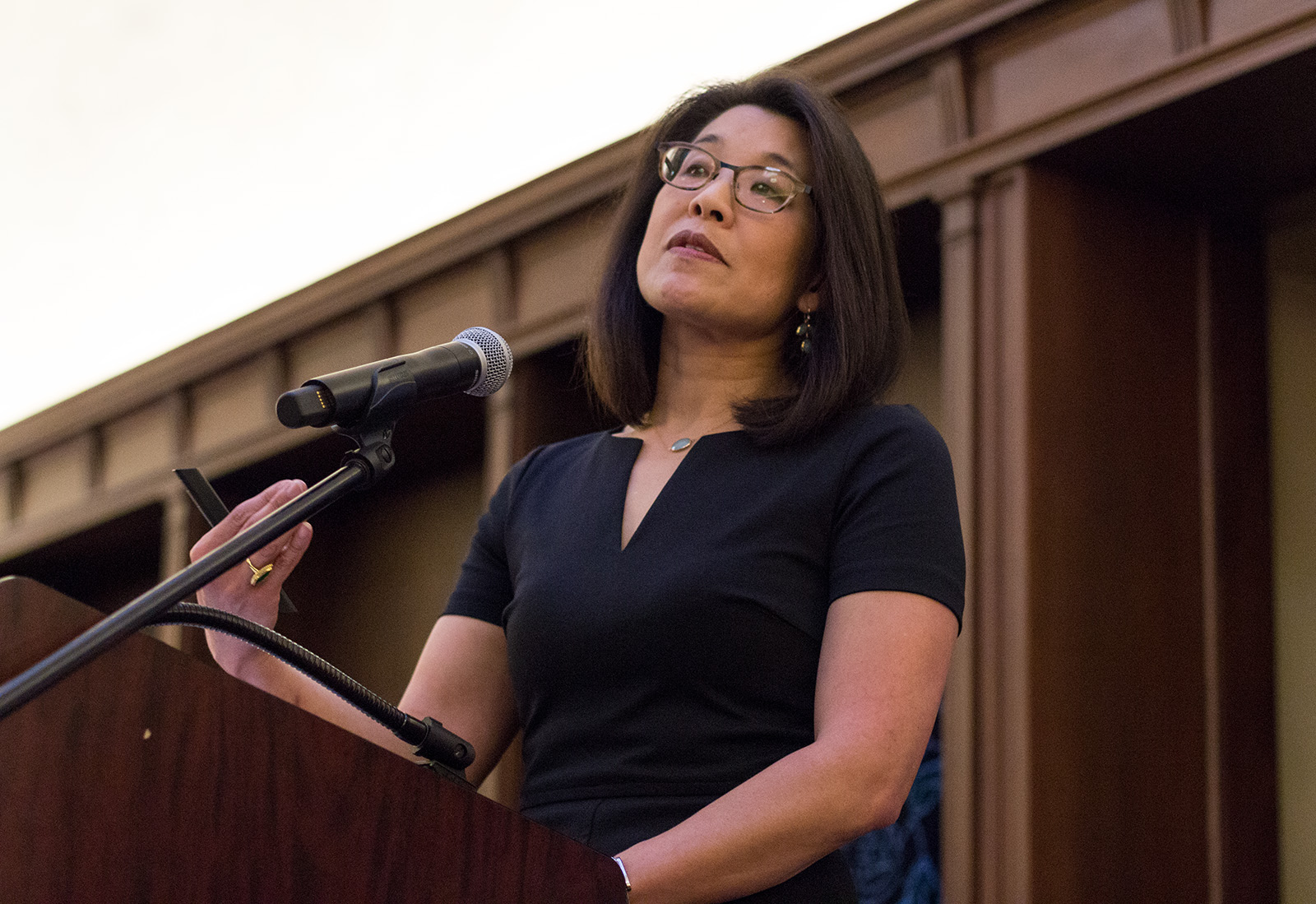 Erika Lee, a professor of immigration history from the University of Minnesota, delivered a lecture on the history of America's discrimination of foreigners. The event was organized by the Asian American Studies Center at UCLA. (Jenna Nicole Smith/Daily Bruin)
November 29, 2017 1:11 am
An expert on Asian immigration history encouraged students to be vigilant against xenophobia at an event Tuesday.
Erika Lee, a professor of immigration history from the University of Minnesota, delivered a lecture in Powell Library on how America has historically discriminated against immigrants. At the lecture, which was organized by the Asian American Studies Center at UCLA, Lee said she thinks the United States has a history of maligning immigrants, beginning with the Chinese Exclusion Act of 1882, which banned Chinese individuals from immigrating to the United States and barred them from becoming naturalized citizens.
"I'm really trying to encourage us to think of American history in a new way, one that's not necessarily a nation of immigrants but a nation of xenophobia," she said.
Lee said she gave the lecture because she thinks actions taken by President Donald Trump's administration, such as the travel ban earlier this year preventing individuals from seven Muslim-majority countries from entering the United States, are similar to exclusionary actions toward Chinese-Americans in the late 19th and early 20th centuries.
Xenophobia also sells, Lee said. She said she thinks the San Francisco Wasp magazine influenced the public's negative view of Chinese immigrants in the 1800s, just as current news sources such as Breitbart News and Fox News influence how many Americans view different racial groups today.
Lee added she thinks anti-immigration sentiment has continued to be an issue over the years.
"We have this tendency … to think of the past as getting progressively better," she said. "Just like anyone, we see what we want to see – but (former President Barack Obama) deported more immigrants than his previous predecessors combined."
Lee, who has authored several books on Asian American studies, said her research aims to connect historical immigration issues with contemporary ones.
"Immigration is one of the most hotly debated topics, even before Trump, but especially with our new president," Lee said. "It's one of his signature issues, it's how he got elected and where he has tried to enact the most policy changes."
Yin Yin Wen, a first-year chemical engineering student who attended the event, said she had not previously thought about parallels between past discrimination toward foreigners and anti-immigration sentiment today.
"This really brought to the forefront of my mind that the racism and discrimination and the xenophobia that we hear about in Asian-American history is still relevant nowadays," she said.
Adeline Zhang, a second–year undeclared engineering student, said the talk made her recognize the different forms of xenophobia that exist today.
"Xenophobia of the late 19th century and early 20th century is still prevalent today," she said. "It is twisted and contorted, but it is just directed toward different people."
Melany De La Cruz-Viesca, the assistant director of the Asian American Studies Center, said she asked Lee to speak because of her extensive work with immigration.
"As educators and researchers at UCLA, immigration deeply affects us," De La Cruz-Viesca said. "We can't just stand by and observe."
Lee said she thinks being informed about xenophobia is the best way to prevent further discrimination toward foreigners.
"Only by understanding xenophobia can we deconstruct it," she said.