Graduate students join national protest against taxing waived tuition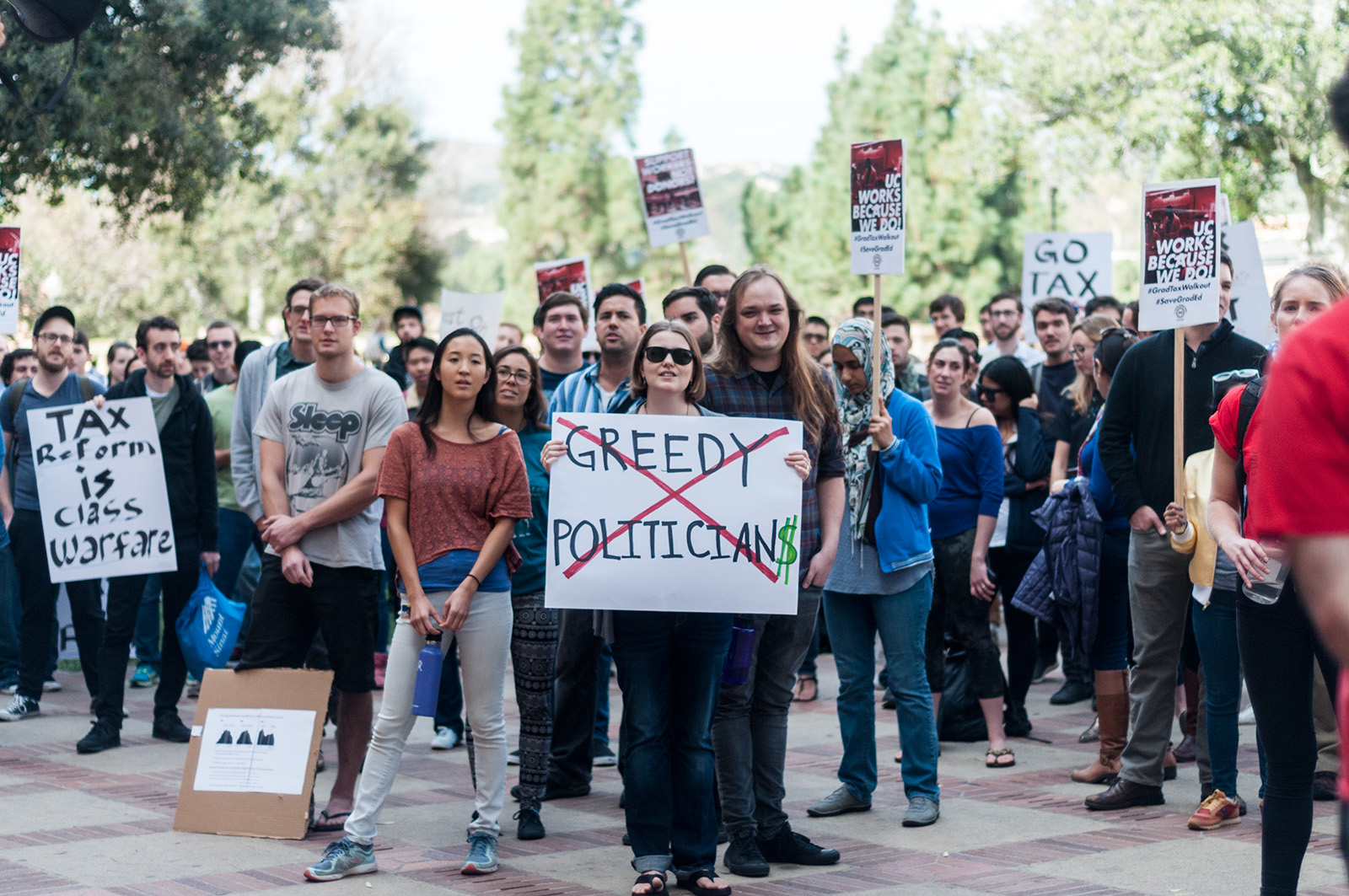 Graduate students marched from Bruin Plaza to Murphy Hall on Wednesday in protest of the House GOP tax bill. (Anthony Ismail/Daily Bruin)
More than a hundred graduate and undergraduate students gathered at UCLA Wednesday to protest a tax bill that would eliminate tax exemptions for graduate students' tuition waivers.
Under a Republican bill passed by the House of Representatives earlier this month, in-state and out-of-state graduate students could see their taxes increase by up to 196 percent and 374 percent, respectively, because the bill treats their waived tuition as taxable income, according to United Auto Workers 2865, which represents graduate student workers in the University of California.
UAW 2865, the Graduate Students Association and Student Labor Advocacy Project of UCLA protested the bill as part of a national #GradTaxWalkout campaign and called on the university to provide more support for workers. Students from nine UC campuses protested Wednesday and called on the University of California to lobby Congress against the bill, said UAW 2865 President Emily Yen, a graduate student in sociology at UCLA.
"We want the (UC) to ensure that the financial burden doesn't fall on graduate students," Yen said.
At UCLA, protesters marched from Bruin Plaza to Murphy Hall, chanting "Show me what community looks like – this is what community looks like," and holding signs saying "Why not tax the rich?."
Alayna Mead, a graduate student in biology, said she thinks the proposed tax plan will make graduate school unaffordable for low income students and discourage them from pursuing graduate degrees.
Spencer Frei, a graduate student in statistics, said he thinks the Republican tax plan will only benefit the rich. Frei said he thinks the university does not care about workers, including graduate students, because several contracted valet workers at the Ronald Reagan UCLA Medical Center were transferred after UCLA ended its contract with the contractor that employed valet workers at the center.
"The UC administration's lack of attention toward workers is evident," he said. "The university is only concerned about protecting their donors and endowments."
He added he thinks the university should do more to support workers and students and increase wages.
Students from the University of Southern California organized GradTaxWalkout following the announcement of the new bill with organizations such as Save Grad Ed and the graduate workers union. The campaign gathered about 6,000 participants on 50 university campuses nationally, according to GradTaxWalkout.
Some graduate teaching assistants walked out of their classes while others planned to continue teaching during the day, according to Kavitha Iyengar, the head steward of UAW 2865 and a graduate student in jurisprudence and social policy at UC Berkeley. She added some TAs informed their professor or students they would not be teaching.
Marissa Oschner, a graduate student teaching assistant in musicology, usually teaches a discussion section at 11 a.m. but attended the protest instead. She said she felt obligated as a steward in the TA union to protest the tax bill, which would increase her taxes by about $1,800.
"My professor is strongly in support and actually pushed class back so I could attend this rally," Oschner said. "Professors are also concerned about this issue because they know how important our labor is."