Carnival on the Hill brings awareness to those affected by HIV/AIDS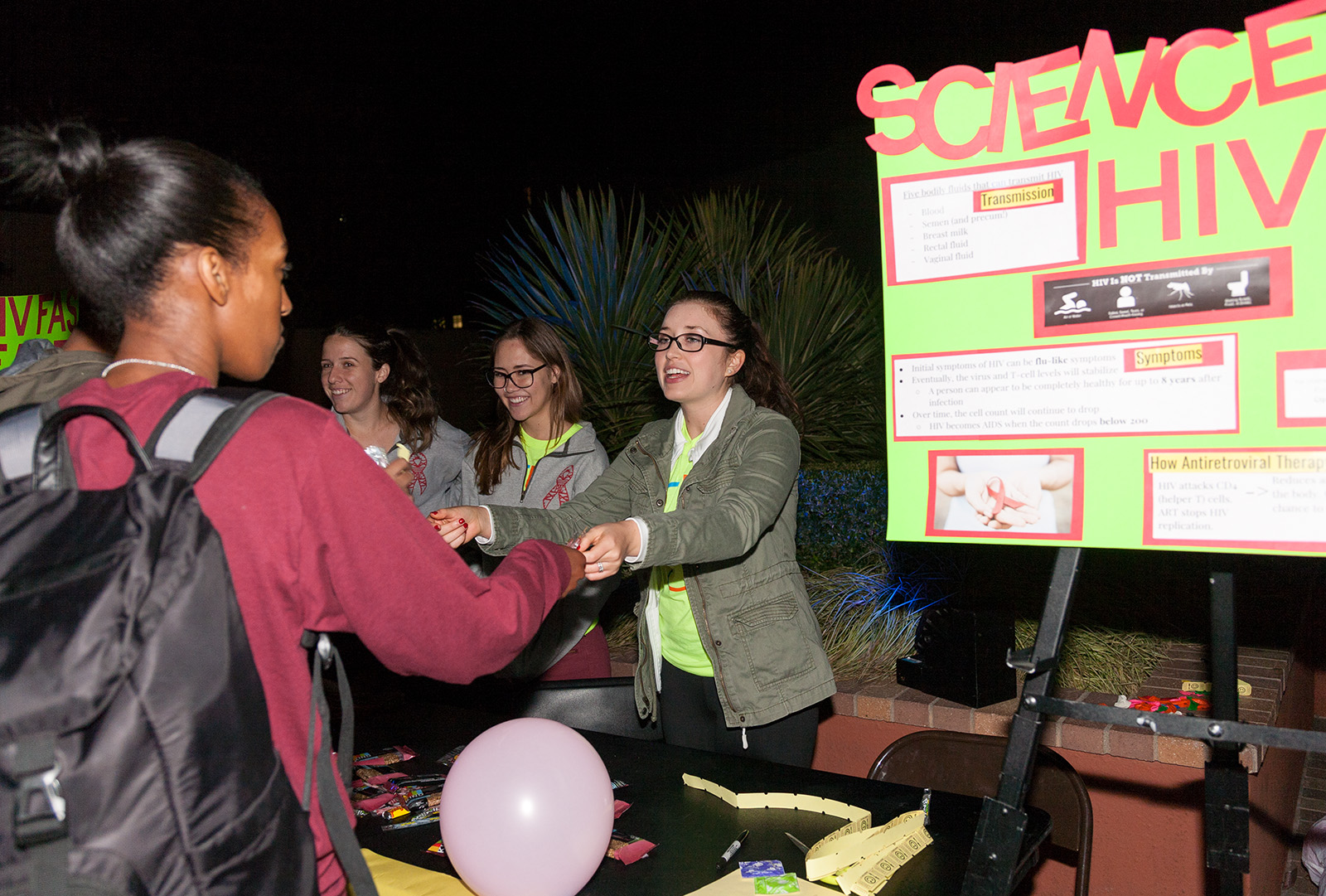 The Pediatric AIDS Coalition held its second annual carnvial event on the hill, where students participated in dart throwing, a cakewalk and spin the wheel while learning about HIV/AIDS. (Kristie-Valerie Hoang/Assistant Photo editor)
UCLA students threw darts at balloons while learning facts about HIV/AIDS on Tuesday at an event on the Hill.
The Pediatric AIDS Coalition held its second annual Carnival on the Hill event at Sunset Village. Members of PAC asked students questions about their perceptions of AIDS while they participated in games such as a dart throw, cake walk and spin the wheel. The event also featured ambassadors from Camp Kindle, a camp for children affected or infected by HIV/AIDS, who shared their stories of how they have been affected by the disease.
PAC is a student-run organization at UCLA that spreads awareness about and fundraises for HIV/AIDS. Shauna Perigo, PAC's co-director of community relations and a third-year neuroscience student, said the purpose of the event was to educate Hill residents about AIDS in a fun and engaging manner.
PAC president Sam McKinnon, a fourth-year physiological science student, said he thinks informing more individuals about AIDS helps reduce stigma associated with the disease.
"If we try to educate every possible person, maybe one less person will say one less derogatory thing about AIDS," he said.
Paige Black, PAC's director of public relations and a third-year human biology and society student said the event was also meant to be a platform for people affected by HIV/AIDS to speak about their experiences.
"It's a community that is often invisible and people have a hard time speaking about (AIDS)," she said. "We want to give them a voice if they want it."
Students were also able to sign up for next year's Dance Marathon, an annual 26-hour fundraising event, and meet the dance captains. This year, PAC tried to get students to sign up on teams with other students in their dormitories, Perigo said.
PAC will have their next event, World Aids Day, in Bruin Plaza on Friday, Black said.
Lewis is an Opinion columnist and News contributor.
Lewis is an Opinion columnist and News contributor.