Local business owners share opinions on Westwood Forward proposal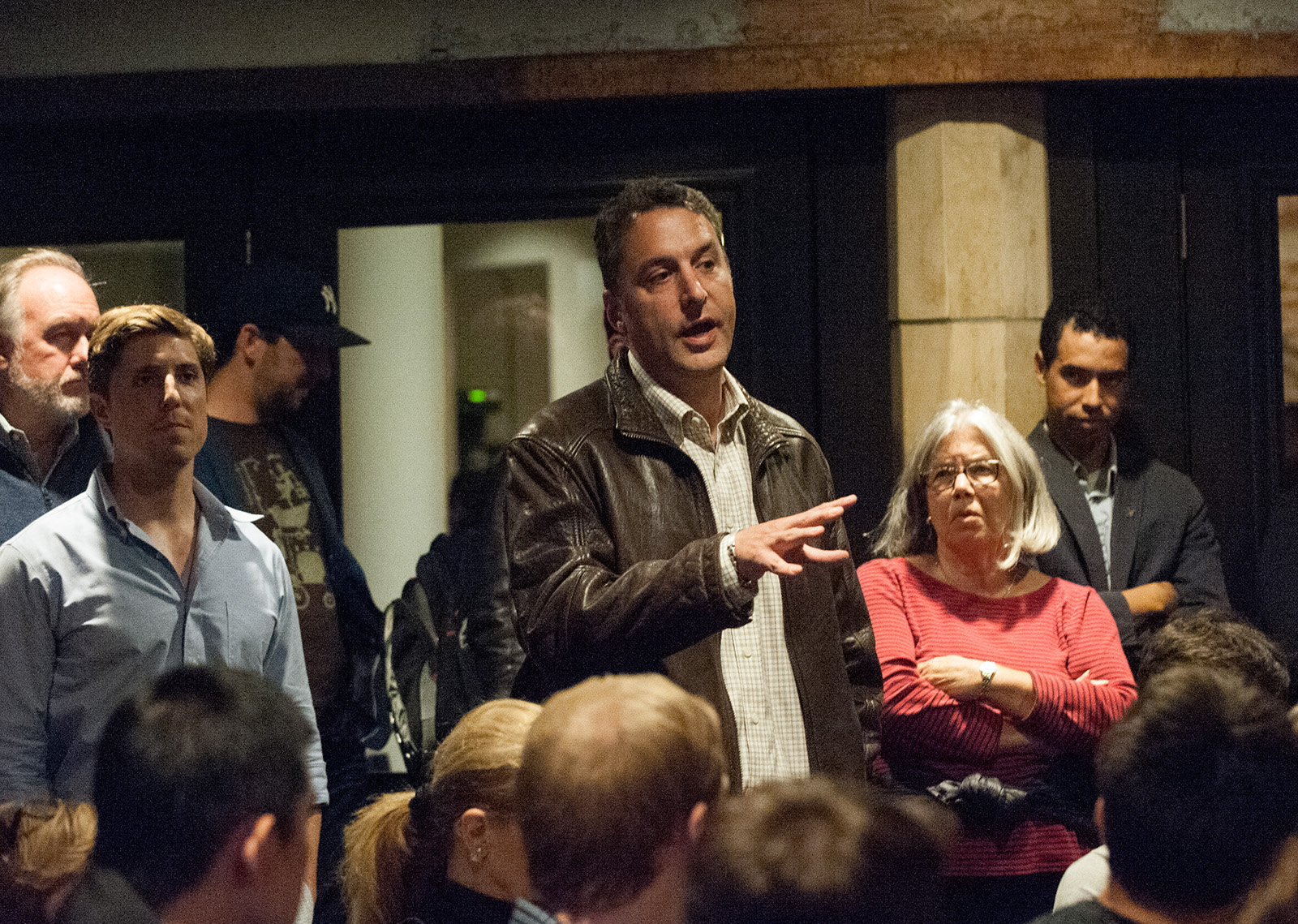 Westwood Forward, a coalition of students and business and home owners, hosted a second town hall meeting Monday to discuss plans for a new neighborhood council. (Ryan Leou/Daily Bruin senior staff)
This post was updated Nov. 30 at 3:15 p.m.
Local business owners and residents said at a town hall Monday they support a proposal for a new Westwood council even though they are not included within its boundaries.
Westwood Forward, a student-run coalition composed of student leaders, local homeowners and business owners who want to divide the Westwood Neighborhood Council, held their second town hall meeting at Westwood restaurant Skylight Gardens to inform community members about their proposal. The proposed North Westwood Neighborhood Council will contain stakeholders who live, work or own property near UCLA, the North Village and Westwood Village.
The WWNC advises the Los Angeles City Council on Westwood-related matters, including Village building projects, business permits and proposed infrastructure.
Bob Stone, a Westwood homeowner, said he supports Westwood Forward because he thinks it will make the council more representative of the area's population. He thinks the WWNC does not care about student concerns because individual students often don't have a permanent stake in Westwood.
However, Stone also thinks students are an important group in Westwood that deserves more representation.
"Their voice speaks for the people who will be here next year, and the year after that," he said.
Student leaders announced plans for the new council at the Nov. 8 Graduate Students Association Forum and held its first town hall meeting earlier in the month. Westwood Forward is in the process of collecting signatures to petition for the new council through the Department of Neighborhood Empowerment, the city body that oversees neighborhood councils.
Michael Skiles, president of the GSA and a member of Westwood Forward, said if the Department of Neighborhood Empowerment accepts the coalition's application, which includes the petition, Westwood stakeholders who live within the proposed boundaries will have the chance to vote on whether or not to create a new council.
Skiles added the owner of Skylight Gardens, Peter Clinco, offered his restaurant as a venue for the meeting because he was interested in learning more about the proposal. Skylight Gardens is the usual location of Westwood Village Improvement Association board meetings.
Several students and community members who attended the town hall said they think the new council will help re-establish Westwood's declining nightlife, as well as address other concerns, and give students more of a say in city government.
Chloe Pan, undergraduate student government external vice president and a member of Westwood Forward, said she thinks the new council would support entertainment and business growth in Westwood Village.
"We are trying to create opportunities to run for positions for people who are passionate to run and advocate," she said.
Spireworks owner Bob Kaufman said he thinks Westwood Forward would help bring more people to Westwood and keep businesses in Westwood Village.
"It is so sad to see that on weekends and evenings, (Westwood) empties out," he said. "We need more entertainment places where people can come together."
WWNC member Philip Gabriel, a business owner in Westwood, said he thinks Westwood Forward is lying to the public about the current council because he does not think it is responsible for Westwood's few entertainment options or other problems it faces.
"We don't need more bars," he said. "Students can buy liquor at Target and Ralphs."
Angus Beverly, chair of the WWNC Student Advisory Committee, which the council created in July to address student concerns, said he thinks students should continue to advocate for their issues with City Hall directly, even if Westwood Forward is successful in creating a new council.
"If (students) can do it, so be it," he said. "But a neighborhood council should not be the end-all for student advocacy."
Contributing reports by Jacob Preal, city and crime editor.