Editorial: Regent accused of sexual harassment must exit board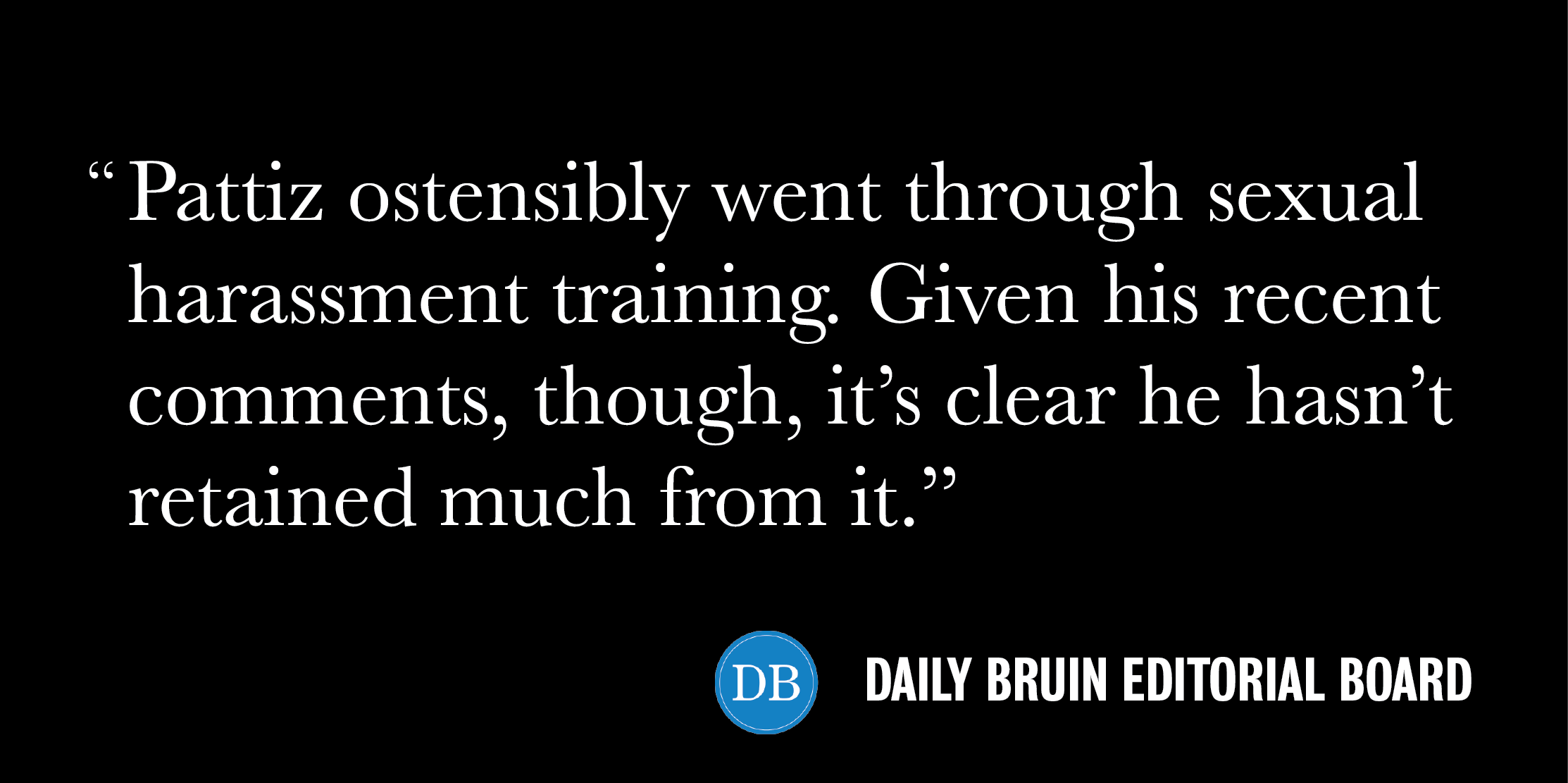 November 26, 2017 8:47 pm
California's state government has started to purge itself of sexual harassers. But one at the University of California doesn't seem to be going anywhere.
State assemblymember Raul Bocanegra declared last week he would not run for re-election in the face of sexual harassment allegations. And members of California's Democratic Party are calling for the resignation of State Sen. Tony Mendoza, whom multiple women have accused of inappropriate behavior.
Meanwhile at the UC, Norman Pattiz, an executive chairman at radio company, remains a university regent despite a documented instance of him sexually harassing one of his employees, Heather McDonald. Last year, McDonald released an audio recording of Pattiz asking her if he could hold her breasts, saying that his hands were like memory foam.
Pattiz's comments have since nearly faded from public memory. But in a post-Harvey Weinstein environment, in which powerful men who have committed sexual harassment are facing their reckoning, UC students are reprising calls for Pattiz to resign. And it is indeed time for him to join the league of sexual harassers exiting leadership positions and step down from the UC Board of Regents.
To make matters worse, in a recent interview with The Mercury News, Pattiz reacted to students' calls with a stunning lack of self-awareness. He said the students calling for his resignation "ought to be ashamed of themselves." He also referred to his comments as something that "was considered funny, maybe, a short time ago" – a sorry excuse for an apology, if Pattiz even intended to offer one.
These comments indicate Pattiz has failed to understand the impact of workplace sexual harassment, much less the effect of his own harassment. McDonald quit PodcastOne after his boorish comments. Another employee told the Los Angeles Times that Pattiz's persistent harassment toward her led to her resignation.
And that's been one of the hallmark stories of sexual harassment that have come up across the country. Women have been forced to quit jobs following inappropriate conduct from men in positions of power. As much as Pattiz has pled he's "not that guy" in reference to the wave of men facing similar accusations, he is just as guilty of forcing a woman to change her job because of his own inability to behave appropriately.
But it doesn't just end there. One employee alleged Pattiz frequently commented on women's bodies and breasts. Another employee told the LA Times that Pattiz made a remark about the size of her breasts during her pregnancy.
If these accounts are true, Pattiz's past is checkered with a pattern of sexual harassment. The behavior he has embodied is antithetical to the values the UC claims to stand by. Pattiz isn't fit to hold any position of power, especially not one that puts him in charge of administering California's top-tier, multibillion-dollar university system.
When the allegations first emerged, the UC revised its Standards of Ethical Conduct to require regents to take the same sexual harassment prevention training as faculty. Pattiz ostensibly went through that training. Given his recent comments, though, it's clear he hasn't retained much from it.
In an interview last year with the LA Times, Pattiz apologized for his remarks to McDonald and proclaimed he was an old dog who could still be taught new tricks. His most recent comments make one thing certain: He's just an old dog – and one who needs badly to exit the UC Board of Regents.