Bruin Bike Share membership subscriptions exceed expectations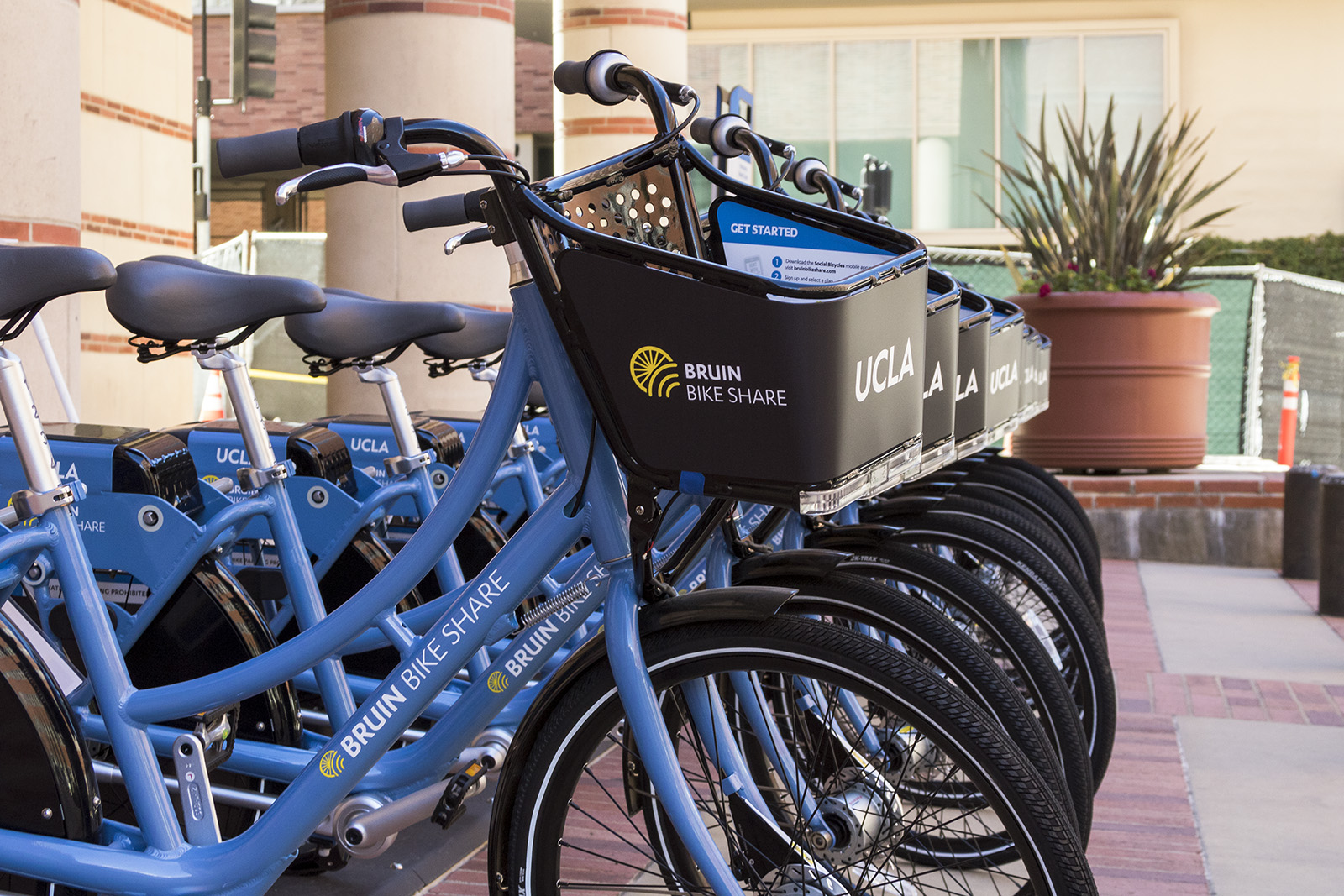 The Bruin Bike Share program had 17 percent more memberships than projected and plans to merge with bike share systems in Santa Monica, West Hollywood and Beverly Hills.
(Jacob Preal/Daily Bruin)
A program that allows students to rent bikes from stations around UCLA and Westwood exceeded its projected memberships for the year within the first two months of launch.
The Bruin Bike Share program, which UCLA Transportation launched in October, allows students, staff, faculty and visitors to borrow bikes for annual or monthly fees. David Karwaski, senior associate director of UCLA Transportation, said 498 people have memberships, about 17 percent more than the projected 425.
UCLA students constitute about 90 percent of the 214 monthly memberships, while faculty and staff members constitute nearly the same proportion of the 267 annual memberships, Karwaski said. A smaller group from the general public also purchased plans, he added.
UCLA Transportation is now aiming to reach 850 memberships for the remainder of the 2017-2018 fiscal year, Karwaski said.
Two stops have recently been added to the bike share network at Drake Stadium and Sunset Village, on the corner of De Neve and Charles E. Young drives, Karwaski said. UCLA Transportation intended to launch all hubs when the program started, but the two new ones required additional construction, including a barricade to prevent bikes from rolling away.
The bike share program expects to recover the bulk of its start-up costs, requiring only half of its allocated $100,000 annual subsidy, Karwaski said.
He added a grant funded by revenue collected from parking fees and fines will continue to support the program. However, the subsidy allocated to the program will be reduced to $60,000 after the program's third year, when the program is more developed, Karwaski said.
UCLA Transportation's service contract with bike supplier CycleHop costs the department $1,100 per bike annually, he added.
UCLA Transportation plans to expand the program by completing a merger with the bike sharing systems in Santa Monica, West Hollywood and Beverly Hills, Karwaski said. This would allow subscribers of one of the bike share programs to access bikes across the four areas. He added UCLA Transportation also wants to remove one of the car lanes on Charles E. Young Drive South from Tiverton Avenue to Westwood Boulevard, and replace it with an additional bike lane.
Several students who use Bruin Bike Share said they think the program has helped them get to areas near campus faster.
Dasha Tsema, a graduate student at the UCLA School of Theater, Film and Television who lives in Santa Monica, said renting a bike has made her daily commute easier.
"It is really convenient to get back home – I can cycle down to the bus stop in Wilshire (Boulevard) in no time," she said.
She added she thinks the bike share program will let her travel home to Santa Monica easily once it is integrated with Santa Monica's system.
Qihui Lyu, a doctoral student studying physics and biology in medicine, said she thinks the system is reasonably priced and hopes that more locations will be added soon.