Women's basketball takes down No. 3 Baylor 82-68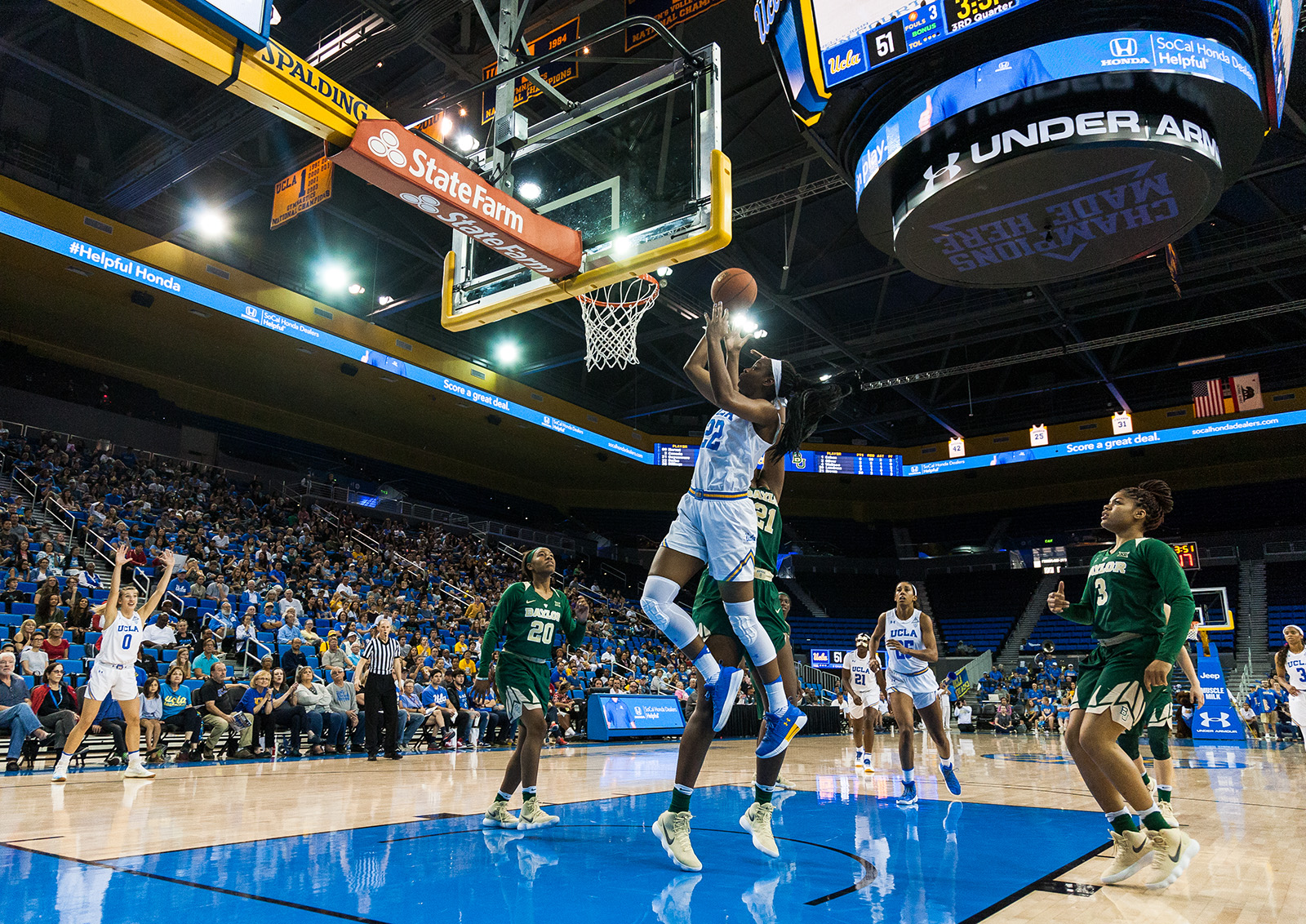 Junior forward Kennedy Burke and UCLA women's basketball upset No. 3 Baylor at Pauley Pavilion on Saturday afternoon. Burke scored 19 points on 7-of-12 shooting and grabbed five rebounds. (Joe Akira/Daily Bruin)
Correction: The original version of this article incorrectly stated Stanford University was ranked No. 3 in 2008. In fact, they were ranked No. 2.
The Bruins got their revenge against the Bears.
No. 8 UCLA women's basketball (3-0) defeated No. 3 Baylor (3-1) 82-68 on Saturday afternoon. The last time the Bruins beat a top-three team was in 2008, when they took down then-No. 2 Stanford at Pauley Pavilion.
Around this time last year, the Bruins fell to the Bears at Ferrell Center 84-70.
Despite the Bruins being winless in their last 22 games against top-three teams, coach Cori Close was not surprised by the win.
"Great monumental step forward for us, but I think my favorite thing about the game is that there was no massive celebration," Close said. "We expected to come in and take care of whatever we needed to do."
The Bruins countered every run the Bears threw at them with one of their own. UCLA, who saw Baylor take an eight-point lead midway through the first quarter, responded with a 14-2 run of its own to take back the lead.
Senior guard Jordin Canada, who posted her second double-double of the season, had six of her 20 points and four of her 13 assists in the first quarter.
"We knew they were going to have their runs, we knew we were going to have ours – it was just about staying composed," Canada said. "I think that's what was important when they did come out and punch first, and we didn't give up; we just came back and stayed aggressive."
Defensively, the Bruins held the Bears – who have been shooting nearly 59 percent on 3s this season – to just two-of-nine on 3-point attempts. They also converted 17 Baylor turnovers into 21 points.
Multiple Bruins, including freshman forward Lauryn Miller and senior forward Monique Billings, had a chance to guard Baylor's 2017 All-Big 12 first team junior center Kalani Brown, a testament to the depth of this season's roster.
However, they could not find an answer for Brown, who ended the game with 33 points and eight rebounds.
"They were pretty physical and had a great presence in the paint," said Baylor coach Bill Brock. "I was so impressed by that group today. We knew that they would throw a lot of different people at (Brown) and they did."
Even though UCLA was outrebounded by 14, it was able to keep Brown off the boards for most of the game, holding her to just three rebounds in the first three quarters.
The Bruins, who were leading by 11 at the start of the fourth quarter, saw their lead cut to four as the Bears put together one last run. However, that was the closest that they would get, as UCLA started an 11-0 run of its own. The run was capped off by a steal from Billings where she went coast-to-coast for an and-one layup that put the game out of reach.
The Bruins will face a second straight top-three opponent Tuesday, when they will put their 32-game home win streak on the line against No. 1 Connecticut (3-0).
Chen is currently a contributor for the Stack. He was previously a contributor for the women's basketball and softball beats.
Chen is currently a contributor for the Stack. He was previously a contributor for the women's basketball and softball beats.