Westwood Forward talks proposed new neighborhood council at town hall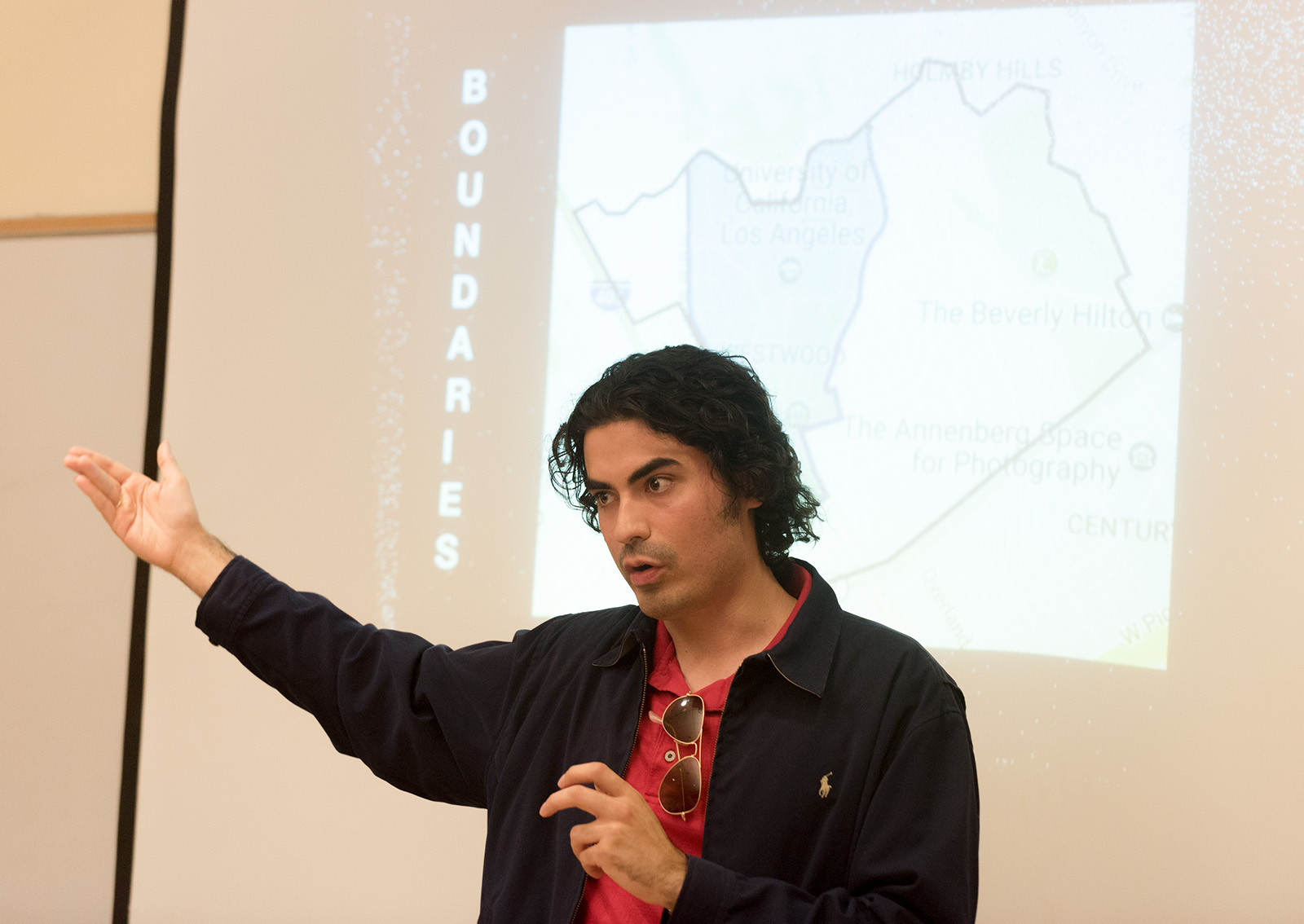 Members of Westwood Forward, a coalition of students, local homeowners and business owners that wants to create a new neighborhood council, held a town hall meeting Thursday to collect feedback on the new council proposal. (Ari He/Daily Bruin)
Student leaders said at a town hall meeting Thursday they want to create a more representative and democratic council to represent Westwood.
Westwood Forward, a student-run coalition that is also comprised of local homeowners and business owners, held a town hall meeting in Ackerman Union to address more than 45 members of the public about plans to subdivide the Westwood Neighborhood Council. The proposed North Westwood Neighborhood Council will serve those who live, work or own property near UCLA, the North Village and Westwood Village.
The WWNC is the official adviser to the city on Westwood-related matters. The council provides recommendations to the Los Angeles City Council for housing projects, business permits and proposed infrastructure for Westwood.
Student leaders announced plans to create a new council at the Graduate Students Association forum Nov. 8. Chloe Pan, Undergraduate Students Association Council external vice president and a member of Westwood Forward, said at the event she and other student leaders want to create the new council because they believe the WWNC stifles business operations, opposes student interests and makes it difficult for students to vote.
The coalition needs to collect between 200 and 500 signatures for a petition that, if approved, will give Westwood stakeholders the chance to vote for a new council, said Michael Skiles, president of GSA and a member of Westwood Forward. He said the petition has already received 249 signatures.
Pan said the coalition is in talks with UCLA administrators to provide an on-campus polling location for the referendum and free parking for voters if the petition gets the required signatures. She added the coalition plans to advocate for a polling place on the Hill.
Several students and community members who attended the town hall said they did not know much about how the proposed council would work but were interested in learning more about it.
Taylor Fife, a business graduate student, said he is frustrated with the lack of nightlife in Westwood and has considered moving out of the area to somewhere more upbeat. He added he is skeptical whether the new council would be able to improve nightlife and entertainment options in Westwood because he thinks student groups usually lose interest in politics and leave the group without leadership when they graduate.
"I'm not convinced it's a great idea, but I signed the petition," he said. "I came here to learn more."
Steve Sann, chair of the Westwood Community Council, said he thinks the WWNC already represents Westwood stakeholders well and provides students with many opportunities to run for the council. He added the boundaries proposed by the new council will split up the Persian Square community and excludes some homeowners.
"Do people think a community is stronger when it's split up, or do they think it's stronger when we do it together?" he said.
Ryan Snyder, a transportation consultant and Westwood resident, said he was frustrated with the way the council currently operates because he thinks homeowners have too much influence.
"I've seen over the decades that the people who are leading the neighborhood council right now do not really care about the issues you're facing," he said. "They've shown time and again to favor their needs over everyone else's needs – they've shut out other voices."
Snyder also said he was alarmed the council voted against a UCLA proposal to build a 20-story student housing building in Westwood Village.
"This latest issue with housing to me is extremely disturbing. We've got students … living out of cars," he said. "We've got to care a little bit (more)."
Student organizers for Westwood Forward said the coalition plans to hold a larger town hall meeting in two weeks.